Top tennis player misses fun of full-team practice
Most athletes have had it pretty hard during the last nine months. Social distancing makes basketball impossible. Washing hands each time a player touches a baseball is absurd.
But sophomore Lillian Kelly, who competes in national tennis tournaments, has fared better than most. She's been creative about finding open courts and available players for practice.
One friend she can practice with is Carson Lee, who is the No. 1 ranked boys tennis player at Sunny Hills. Kelly has grown up playing tennis with Carson and the two of them won the Mixed Doubles Sectionals at age 10.
"I actually like practicing with boys a little more than girls because I will never play a boy in a tournament because tennis is not co-ed," Kelly said. "There's not as much pressure knowing that it doesn't matter if I want to hit one of my secret shots against him because I'm never going to play him in a tournament."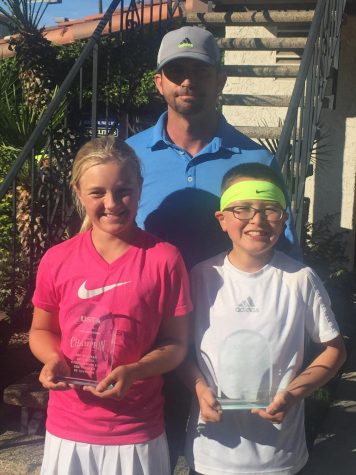 Unlike other athletes, Kelly was able to keep practicing and keep getting better during the COVID-19 shutdown. She plays about 4-5 practice matches a week with her small group circle. Kelly also takes private lessons to up her game. 
"I actually still practice almost every day. My mom is very resourceful, so we found some house courts and things to hit at," Kelly said. "I hit at the Cal State Fullerton president's house a couple times a week during the major shutdown. A few of my mom's old tennis friends from college or her recreational tennis friends have courts in their backyard and they let us come and use them."
Kelly has won prestigious tournaments like the 102nd Annual Santa Barbara Junior Open and the 1st Place Mixed Doubles Sectionals. She also has placed at national level tournaments like the Las Vegas Winter USTA National and the USTA Regional Open tournament.
With a serve that reaches 95 miles per hour, Kelly plays tennis with a more offensive style. 
"I'm definitely an aggressive player mostly. I do not play defense that often," Kelly said. "I hit hard and it's just me hitting these really hard spinning balls up the middle, you know, that's how I play."
Even though Kelly competes in national tournaments, she's also a member of the FUHS tennis team.
"I'm playing high school mostly for fun, most high school tennis is not like at the same level I normally would compete at," Kelly said. "So it's more for me. It's just a fun thing, you know, to hang out with the girls mostly."
Kelly said that playing on a tennis team for the first time last year was an adjustment.
"Tennis is an individual sport. There's not a whole lot of team play in tennis so it was very hard for me to get used to the idea that my match isn't the only match that matters," she said. "Even if I win, it doesn't necessarily mean that the team wins." 
She said that high school tennis has really changed her perspective on the sport and how she approaches matches now.
"Oh boy, I'm competitive. When I first came on the team I was not quite up to speed with how high school tennis isn't as competitive as what I'm used to. The other girls aren't like, 'Let's get after them,' which I'm like and I've always been like that," Kelly said. "In high school tennis they aren't as serious about it. It kind of took me a while to get used to that and make that my expectation."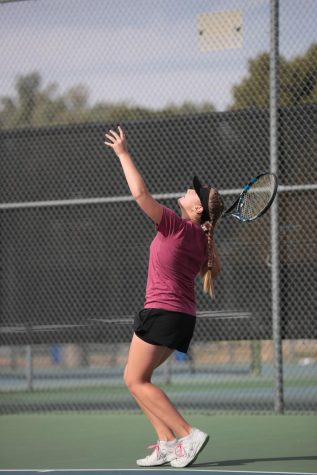 Kelly is one of the top players in competitive tennis, but she said that many of her Freeway League opponents don't really know who she is. Most players see her as any other tennis player, and Kelly does the same for her opponents. 
"I don't think of them as any less of a player because they are still out there. I still bring all four of my rackets," Kelly said. "I don't think 'oh, I'm going to play some high school tennis, I don't need my whole set of stuff.' It's more of 'okay, just like every other opponent in a tournament, figure out how to win, figure out what the game plan needs to be.'"  
Kelly said her mom has been a source of inspiration in her tennis career. Because her mom is at most practices and tournaments, she thinks of her as a second coach.
"Sometimes you need someone to tell you. 'oh, come on, we got to do one more hour hitting or else we won't win because you didn't perfect that shot for the match,'" Kelly said.
As a freshman Kelly was ranked No. 2 in the Freeway League before the final tournament. If Kelly had been one of the two finalists in that tournament, she would have qualified for CIF. However, a strained bicep a week prior stopped her from playing. 
Injury can be pretty detrimental to an athlete's mindset, but Kelly didn't let that affect her mentality. She says tennis is a very mental sport, on and off the court. 
"I think tennis is a lot about learning how to put a lot that stuff past you and be like 'okay, you know that doesn't matter right now,' you have to be in the moment," she said. "I honestly think  performance is probably only 30% of the competition and 70% is totally mental."
With all new COVID-19 restrictions and regulations, Kelly said that the high school tennis team is trying to get as much work in as possible. 
"So on the tennis team we're mostly trying to hit as many as balls as we can trying to stay in shape because tennis is very technical," Kelly said. "If you're not playing even for a day the difference between play is huge, so I would say we're doing a lot of conditioning too because obviously we can't really be touching the tennis balls and things like that."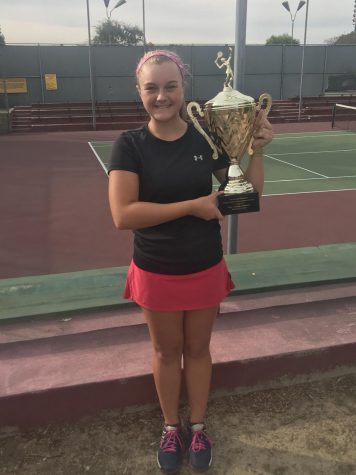 Kelly said that she can tell the team's morale has definitely been down since the start of COVID restrictions. As part of safety protocol, the team is grouped into cohorts by level, which means Kelly hasn't had an opportunity to meet any freshman players. Since she trains with her private coach and fitness trainer about 3 hours a day, Kelly doesn't attend FUHS practice every day. She's not technically enrolled in 6th period PE. "I go to practice to bond with the team whenever it's my cohort and when time allows," she said.
"I definitely feel like we're more distant. We haven't been able to meet any of the new freshmen or any of the new players, so I just think there's definitely a barrier there," Kelly said.
Although only a sophomore, college tennis is already a thought for Kelly and her family. 
"College tennis is very, very different because everyone there is already playing at a high level. So I'm going to be starting to look for colleges to go to soon, but as of right now it's mainly just about doing well in tournaments so I can get recognized by college coaches." 
In the long run, Kelly said she hopes tennis can help her with her personal life. 
"The end goal is for tennis to be fun and maybe even be a motivator," Kelly said. "I won't count on playing competitive tennis when I'm older, but I will probably still play recreationally. For me, it has to be the experiences, the perks of playing college tennis as well, and probably just being able to make friends."