Cross country team runs for first place
The boys cross country team will travel to Sonora to face the first place Raiders (4-0) in the final Freeway League dual meet March 4. Fullerton (3-1) has had its best boys cross country season in years. If the Indians beat the Raiders and Troy tops Buena Park, the season will end in a three-way tie for first place.
The boys cross country team has not been in the Top 3 in the Freeway League since 2013. In fact, for several years the team has finished in last place.
"It's really exciting that for the first time in years we've actually been competitive against other schools," senior Cyrus Burton said. "We have more incentive to work harder and run faster."
The team beat Sunny Hills 21-40 Feb. 24. This season marks the first time since 2013 that the team qualified for CIF competition.
Beyond that, individual runners have set personal and school records.
Senior Cyrus Burton ran 16:30 to place him at No. 5 on the all-time school records board. Sophomore Nathon Limon is close behind with a time of 16:31. And junior Matthew Abernathy's time of 16:52 puts him at No. 10 on the all-time records list.
Limon enjoys cross country because it's a mental challenge as well as a physical challenge.
"You have to fight more with your mind than your body," Limon said. "Once you win that battle, you realize you have great potential to do more than you think you can."
Burton believes that part of that mental battle is confidence.
"After we did well in the first race, we were a lot more confident," Burton said. "We've had a taste of victory."
On the girls side, however, the season has been tough.
Juniors Hannah Torres and Katie Sprague have suffered with injuries and the team has struggled to get a full roster on the cross country course. 
According to CIF rules, a school needs a minimum of five runners to place in league races. Although there are several runners on the FUHS roster, only four girls have consistently participated in competitions.
Despite the girls team difficulties, standout freshman Morgan McAndrew has had an impressive debut.
Morgan always knew she would run cross country in high school.
"I joined cross country because I previously ran for a club team before high school," McAndrew said. "Plus I heard amazing things about [the program]."
Morgan loves running, but her favorite part about cross country is her teammates. And her teammates love her too.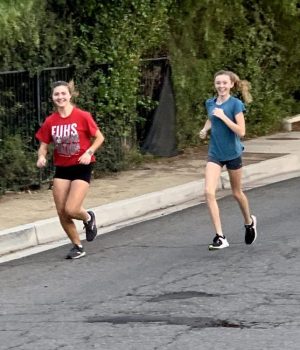 McAndrew often runs side by side with team captain Ali Williams who finished first in three of the four dual meets so far.
"Morgan is awesome," Williams said. "She works hard in practice and it clearly pays off in meets, but she's humble about it. She doesn't brag or hold herself higher than anyone else. And she's just fun to be around."
Looking to the final dual meet against Sonora, the two have set high goals.
"One of my goals for the next race is to get below 19 minutes in the 3 mile," McAndrew said.
Her personal best is currently 19:23, a time she achieved at the Troy dual meet on Feb. 17.
McAndrew's goal is possible, but it won't be easy. It takes stamina and mental strength to get through the end of a race.
"The hardest part about racing is always the last 400 meters," McAndrew said. "It's a physical thing, it just hurts."