Students to perform live stream Broadway revue
"When I was a kid, my mom was a drug addict."
It's startling truths like this one from sophomore Donny Cannady that shape students' lives. And it's challenges like drug addiction or depression or loneliness that can lead performers like Cannady through their artistic journeys.
His personal story has inspired Cannady to perform "So Big/So Small" from Dear Evan Hanson for a live stream Thespian-sponsored performance this week.
"In my case it's gender-swapped and a whole octave down," Cannady said. "In the show, there's this mom who's son is in this horrible situation and she's telling the story of when his dad left and comforting him saying, 'Hey, your dad left but I'm not going to leave.' It's a great song."
Even though Cannady's home life has improved, he still holds a personal connection to this song.
"Everything is fine now. My mom's sober, she sings in a church, everything's good now. But at the time it was not a good situation. Back then, my dad basically took me in and I lived with him a bunch of years. The media talks a lot about single mothers, but single dads also have a very hard job. One of the most 'oh my gosh' parts in the lyrics is when they talk about a U-Haul truck. 'There's a U-Haul truck in the driveway.' That's funny because there was a time when I slept in a U-Haul truck. It's little things like that. The lyrics are so powerful. 'One night I tucked you into bed and I'll never forget when you sat up and said, 'is there another truck coming to the driveway, a truck to take mommy away.' My heart!"
Cannady will be one of about 12 theater students who will participate in a student-produced show. Featuring scenes, monologues, dances, and songs, Zooming Through Broadway will take the audience on a tour through Broadway, from the 1920s to the 2010s.
Senior Brittany Fisheli is president of the FUHS Thespian troupe. Senior Karina Hunt is vice president and sophomore Lily McWatters is the publicist.
The three of them will host the live-streamed show on March 18 and 19, showcasing performances by students representing grade levels 9-12.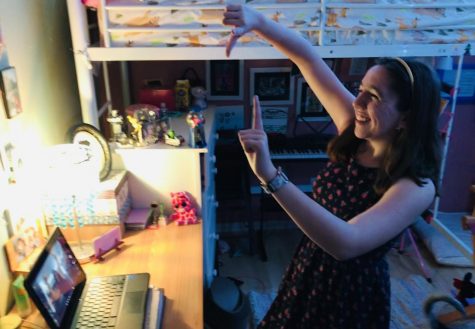 The FUHS Thespian troupe is part of a larger International Thespian Society that promotes community service, performance opportunities and art appreciation. It's been hard during the pandemic for Thespian members to reach out to the community through traditional channels, so they're excited about providing performance through Zoom.
McWatters is scheduled to introduce several performers and share a little information about each piece.
"Zoom is not always our friend," McWatters said. "I hope that Zoom will be nice to us and that everyone has fun performing these pieces."
Zooming Through Broadway was born out of frustration with the lack of a full theater production this year.
"We originally wanted to have a showcase as a 'hoorah' since we didn't have our musical this year," Fisheli said. "It just started out as a showcase where people can just add whatever they want, and then it just became more structured from there."
Hunt is thrilled to let the FUHS Thespian troupe show off their talents.
"It's students being the star of their own little 3-minute musical," she said. "It's nice to showcase our actors and showcase our dancers and singers; a musical would be great, but this is the next best thing during a pandemic and I'm really excited."
Hunt will be singing "As We Stumble Along" from the 2006 Broadway musical Drowsy Chaperone. Brittany Fisheli will be singing "I'm Breaking Down" from the 1992 Broadway musical Falsettos.
Other scheduled performers include freshmen Melodie Adams, Mollie Holbrook; sophomores Hailey Cronin, Alexis Helmer, Ian Klatzker, Rynn Wood; juniors Evan Jacobson, Scarlet Marenco, Savanna Worrell and senior Jasmine Hester.
Tickets can be purchased here: http://fuhs.booktix.com/. The live stream show will be at 6:30 p.m. on March 18 and 19.