Attention to detail makes Blevins's photos special
Class of 2021 Photography Spotlight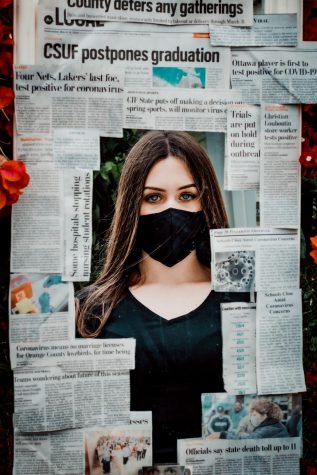 Senior Isabelle "Izzy" Blevins admits she's been an introvert most of her high school years but when she talks about photography she lights up. 
"I'm really passionate about photography and it motivates me to put my brain to work to create something cool," Isabelle said. "In school, my photography class is definitely the reason I got up in the morning because it was my first period and I would have tried to skip it if it was something else."
Blevins earned first place for photography in the Muckenthaler gallery show. She also received the max score on her AP art portfolio and completed the Academy of the Arts program. She plans to attend Fullerton College to get her Associate Degree in photography. 
"I just can't see myself doing anything else with my career," she said. "Before deciding to go to Fullerton College I was planning on applying to a bunch of art schools. But now that I'm going to college, I wanted to get my Associate's in photography to make my work even better before I apply to those art schools."
She also takes part in other creative outlets including clay sculpting, painting, and journaling but her heart has mostly been with photography since seventh grade.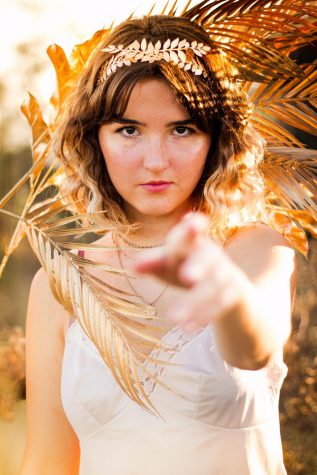 "I love shooting photos because when I get an idea I like to plan who I'm going to have as a model, what they're going to wear, or what their makeup is going to look like," she said. "When I'm taking photos and everything's looking exactly how I want it to look it's the best feeling. I can't wait to go home and edit everything to see the product of my work." 
Her best friend, Kyrie Varieur, also believes in Blevins capabilities as a photographer and thinks of Isabelle as her "creative muse" and inspiration. 
"Izzy is one of the most encouraging people I've ever met. She will never stop reminding somebody how much she cares or how talented and brilliant they are," Kyrie said. "She's probably one of the most talented photographers at our school and I don't think she recognizes how brilliant she is. The way she visualizes colors, ideas, and different concepts is so outside of the box."
Being a senior in the pandemic was hard for all seniors especially for Isabelle but she still was able to take something away from this experience and is excited for the future. 
"I think I'm ready to go onto a new chapter now because I have good people in my life and I feel like I already have a good idea of what's next," Isabelle said. "As much of a bummer it is when you think about the things that we missed, I feel like it all worked out how it's supposed to because I'm more sure about the future than I feel like I would have been if I was going to school. I'm not like "Finally, high school's over" but I feel like it's time and everything is going to be fine."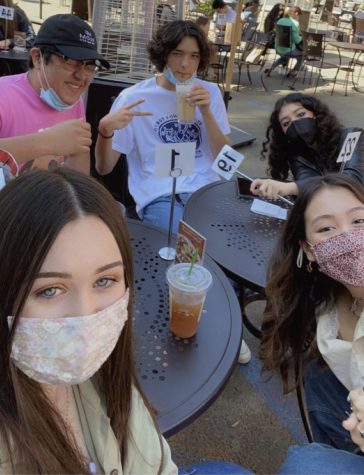 Looking back at her earlier years in high school, Isabelle remembers her last day of sophomore year when she wasn't paying attention in AP European History teacher Mike Muhovich's class and spilled water all over the floor.
"We were doing presentations and me and my friend were looking at the yearbook. I moved the yearbook and knocked over my friend's 42 ounce hydro flask full of water. Obviously, those things make sounds when they hit the hard floor, so it was that combined with water that was spilling everywhere, in the middle of presentations," she said. "Muhovich was so mad and he was like, 'What are you even doing?' Then he made us go get paper towels but once I got outside we just started cracking up because it was really funny."
Isabelle credits photography teacher Maggie Crail for her success and making her want to go to school each day. 
"[Crail's] always like, 'I love you guys. Like, you guys are so amazing.' And like, 'I don't tell you enough,' which is so funny, because she tells us every day. She made everyone feel special no matter who they were, " Blevins said. "If everyone was like Ms. Crail, then this whole campus would be utopia."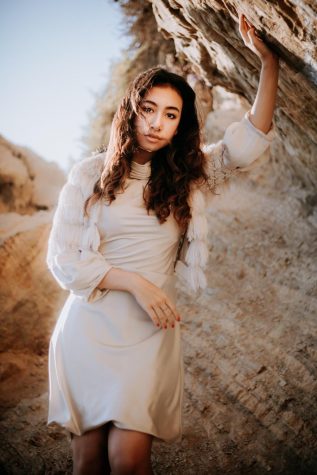 Crail has worked with Blevins since her freshman year and has been blown away by her work and her character.
"Izzy as a whole is a wonderful person. She is kind, bright and thoughtful," Crail said. "She participated and placed in various art shows, and completed and received the max score on her AP Portfolio. I'm confident that she will set the artworld on fire and make a lasting impact on all who are lucky to know her."