Baseball Hall of Fame displays alumni's photos
Busser earns FUHS Wall of Fame honor
Bob Busser huddled next to his transistor radio 55 years ago, picturing the major league baseball stadiums that Dodger announcer Vin Scully depicted in loving detail.
"[Scully] would describe Connie Mack Stadium, Fenway Park—all these ballparks," Busser said. "Even at a young age I knew that I was different. I wanted to pursue something different. At 8 years old, I said to myself, 'I gotta find, I gotta see these places for myself.'"
Not only did Busser live his dream of seeing ballparks throughout the country, he made it his career. As a photographer and arena historian, Busser has lived his dream for 45 years by immortalizing stadiums with more than 150,000 photos shot at 900 venues.
Busser, who graduated from Fullerton High School in 1976, will be honored Oct. 15 as one of the FUHS annual Wall of Fame inductees. His insightful work earned him the Tony Salin Memorial award and some of his photos are on display in the Baseball Hall of Fame.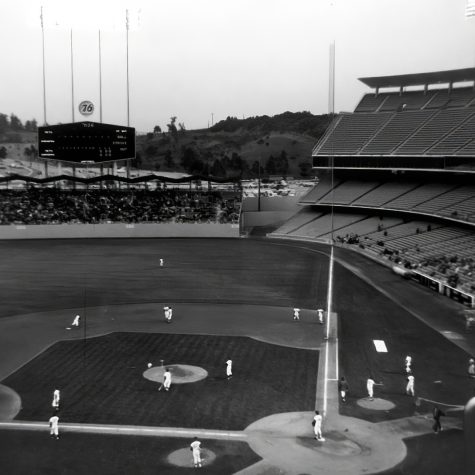 Busser started taking photos at age 8, but didn't become serious about photography until after high school. A graduation cross-country road trip allowed him to finally photograph the ballparks he dreamed of visiting. Although Busser says his family never supported his passion for photography, his mother did help him talk his way into a few stadiums to take photos.
  "[My] mom got tired of talking me into these places so she says, 'You're gonna do it from now on,'" Busser said. "The next week she was there when we talked to the security guard. He let me in for a couple of minutes and I took photos of the old Cleveland stadium [which later closed in 1995]. We went to Detroit the next day and Mom goes, 'You're on your own,' so I talked my way into Tiger Stadium and that was all it took. From then on I got into almost all the places I wanted to." 
Busser admits he took a lot of lousy photos at first, but photography brought him joy. "I showed my photos to my family and they didn't care. No one cared," Busser said. "But I stuck with it  because I knew I was different as a kid. I'm not a sheep; I don't follow. I think that's part of my success."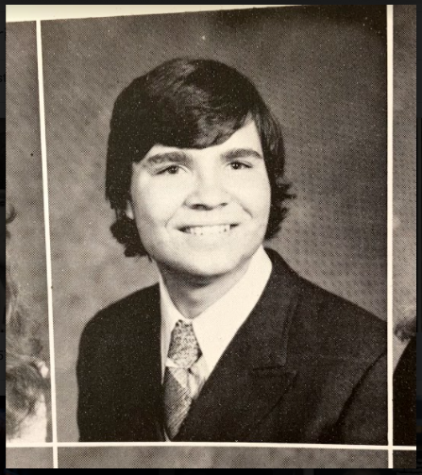 Looking back at high school, Busser admits he could have been a better student.
"I could've gotten into any college I wanted to but I was rebelling," Busser said. "There was a long angry list of things. My mom wasn't the greatest mom—I'm being flat honest—and I just shut down. I regret not taking part more in photography and whatever else I could've done."  
After high school graduation, Busser took his first photography class at Fullerton College. That same year he talked his way into getting an official media pass for a Red Sox game at Angels Stadium.
"I'm walking down, scared to death because I had a media pass and I could go on the field and there were my childhood heroes," he said. "The first guy to greet me was Hall of Fame pitcher Fergie Jenkins. Fergie goes, 'You got a camera, man! I love photography.' So we start chatting and, I swear to God, to this day Fergie and I have been friends for forty-something odd years now. I love the guy to death. He's a great guy. He introduced me to all my heroes."
From then on Busser worked various jobs, including grocery stores and auto repair, while building his career as a freelance photographer.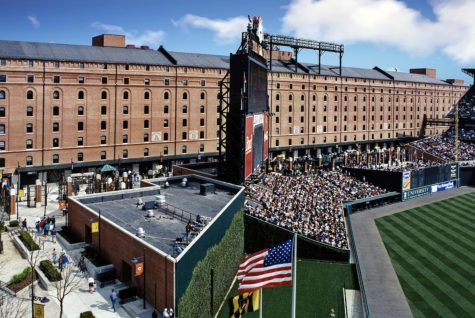 When the 6.7 earthquake hit Northridge in 1994, Anaheim Stadium sustained serious damage.
"I ran over and again asked my way in. [Security] said, 'You're the media?' I said, 'Yeah, sure, whatever you want to hear.' I took photos of the scoreboard collapse on the upper deck. I called USA Today and they bought the photo and it ran nationwide. It might be my most iconic photo," said Busser, who admits that now photographers need verifiable media credentials to enter venues.
Years later, longtime friend and Baseball Hall of Fame photo archivist, Pat Kelly, displayed several Busser photos in touring exhibits. In 2006 Busser's photos were featured in the "Sacred Grounds" exhibit in Cooperstown, New York. One of the photos displayed was of Forbes Field in Pittsburgh.
 "These sites are called sacred ground because people make pilgrimages to these places. Forbes Field was in Pittsburgh and people go there," he said. "The wall is still there where Bill Mazeroski hit his home run to win his 1960 world series. People go there and on the day of the game [Oct. 13] when they won the World Series, there is always a ceremony at the time he hit the home run." 
When taking photos, Busser tends to stray from the norm. He tries to find something different about every stadium.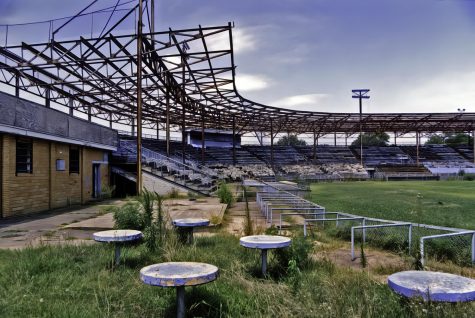 "I see things differently," Busser said. "I was in Milwaukee at the Old County Stadium, it's been torn down now. For some reason— I don't know why—at the entrance to the seats there is this little tunnel and it said Section 21 and I took a picture. I put it on my website and lo and behold some guy emailed me and said, 'How the hell did you know to take that photo? My dad and I had season tickets in Section 21 in County Stadium for 20 years.' He bought the photo and said, 'I can't believe I found it.'"
Busser's favorite photo in his collection is of an abandoned minor league ballpark in Shreveport, Louisiana. 
"If you want to talk about a dump, it was abandoned, it looked like Detroit," Busser said. "The roof was gone, the clubhouse was forgotten but I got this one shot and it shows the ballpark and this round abandoned picnic table area. That's one of my favorite ones. That day it was about 98 degrees with about 98% humidity. I've gone back to that ballpark seven to eight times now. Everytime I'm down there I go to Shreveport to see it. It's like an old friend."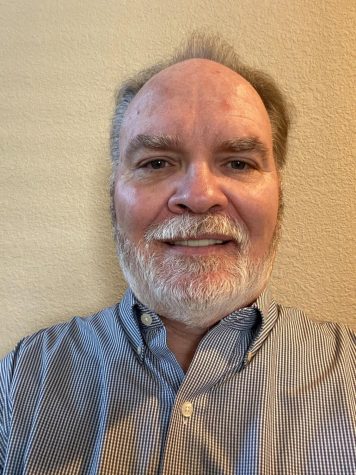 These ballparks, indeed, seem like old friends to Bob Busser. The affection for these historic places comes through in his photos, but what's even better is Busser's genuine enthusiasm for helping others. He encourages beginning photographers and is always willing to mentor them.
"I vowed to never talk down to a kid because they are smarter than we think and if I could help a kid, teenager, student I was going to do that and I've lived up to my promise and I'll keep that promise," Busser said. "Life is hard enough, you need encouragement and if you have the passion and the drive go for it." 
Busser spoke with the Tribe Tribune for an hour and would have been willing to talk for hours more. In fact, he's donating one of his old computers to the journalism class so we can better manage our own photos.
"I chose a different path and I wouldn't change it for anything," Busser said. "Any kids who have talent in writing, photography, painting, acting, singing, whatever it is go for it. You have one life to live, go for it. Don't let people tear you down. If they do nine chances outta 10 they're jealous of what you're doing."
Click on slideshow below to view more Bob Busser photos