School officials demand students stop vaping, hanging out in restrooms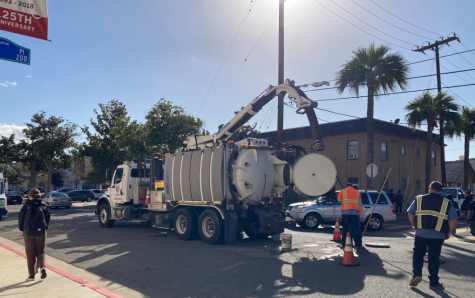 Students stood in line to use restrooms in the 200s building again Wednesday as maintenance crews worked on clearing clogged pipes in the central restrooms.
"We do have an old school so if anything goes down the drains that shouldn't, then it will back up the plumbing and that becomes an issue," assistant principal Jon Caffrey said. 
District plumber Bryan Becker worked on the problem during sixth period but had to call city maintenance workers to clear the main plumbing line on Pomona Avenue.
"This looks pretty bad because dirt keeps coming up," said Becker as he accessed pipes behind the 50s building. The clog created a backflow into the quad, and crews had to tape off the area so students wouldn't walk through the sewer water.
The campus is dealing with plumbing issues more frequently this semester and Wednesday's closure was just part of an ongoing problem with the restrooms. A combination of students vaping, smoking, hanging out and changing clothes in the restrooms has resulted in long lines and discipline problems.
To avoid getting caught while vaping in the restrooms, students will sometimes flush vapes down the toilet. Assistant principal Steve Garcia said the central restrooms were closed for two days last month while plumbing crews fixed damage caused by vape pens in the pipes.
Drug problem in the fall
Jon Caffrey, an assistant principal who monitors most discipline problems, says he was caught off guard by the number of students vaping or using other drugs in the fall. Students weren't on campus for most of distance learning last year, so Caffrey admits that as a school official he was a little out of practice when it came to maintaining a drug-free campus.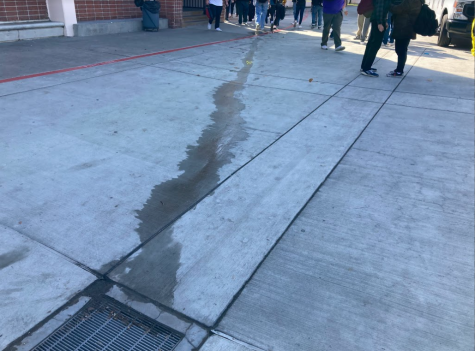 "It was eye opening to come back to full classrooms this year," he said. "Last year we dealt with very little of this. But this year, from August to early December, it was almost every day that we were dealing with students [using drugs] in one way or another. But now, we can go two or three weeks without it being an issue."
Increased vaping and marijuana use is troubling but not surprising considering teens struggle to learn healthy social skills and cope with stress. "This really is a global issue with young people," Caffrey said. "I think the pandemic created a lot of dependency on things that weren't part of students' lives prior." 
Although Caffrey cannot share statistics, he did say that the Fullerton campus actually has fewer problems with students using vapes compared to some other district schools. He's seen very few problems with THC, but vaping is an ongoing issue, especially among underclassmen. Despite the recent vaping problem, Caffrey says the number of drug-related student disciplinary cases has declined this semester compared to first semester.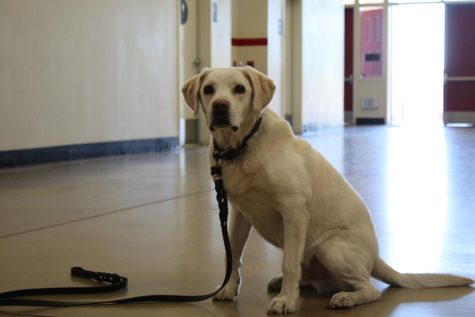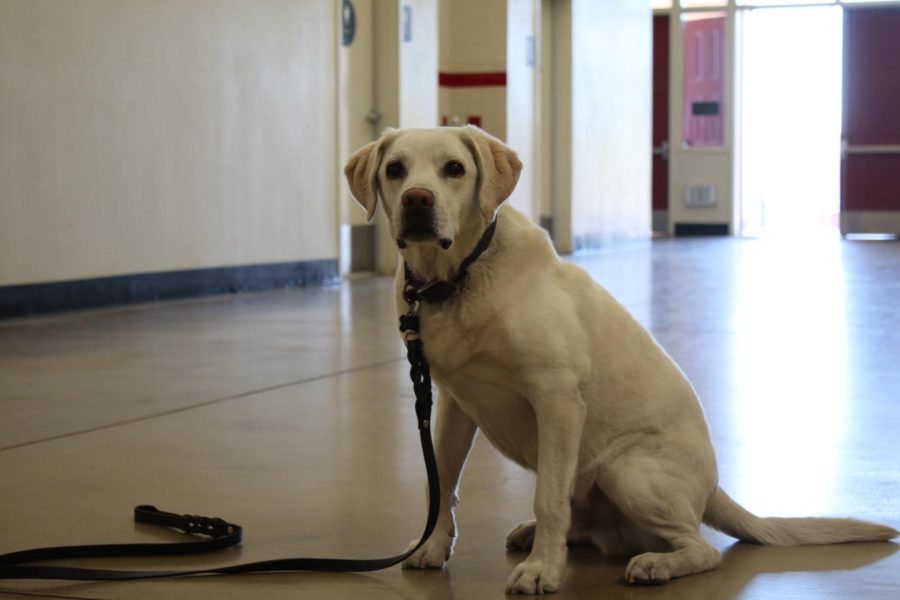 Canine Drug Detection
Random searches might be helping to reduce the drug problem. The campus utilizes the canine drug detection program about 12 times a year. Caffrey says that searches are random. Students are never targeted. 
"We can't point out a certain area, a certain classroom or a certain student," Caffrey said. "So we just take our campus map and mark it off as they search one time. Then we say, okay, we're going to this section and then this section."
Drug searches and student round-ups
Assistant principal Steve Garcia says that school officials have been focusing more attention on restroom supervision because students hang out in the restrooms, especially freshmen.
"We decided to put campus supervisors—Rose [King], Frank [Ramirez] and Miguel [Galindo Lopez]—around both the boys and the girls restrooms. Since we put them there, a lot of issues have decreased immensely," Garcia said. "There haven't been many incidents going on, especially before school, break, and lunch."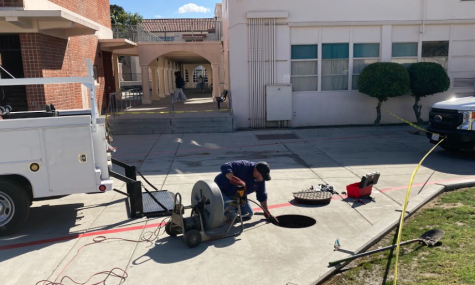 Senior Frances Walton says she was rounded up by campus supervisor Rose King and a Student Resource Officer on Feb. 9 when she was in the downstairs 200s restroom.
"When I get there, there's the pungent aroma of marijuana. I was, like, I'm just going to ignore this because I have to use the bathroom," Walton said. "I stepped into the stall and Rose says, 'Everybody in this restroom needs to get out. You will be escorted to the office by the police officer because it smells ridiculous in here. This is a routine thing now during third period.' She starts knocking on all the doors saying, 'Ladies, you need to come out right now.' I didn't even get to use the restroom. I had to get out of the stall and be escorted by the SRO and five other girls to the office."
Walton said she spent around 35 minutes in the office. "While I was sitting there the cop was instigating things with everyone," Walton said. "This one girl shifts her pants and he says, 'Why are you moving your pants?' and she says, 'What?' He says, 'When people shift in their pants it's because they want to hide something.' Are we criminals? We just wanted to go to the bathroom." 
Walton says assistant principal Steve Garcia showed her a video surveillance photo of three girls standing upstairs in the 200s building and asked her if she could identify the students. Walton said "no" and was sent back to class. "I felt very dehumanized," Walton said. 
Caffrey explained that some students do get searched but always in the presence of a police officer.
"If we have a tip or we feel like maybe [a student] is under the influence there is a sobriety test occasionally," Caffrey said. "It's a lot of conversation, finding out why they're up here or why they were out of class. It varies from time to time, but it always involves me or another administrator or a campus supervisor and the police officer, and then contact with parents."
Senior Carolina Diaz had her backpack searched during fifth period on Jan. 27 by counselor Erin Defries, assistant principal Steve Garcia and a campus police officer after using the downstairs 200s bathroom.
"I was trying to go back to my class, but they told me to stay. They made all the girls who were getting out of the bathroom to stay by the door," Diaz said. "They let go of a couple of them. Then they made us go to the art gallery. One by one they took our bags and made us take everything out of our pockets to make sure we didn't have any drugs. They asked us our names and they put them on a list and we went back to our classes. I was kind of mad. Why is this happening to me? I just wanted to go to the bathroom but I kind of understand that they have to check. But I didn't like it because I was missing class."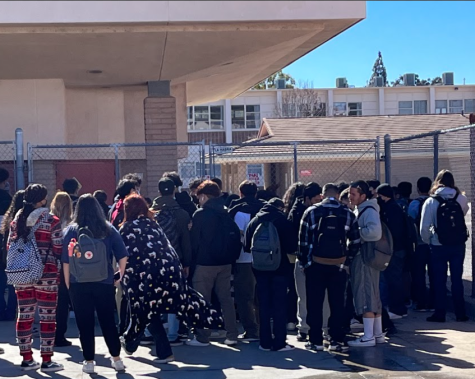 Students complain about PE gate
Students who have fourth period PE or dance class found an unwanted surprise last week when they finished getting dressed. Instead of getting a small head start on lunch, students were locked behind the gate that separates the softball field from the main quad.
Sophomore Lucia Castrejon, who has a fourth period dance class, says she's been pushed by the crowd at the gate. "It feels uncomfortable because if there is an emergency it would be a difficult situation," Castrejon said. "I guess we could just run towards the field but there's just so many people that it's just scary."
Castrejon says the PE teachers had been doing a good job of holding students. "I think the PE line was working fine and I thought they had already eliminated the problem of people leaving early for lunch," Castrejon said. "I don't know why that justifies a whole gate locking us in like a prison yard."
According to school officials, the gate is being locked to reduce the number of students who might plan to vape in the central bathrooms before lunch.
Students loiter in restrooms
Principal Laura Rubio says another prevalent problem regarding the restrooms is that girls hang out in there to socialize and eat lunch. 
"A lot of girls like to hang out in the stalls there. I think that's really gross," Rubio said. "What it does is it creates this perception that it's full and it's not because I've walked in there many times and cleared it out and by the time I clear it out 90% of the stalls are empty." 
Rubio wants the girls to know that hanging out in the restroom is not allowed and not safe. "I think that the grossest piece of this whole situation is that [girls] are creating this atmosphere in there. I get, you know, check my hair and makeup and all of that, totally normal," Rubio said. "But we're so baffled by the fact that girls want to hang out in there—where you can smell everybody's pee. They don't understand; those particles come up into the air." 
Athletes change clothes in restrooms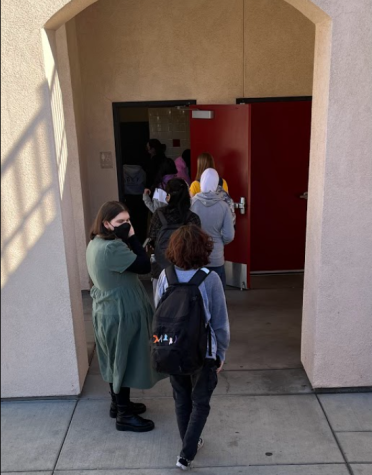 The boys restrooms are sometimes crowded when freshman and JV baseball players or other athletes change for practice or games.
Caffrey says that the baseball players can use the locker rooms to change, but players report being kicked out of the locker rooms by various coaches because the baseball team's coach is not there to supervise.
Coaches are required to supervise their athletes in the locker room; however, it's not practical for baseball coaches to drive to the locker room, supervise students, then drive over to the baseball field located across Lemon near the farm.
The baseball players do have permission to change in the restrooms at the farm, but those facilities have only one stall for girls and one for boys. So either the baseball players are changing in their cars or taking up space in the central restrooms.
Vandalism caused earlier restroom closures
In October, school officials across the country had to deal with the Devious Licks challenge. The TikTok trend encouraged students to record and post videos of themselves stealing or vandalizing school property. School officials had to close the upstairs restrooms in the 200s building when students destroyed soap dispensers.
Assistant principal Jon Caffrey said compared to other schools, Fullerton had minor damage. "We took some steps to make sure that it wasn't happening here," Caffrey said. "Thankfully our students responded the right way. At some schools toilets were broken and we had none of that."
Mostly freshmen are to blame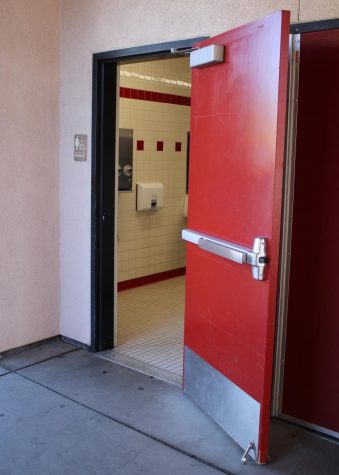 Garcia says underclassmen are mainly the ones mistreating the restrooms. "Our juniors and seniors understand the value of a clean restroom. They make more thoughtful decisions and it's part of that growth and maturity," Garcia said. "Most of the challenge is getting our freshmen to appreciate being in a wonderful school and sometimes even understanding what a clean restroom means."
Garcia says the situation is typical. "It's every year we see a problem with freshmen because of their age, around 13-14 years old," Garcia said. "It's a shift for them. Sometimes it's a big challenge for kids to come to a campus that has 2,000 students and they're coming from one that has 500."
Reporters Kitty Martinez, Jeremy Maldonado, and Alia Noll contributed to this story