Kamrath leads Indians to CIF final
When Erik Kamrath was hired three years ago, things didn't look great for the boys basketball team. The old FUHS gym on Pomona Avenue was being torn down. With no home gym for practice or games, the team finished last in the Freeway League that year. But Kamrath worked hard to build a family atmosphere for his team. The next year, the 2020-21 season, the Indians improved and finished fourth with a 5-5 record.
This year, with a shiny new gym and fans cheering them on, the team finished third in league and earned its first CIF berth since 2008. Sonora (9-1) finished No. 1 in the Freeway League and Sunny Hills (7-3) was No. 2. 
The Lancers won three postseason games before losing to Garden Grove in the semi-final round. The loss still granted Sunny Hills a bid for the state tournament where they won their first game against Monte Vista but lost in the championship against Millikan High School. The Raiders lost in the first round of the play-offs against Serra High School. 
The Indians embraced the opportunity to play post-season and won four CIF games before losing 54-50 to Garden Grove in the 4AA CIF Southern Section Championship game on Feb. 25. It was the team's first appearance in a championship final since 1959.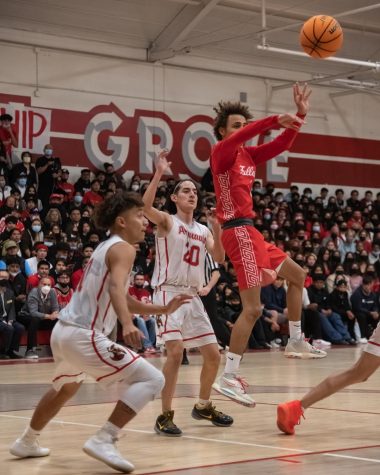 Junior Christian Hubbard says Coach Kamrath deserves the credit for leading the team through its successful season.
"It's crazy how much of a difference there has been from before [Kamrath] arrived compared to now. We were not a winning program ever," Hubbard said. "Now we are playing in CIF championship games and state tournaments. I want people to know how hard that man works. He loves the game and you can really feel how much he loves us. He really takes care of us."
For Isaiah Edwards, Kamrath has been a tremendous guide through his sophomore season. "He has prepared us and taught us a lot of things, not just about basketball, but about life," Edwards said. "I'm really grateful to have him to help guide me."
Kamrath grew up in Milwaukee, Wisconsin where he played baseball, basketball, golf, and football. He played basketball at the University of Wisconsin where he majored in education and minored in health and coaching. He later earned a Master's in Educational Leadership and a certificate in Social Justice. Before teaching he worked as grounds crew for baseball fields, sold shoes throughout college, and was a land surveyor.
Before coming to California, Kamrath taught in Wisconsin for four years and in Arizona for 11 years. When his wife was hired at Cal State Fullerton in 2019, he applied for a coaching position at Fullerton High.
After building the basketball program for two years, Kamrath was able to coach the Indians through the play-offs. Although it would've been great to win the CIF championship, Hubbard says he is somewhat okay with taking the loss. 
"The hardest thing about losing was knowing how much work we had put in just to come up so short," said Hubbard, referring to the 54-50 final game. "I feel like losing was a blessing in disguise, though, because it's given me so much motivation to get better and come back next year even stronger." 
Despite the tough final loss, for junior Josiah Reed, playing in a CIF final was a dream come true. "I have waited my whole life to play a game like that," he said.
For Coach Kamrath, seeing his team make it all the way to the CIF final was just as special. Kamrath said that the CIF journey and what it really took to get there is so much more than just a few practices here and there.
"I just want the best experience for the guys. It's definitely rewarding to see them in those situations and see the excitement after games. We put so much time into this and it's such a process," Kamrath said. "From the outside, it looks like 'oh that's so great and everything' but there is so much work that goes into it. Emotionally it takes a toll on everybody, including us as coaches. To get there and to have the success at the end of the season that we did, it was very rewarding."
Hubbard said that post-season play was a new experience. Unlike in league play, one loss in the CIF tournament meant they would be done for the season.
 "It was weird going into every game knowing that, wow, this could be our last game. If we lose we're done," Hubbard said. "I think it added an extra degree of importance for us."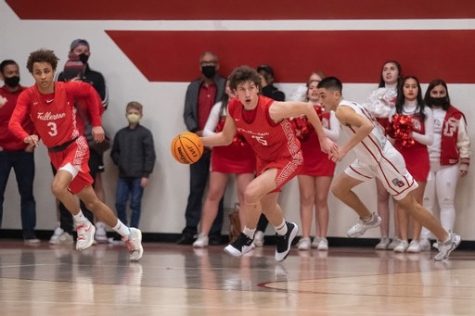 Fullerton was ranked No. 20 going into its CIF semifinal against the No. 3 ranked Artesia on Feb. 22, making the 58-56 underdog win even sweeter. Reed led the team with 15 points followed by Edwards with 13.
Kamrath says that a big factor in that success is building a strong mental game. "We all do self-talk. You sit there and you're in a situation, whatever it is, you're in a class, whatever you're doing, and you're telling yourself something in your head," Kamrath said. "These guys have to go through that on the court. When you're trying to make a free throw, you don't say to yourself 'don't miss it, just don't miss it.' You say to yourself  'follow through, take a deep breath.' You say things that are gonna help you."
Kamrath says he and his assistant coaches focus on making sure players have good habits and build strong relationships.
"We're making sure they're interacting the right way by supporting each other and always putting forth the most effort. If you focus on the day-to-day things and the little things that lead up to that, all of a sudden you're going to say, wow, we're playing in the CIF championship," Kamrath said. "Talent only takes you so far. Winning in those tight situations, you have to lean on your day-to-day habits of who you are whether it be in the gym, in the classroom, or on campus."
Feature editor Jeremy Maldonado contributed to this story.