Work in Progress
School officials want inclusive campus for LGBTQ+ students
ASB posted pink paper hearts for all 2,000 students and staff at Fullerton High School to celebrate Valentine's Day. It's a sweet tradition ASB has celebrated for several years, and the hardworking ASB students should be thanked for their efforts.
However, not everyone felt appreciated.
Some students who don't use their birth names, including transgender students, found hearts displaying a name they don't use. What was supposed to be an act of love and inclusivity became a moment of discomfort. 
This isn't ASB's fault: the issue traces back to the name listed on Aeries attendance rosters, which can also create problems with students' dead names appearing on honor roll lists, yearbook pages, and student of the month certificates.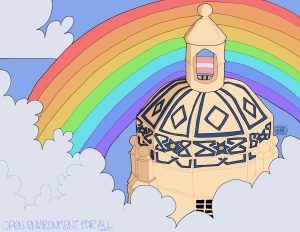 Instead of criticizing ASB for offending these students, the Tribe Tribune editors decided it was time to bring people together. On March 31 we sat down with principal Laura Rubio, counselor Erin Defries, Gender-Sexuality Alliance (GSA) adviser Carina Assayed, GSA president Lyn Ortega, an ASB representative, a yearbook representative and four other students to discuss ways students and teachers can create a more inclusive environment.
It was only one 45-minute talk, but it was a great start. Assayed suggested professional development for staff before next school year to give teachers tools to better handle students' names and pronouns. Principal Rubio agreed wholeheartedly. In other words, FUHS is lucky to have staff who care and are willing to make the FUHS campus a safe and more inclusive space.
In February, Texas governor Greg Abbott announced that giving transgender youths access to gender-affirming medical treatments "constitutes child abuse." Last month, Florida governor Ron DeSantis banned public schools from teaching about sexuality and gender identity, leading some opponents to call the legislation the "Don't Say Gay" bill. Similar laws repressing students' identities are being introduced in Oklahoma, Rhode Island, Wisconsin, Arizona, and Georgia, to name a few. 
While we are lucky enough to not have these laws here in Fullerton, some students still feel threatened by homophobic and transphobic interactions. Students are often deadnamed (called by the name they don't use that is associated with a gender they don't identify with) in class by teachers; queer students report feeling unsafe in the bathrooms of either gender; only one gender neutral restroom is available for student use on campus; casual misgendering goes uncontested due to fear of reprimanding; students frequently use anti-queer slurs and phrases; queer couples are treated in a highly different manner than straight couples on campus.
Yet, despite the long list of nuanced and niche issues facing LGBTQ+ students on campus, Fullerton High School officials want to move in a positive direction.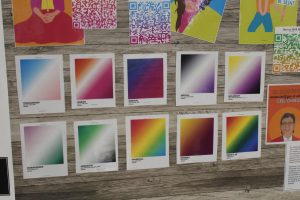 Take one step into Ms. Assayed's classroom, and you'll see that Rubio's vision is well on its way. Assayed's supportive personality and actionable ideas to improve acceptance on campus make her the perfect new Gender Sexuality Alliance adviser. Her flags for various gender identities and sexualities and photos of LGBTQ+ icons are just some of the ways she makes students feel safe being themselves. Queer students feel comfortable in her classroom and she is a passionate, caring teacher who does her best to accommodate student needs to the best of her ability every day.
While our school officials work to make the campus a safer place for all students, students need to do the same. Tribe Tribune staff members have reported hearing the f-slur on campus. Students still use "gay" as an insult. 
We've got a long way to go, but one thing is clear: the next step is more discussion. We can't eradicate homophobia on campus by being silent. Students need to talk to each other. We need to encourage conversation without judgment. And finally, we need to shut up and listen to queer student voices.
The Tribe Tribune plans on having more meetings with administrators and student representatives to talk about campus facilities and other ways we can make the campus more inclusive for everyone, regardless of gender identity.
"I am very proud of the fact that our school is a lot more inclusive than others," Principal Rubio said. "And so whatever things we can do along the way to help that out, then that's what we're going to do."