Track teams head into prelims with momentum
Boys Track
By Reagan Glidewell, reporter
The boys track and field team already has 41 competitors who've qualified for the Freeway League Prelims kicking off April 25. 
The varsity team started the season off strong at the first Freeway League Tri-Meet March 15. Pushing each other to the very end of the 1600, the distance team put senior Matthew Abernathy, juniors Nathan Limon, Troy Fernandez, and Carlos Martinez along with sophomore Alejandro Hernandez under 5 minutes, three of them for the very first time.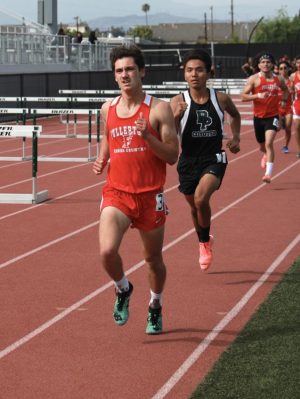 For Fernandez, clocking in at 4:58.06, hitting the League Prelims qualifying time of sub 5 is solely credited to the team.
"We successfully pushed each other to that winning, sub-five minute time. Coming from that last stretch, I had Limon in front of me and I could hear Carlos and Alejandro behind me," Fernandez said. "It was a moment of 'you have to go now'; otherwise, either you're not going to make the time or the two people behind you are going to catch you'. I had to give it all I had left."
Mid-distance runner junior Daniel Frausto said that seeing his team work together throughout the race and achieve this accomplishment so early in the season only motivates him to want to work harder. Additionally, it heightens the hope for a successful cross country season in the fall.
"Just seeing them is motivating for me. Now I want to get under," Frausto said. "I mean, we're already focusing [on cross country season]."
Huge drops have been a regular occurrence for the runners lately. In just 5 days, Frausto cut off 11 seconds from his 800 with a PR of 2:08 at the Irvine Distance Carnival Invitational. Hernandez continues to slice off time in his 3200 with a PR of 10:23.
Abernathy fights to be in the condition to gain his CIF spot during League Finals. Qualifying for CIF in the 2021 track season, Abernathy hopes to qualify his senior season. Unlike cross country in which the top 7 in the league qualify for CIF, the top finisher is the only runner who is guaranteed a spot.
"At League Finals, first place goes to CIF. But second and third, they need to get a CIF qualifying time," Abernathy said. "But, I'm pretty confident I can make it in 800. That's probably the race I will be shooting for."
Girls Track 
By Ami Ishikawa, reporter
The girls track and field team ended its Freeway League season strong at the Fullerton Distance Carnival, a home meet on April 16. As of now, the team has already qualified 26 runners for the home Freeway League Preliminaries on April 25.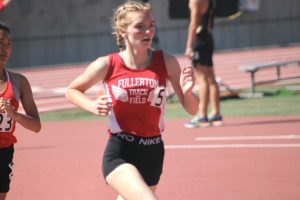 At the carnival, distance runner sophomore Reagan Glidewell placed second for the 800 meter with an 8 second PR of 2:49:81. 
Glidewell recalls the energy she felt throughout the meet and the overall success of the team that edged them to fight on.
"You could tell that some of us were exhausted, but the team still pushed extremely hard till the very end," Glidewell said. "That's how we left with some amazing PRs like [sophomore] Ansal Esquivas' 40 second drop in the 3200." 
Glidewell emphasizes the bond she feels with her teammates and how that helps the team get through the practices and meets.
"Whether your best friend is running or a teammate that you have talked to maybe once before, everyone is still up there cheering each other on," she said. "Running is physically but honestly mentally tolling sometimes too. Our incredible team bond is how we have been able to push through all those long runs, frustrating injuries, and just slumps in general."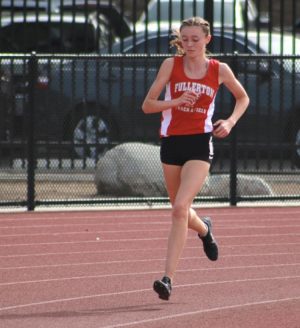 The girls top varsity runner sophomore Morgan McAndrew came in third with a time of 1:07.63 for the 400 meter and placed sixth with 5:35.24 for the 1600 meter. 
According to McAndrew, running the 400 is usually not her main event but she wanted to work on her speed training in order to improve for future meets, similar to the fact that there are still areas in which the team could continue to improve as well. 
"One of the things I think we could work on is pushing our limits and not giving up halfway through the race," McAndrew said. "That's one of the things I have struggled with a lot this season."