Abernathy plants feet at Mt. San Antonio
Class of 2022 Agriculture, Sports Spotlight
When senior Matthew Abernathy first saw the movie The Martian, he realized how much he loved the art of horticulture. "Watching Matt Damon grow potatoes on Mars and his other horticulture skills was pretty fascinating," said Abernathy, who has been in the FUHS agricultural program for four years and now serves as the greenhouse manager. 
Matt appreciates how agriculture offers a break from his academic routine. "It's more hands-on than a regular science class and you're actually doing things," said Abernathy, who won the Outstanding Horticulture Award this year. "If you want to, you could raise an animal in ag. I feel like you can get a little more out of it than from a textbook."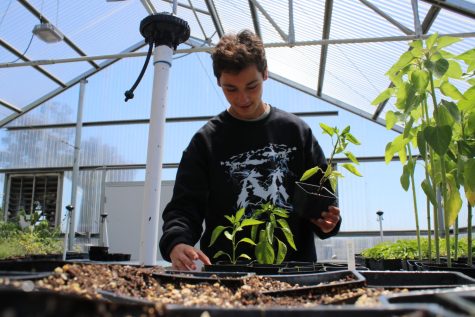 He's fascinated with vegetation in places like Orcas Island in Washington where his cousin lives. Matt said he hopes to experience something similar and travel to Japan in the future.
"I really haven't traveled out of the country before so I feel like Japan would be a very nice place to go first. It is beautiful there. I've seen a lot of photos and it's just absolutely stunning, especially their countryside," Abernathy said. "Everything's so green and I think even their architecture is really pretty too. Going to experience another culture like that would be great."
Matt also excels as a top athlete. As a freshman, Matt played shooting guard for the FUHS boys basketball team. Seeing how fast Matt was on the court, his sister Taylor encouraged him to start running. Matt fell in love with it and has now served as a cross country and track team captain for the past two years including qualifying for two CIF Championships.
Through an app called Strava, where runners track their own training and can see their teammates' mileage, junior runner Nathan Limon said he has seen the crazy amount of work Matt puts into his sport.
"You see him run that 400 and you're so flabbergasted on how smooth he runs and his form. He has such discipline. He knows how to get past those barriers," Limon said. "He loves the sport. It's not a chore for him. He sees four races [on the entry sheet] and he goes 'let's go.' He's always trying to go that extra mile. One more step. He's one of the main reasons I'm just like 'I have to be better. I have to be the better version of myself.'"
Matt said there are always ways you can improve. "Never be okay with where you're at. Never be satisfied because once you get comfortable, you're just going to stay in that same spot," said Abernathy, who was named Most Valuable Cross Country Runner and Rotary Track Championship Most Valuable Runner this year. "If you get a [personal record], you can be happy for that day, but the next day be like 'I got to work even harder. I got to get a faster time.'"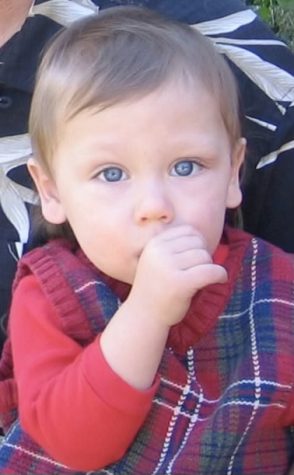 Abernathy said that his time in the program has not only taught him about becoming a better runner but also how to face life head-on.
"I think [running] really teaches you how to work hard and it's not going to be easy. Life is not easy and when a crisis comes, you're just going to have to push through all those hardships," said Abernathy who will attend Mt. San Antonio College. "Every practice we would just grind and grind and grind and the results paid off at the end."
Matt's optimism is greatly influenced by his faith. Matt grew up attending the same church as senior Aiden De Leest. De Leest said that Matt continues to pursue Christ by always exemplifying love and kindness.
"Matt is a great guy as he sets himself apart from others by being a strong athlete and Christian," De Leest said. "He always shows kindness to others and encourages everyone to do their best which I believe is in part to his strong faith."
What really separates Matt from everyone else is his bright personality and kindness. 
Sophomore Morgan McAndrew, who competed with Matt at the CIF Championships this spring, says that Matt has helped her see ways to balance competing in four sports and juggle her other responsibilities.
"I know for a lot of kids that were struggling throughout this year, Matt has always been the first person that everyone's able to go to," McAndrew said. "Just having Matt be there as well as having him be a great team captain has allowed people to see that it is possible to do multiple things and be good at all of them."
Freshman Jack Golla met Matt over summer training for cross country. Golla said that he had a lot of fear coming into the program, especially after two years online due to the COVID-19 outbreak. 
"He was just so nice from the start. He came up to me all the time and said nice things. He was really the first person I had a bond with over summer training," Golla said. "He's one of the nicest people I know and he just instantly bonds to everybody. Everybody knows him. Everybody talks to him. Everybody loves him."