Brickey builds his way to the top
Class of 2022 Band, Music Spotlight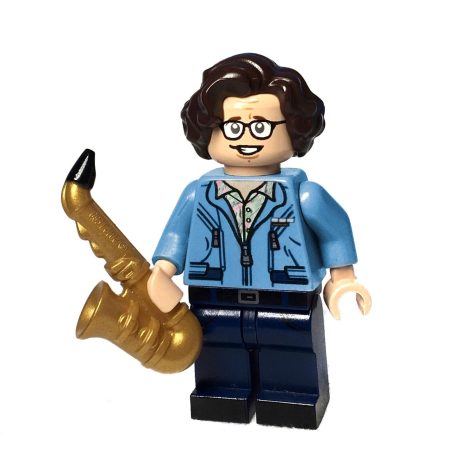 When I awoke on my 16th birthday, I was greeted by a package without a name or address. I didn't know what I expected to find in this mystery box, but it certainly wasn't a custom-built LEGO minifigure that looked exactly like me.
The man behind this thoughtful, funny surprise was none other than Instagram star, full diploma IB student, and music aficionado Max Brickey.
Max has always been surrounded by music. Since fifth grade, he has made his rounds on alto, baritone, tenor, and soprano saxophones.
Max recalls enrolling in his classes his first year at FUHS. "When I saw there was a marching band, I was like, 'Yup, that's for me,'" Brickey said. 
He rose through the ranks quickly. Starting as a member of the band and jumping to drum major seems like a big leap, but Max made it look easy.
"I was never dead set on becoming drum major," Brickey said. "My freshman year, alum Julia Froberg was supposed to go for assistant drum major but didn't. I thought no one else was going to step up and do it so I did."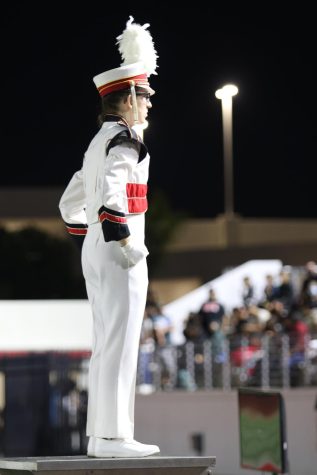 Band instructor Troy Trimble says he was surprised by Max's initiative.
"Max didn't pop out to me as the type to go for drum major," Trimble said. "Every now and then, I'll have a student that I just know will go for drum major. Max wasn't like that, but he was always genuine. He was what our band needed coming back in person."
Max's role as assistant drum major was cut short due to COVID. Even though marching band continued through Zoom, it wasn't the same. They couldn't play together, couldn't march together, and couldn't be together. Max recalls the difficulties of having to work on Zoom. "There was nothing I could do," he said. "There was no band for me to conduct." 
During his junior year, Max found himself thrown into the highest position in the band sooner than he expected after the role of Drum Major was left open.
"It was chaotic," Brickey said. "Even going back in person, we didn't get to play all together. I didn't know what I was doing, I hadn't gotten the time to learn."
When the 2020-21 school year came to a close, he was left with the promise of an in-person marching season the following year. While he did feel the pressure of suddenly being the leader of the band, Max was excited to finally be a true Drum Major after a year of waiting. 
Max attended drum major camp in mid-July with Assistant Drum Major, junior Mandi Austin. "It was my first drum major camp," Austin said. "Which was a huge change, especially after COVID, but Max really helped me out when it came to learning how to lead the band."
Austin has known Max for four years and describes the opportunity to be his assistant drum major as a fun and exciting accomplishment. "Max is just fun to be around. He has an energetic personality that rubs off on everyone he's around," Austin said.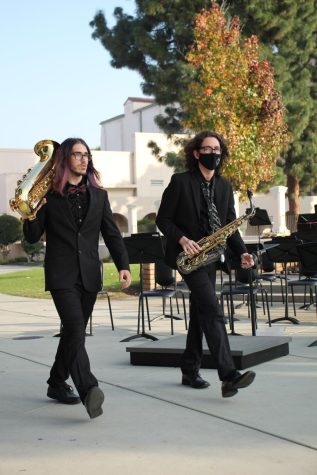 Austin will be taking over his position as Drum Major next school year and gives credit to Max for helping her become the role model she wanted to become.
Max's accomplishments lie father than just the band. He is also an IB student and planning to study at UC San Diego. He's been a Rotary 100 student all four years of high school, an impressive accomplishment considering his dedication to marching band, jazz band and winterguard.
FUHS IB coordinator Mark Henderson, who taught Max IB History this year, describes him as involved, committed, and creative.
"You can tell Max is dedicated about his music and about his art," Henderson said. "He has an entrepreneurial spirit about him that really contributes to his creativity."
Since August 2018, Max has been running the Instagram account @lego_brickey, dedicated to his LEGO creations. He frequently posts pictures of custom-built LEGO minigifures of famous people, TV show characters, book characters, and people he knows personally. He has cropped up a large following of almost 9,000 followers.
"I want to work at Legoland, starting as a ticket taker or a cashier," Brickey said. "Soon I will climb the ranks and become a master builder. My first order of business will be to bring back LEGO Lord of the Rings."
"That's his creative spirit at work," Henderson said.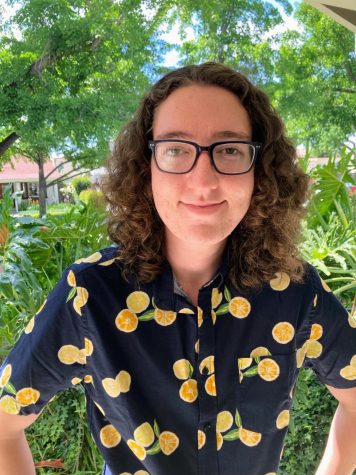 Henderson also describes Max as quiet in the classroom. "He's one of those students who you have to listen to closely," Henderson said. "But when you do, you'll catch his humor."
Though quiet, Henderson says he will have no problems in his future. "He's incredibly smart. He shows a level of thoughtfulness you don't see in every student, and he's a brilliant and funny." 
Max's friends also note his intellect. Junior Gaige Mercado has been friends with Max since 7th grade. "Max is so smart, I don't think we give him enough credit for that," Mercado said. 
Gaige and Max both fondly reminisce on their freshman and sophomore years when they would walk around campus and play their saxophones together.
"It was so much fun. It's really one of my favorite memories with Max," Mercado said. "It's been so great to see Max doing everything he does, and getting to go through it together with him."
Gaige credits Max for inspiring his passion for music.
"He made band so much more special. I'm really going to miss him, but I'm proud of him. He worked so hard for this."