Track & Field teams finish strong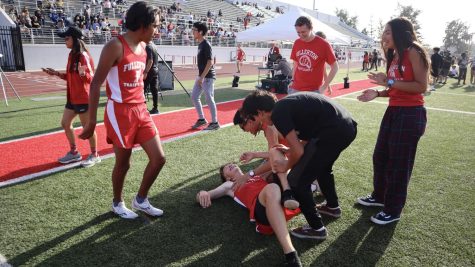 Boys frosh/soph team captures first place in Freeway League
While seniors Matthew Abernathy and Donavan Yepez qualified for the Division 2 Track & Field CIF championship, the boys frosh/soph track team went undefeated in the Freeway League.
The frosh/soph team was led by freshman Jack Golla and sophomore Alejandro Hernandez who finished first in their events at the Freeway League finals back in April.
Golla won the 1600 by 0.2 seconds, slicing 8 seconds from his personal record with a time of 4:56.24. Golla passed two runners in just the last 100 meters.
"Pretty much in every mile or 800, the same thing happens. I get to the 200 and then I'm starting to think 'okay, now this is where I got to start to kick,'" Golla said. "At the 100, I just try and zone myself so far out that I don't feel like I'm running any more. I basically just go on autopilot and I give everything I can."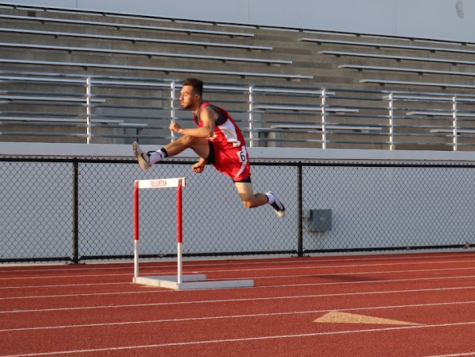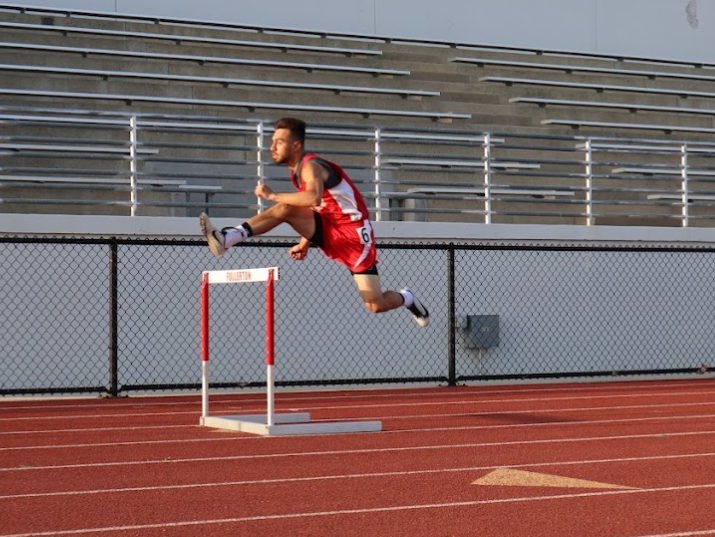 Hernandez wiped the floor in the frosh/soph 3200 coming in at 10:50.62 and beating the second place finisher by a full 32 seconds.
"When I'm running races like that, I'm not really thinking. I'm too focused in on the race, so it's like nothing's really happening," Hernandez said. "I know everything around me is happening like there is a person behind me, there's a guy in front of me, and people are cheering. But really I am just taking it all in."
The boys varsity team finished fourth in the Freeway League.
While juniors Daniel Frausto and Troy Fernandez went fourth and fifth in the 800m, senior Donovan Yepez placed third in the 100 hurdles and hit the CIF qualifying time. Sophomore DJ Cobbs scored in the triple jump.
Junior Nathan Limon trimmed 5 seconds from his 1600 personal record, coming in at 4:46.78. Limon was out of the sport for 2.5 months due to a severe injury after cross country season and touched on how his time out completely changed his outlook.
"Running taught me how to change my mindset. It took me two years to learn it. When injury came, I realized I don't have to go run. I didn't have to go to the gym. I don't have to do my homework. In reality, I don't even have to come to school," Limon said. "But, I get to come to school. I get to go run. I get to go to the gym. I get to do my homework. I get to become a better person, you know? I get to do these things because God has given me that privilege."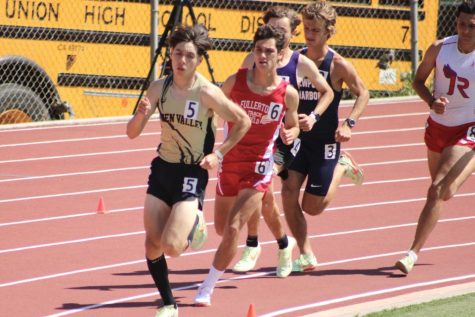 Senior Matthew Abernathy finished second in the 800, crossing at 2:01.93. Abernathy just fell short of going sub 2:00; however, his ambitious goal pushed him to punch his ticket to the CIF Championships.
"[I was thinking] 'last 100, pain's almost over. I just got to push. I really got to push on this'. I was pretty confident that I was going to get the qualifying time for CIF because the first lap I saw I crossed at around 1 minute,'" Abernathy said. "My main goal for that race was just to get the qualifying time for CIF, which happened, so I was really happy."
The CIF qualifiers competed at Ventura High School on May 7. Abernathy came in with a time of 2:06.81, a 5 second add to his personal record. Abernathy said that the nerves at CIF skyrocketed compared to a normal meet.
"It's kind of hard to tell how fast you're really going because of the adrenaline. The first 200 felt good. I was with the main pack. But I finished the 400 and it was at a time a little faster than I was expecting. And I'm like, 'oh shoot'. I think that's what really broke me," Abernathy said. "The last lap, you have to speed up a lot because that's the final sprint basically. I felt like I didn't have much of a chance of doing very well, though."
Running is a mental sport. If your mind is not in the race, neither will your performance. Limon shared a similar experience at League Finals.
"The beginning of the fourth lap of the 1600, Troy [Fernandez] overtook me again," Limon said. "I started to panic. [Junior] Daniel Frausto even pointed it out at the race that for two seconds, I let my mind control my actions. My mind was like 'let him go. You're not going to beat him. You ran a hell of a race. Just let him go'. And for those two seconds, if I let those thoughts take over what my body was doing, he would have won."
With an ambitious varsity team of both underclassmen and upperclassmen, hopes for the 2022 cross country season are very high. 
Golla hopes to be a member of this group. "My goal is varsity. If not that, then I am hoping for sub 18, maybe sub 17:30 for the 3 mile," Golla said. "Just basically be more improved than the class before me."
Hernandez, whose 3 mile personal record is 17:14, sets the team up for much success. "I think a goal for sure is definitely to break 17. After that, break 16. Then from 16 to 15." Hernandez said.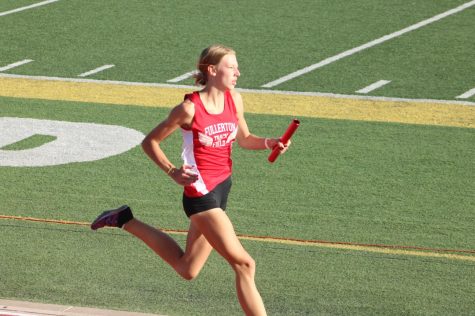 Underdog girls relay team finishes first, qualifies for CIF
The girls varsity track & field team finished third in Freeway League behind Troy and Sonora.
Seniors Natasha Pavelek and Skylar Bush along with sophomores Morgan McAndrew and Ciara Campos won the girls 4×400 at League Finals, automatically qualifying for the championships.
The CIF team had only run together once before at a competition. For Campos, the 4X400 wasn't on her usual event list.
"I'm so proud of us for making it all the way to CIF," Campos said. "My experience there was so exciting, even while we were anxiously waiting since we were the last event. I will always cherish the memories I made with this team."
McAndrew said that despite the relay team constantly changing, the group's strength was its chemistry.
"We were never expected to finish in the top three in league, let alone league champions," McAndrew said. "After we qualified for CIF prelims, we trained non-stop up to 6/7 days a week. There were times where we felt tired and wanted to give up, yet we persevered and I believe always put in 110% percent."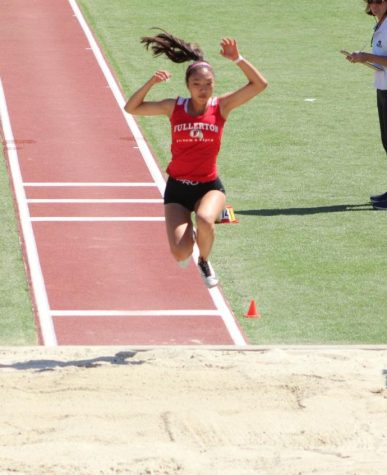 McAndrew said that team captain Natasha Pavalek, who anchored the 4×400 team, provided constant motivation and tips for improvement.
"This was all our first time attending CIF. Throughout the two-hour bus ride we all encountered many different emotions, becoming nervous at one moment and excited at the next," McAndrew said. "But, before our race, we huddled together and our team captain Natasha gave motivation and encouragement, saying no matter what happens she was proud of us. She is and will always be a role model of mine."
Senior Skylar Bush said that just being able to be a part of the team was an incredible experience. "I was super nervous but made sure to focus on doing my best because that's all that matters," Bush said. "We all ran incredibly well and were able to learn so much."
Juniors Haley Won and Layla Thornton along with sophomore McAndrew also qualified individually.
At the start of the Freeway League prelims, McAndrew had a rough mile. Expected to qualify for CIF in the 1600, McAndrew ended up finishing sixth. However, the disappointing results only pushed her harder in her 800m, resulting in an 8 second personal record and new school record of 2:27.34.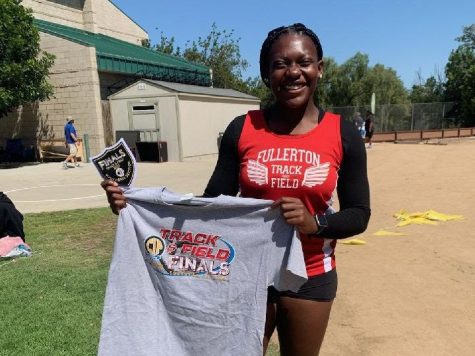 "Throughout the season I was pushed into doing the 800 in track. The mile was meant to be the event I qualified for in CIF," said McAndrew, who came in after the defending league champion by less than 1 second. "During league finals, I did not have a good race. But that led me to push even harder when I competed in the 800 shortly after. I had to really use the defeat to my own advantage, and it really helped."
For the field events, Haley Won finished first at league final in the triple-jump with a new school record and lifetime best by over a foot.
Thornton became a double league champion in the girls shot put and discus, punching her ticket to compete at CIF for the field events.
With an extremely successful CIF prelims, Thornton qualified for the finals at Moorpark High School in the shot put. There, Thornton represented Fullerton proudly and finished sixth.