Spring Sports Final Updates
Chang qualifies for CIF, already looking forward to next year
By Reagan Glidewell, Staff Writer
Fullerton had two boys, senior Landon Casaday and sophomore Cole Chang, qualify for the Divison 3 CIF championship on May 5.
Casaday competed at prelims in both the 200 and 500 freestyle, finishing 11th and 13th. With these finishes, Casaday was able to punch a ticket for the championship finals on May 7. At the finals, he cut down his 200 time by 1 second coming in at 1:45.93 and finishing 12th. Finishing thirteenth in the 500, Casaday cut off 2 seconds and came in at 4:50.81. 
"Well, I was expected to do a lot better. After my first race I saw that I did pretty bad, so I just kind of screwed around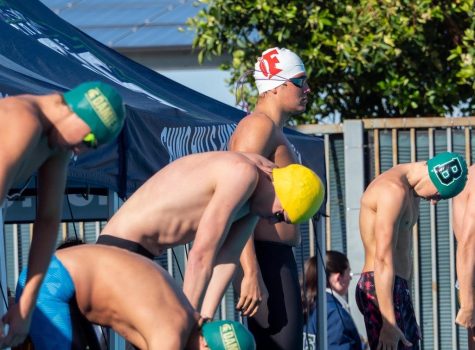 my last race and focused on having fun," Casaday said.
Chang competed in both the 50 and 100 freestyle, finishing 30th and 27th.
For Chang, just being able to go to CIF was an accomplishment for him. But, with the nerves that come with CIF, Chang did not perform as he hoped. 
Despite the disappointment, Chang was able to point out the specific things that went wrong, leaving room for improvement.
"I do wish I could have done better. I should've gone out faster for the 100 free. For the 50 free, I just completely missed the turn," Chang said. "For the 100 free, I got the turns down, but it's a sprint. I should have gone out hard the whole time but I kind of held back the first 50 and I couldn't catch up."
As a sophomore, Chang says he knows there's room for improvement. One goal is to defeat his swim club teammate, Sunny Hills's Daniel Kim next season.
"I want to beat DK in the 100 and 50 free," Chang said. "That guy, he went a 47 in the 100. And then he went a 46 in the A final. It is crazy."
Freshman Guevara swims in CIF finals
For the girls swim team, freshman Lily Guevara qualified in the 200 individual medley and the 200 breaststroke while sophomores Reagan Glidewell and Elizabeth Timmerman along with senior Chelsea Yun joined Guevara in the 200 medley relay.
Guevara moved on to the CIF finals in both of her events, finishing 12th in the medley and ninth in the 100 breaststroke. However, as a club swimmer, she had higher expectations.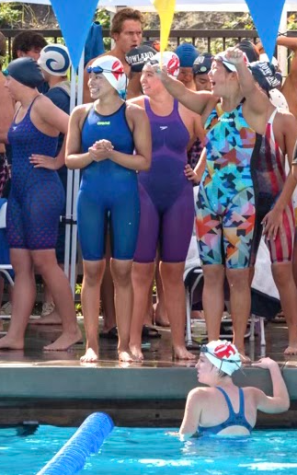 "I felt a little disappointed in my swims this year, especially since I expected to do so much better and get my Sectionals cut for 100 breast. I think that my mentality was a little off and I was physically exhausted from club swimming. I felt good in the water, but my times didn't match up," Guevara said. "But, I am really excited for next year because now I know how to go into my swims and how much more competitive CIF is compared to the dual meets and league finals."
The girls medley relay team finished 11th in prelims, going under 2:00 for the first time with a time of 1:59.24 and qualifying for the CIF finals. At finals, the Indians maintained their place and time.
Glidewell, who anchored the relay team, said that the team's positive mindset throughout the championship helped them succeed. For a lot of athletes, when they get to a huge competition like CIF, they try and treat it like it is any other meet or any other game. Glidewell said the team did the opposite, reminding themselves and each other that they made it to CIF which kept them competitive.
"Last year, I was the only one from Fullerton who competed at CIF. I was really just swimming for myself. But this year, I did not qualify in any individual events. The relay was it for me," Glidewell said. "Mindset-wise, there is a big difference between going to CIF with a relay team vs in an individual event. It was really different, but it made me want to push myself even harder because yes, I wanted to succeed for myself, but I wanted to be the best I could be for my teammates."
Diving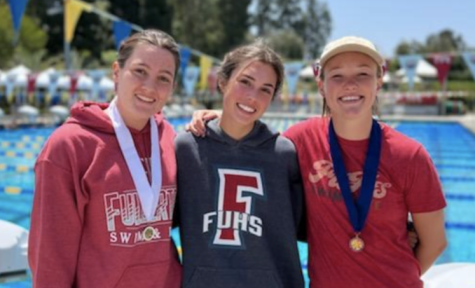 Boys Golf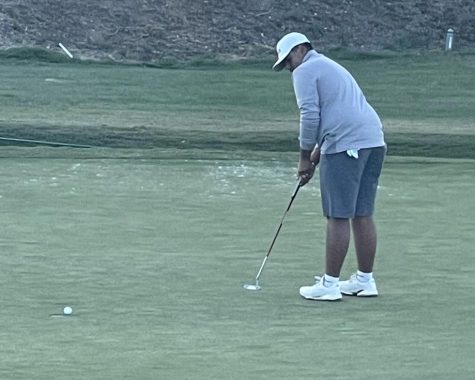 Boys Volleyball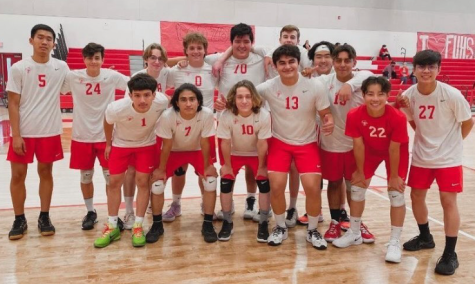 Staff members Kyra Budeshtsky, Ami Ishikawa and Ruby Miller contributed to this story.