Both cross country teams fight for CIF bid
Cross country
The Fullerton cross country teams will compete at the OC Championship Invite on Oct. 14 at Oak Canyon Park. 
On Oct. 8, Fullerton cross country took 16 boys and 9 girls to race a 5k at the Clovis Invitational hosted in Fresno. The invitational was hosted at Woodward Park, the CIF State Championship course since 1987 and the Indian's first appearance. 
The meet hosted nationally ranked teams such as Great Oaks and Newbury Park. Newbury Park is No.1 in the nation with record holders such as twins Leo and Lex Young. Senior Leo Young holds the boys national high school 3 mile record (13:38.1).
Boys cross country
The boys cross country team competed at the second Freeway League Cluster on Oct. 5 at Clark Park. 
The Indian's top 5 runners all finished in the top 20. Senior Nathan Limon finished second with a time of 16:25.8 with junior Alejandro Hernandez trailing just behind with a third place finish at 16:26.6. Senior Troy Fernandez finished sixth (16:53.2), sophomore Jack Golla 15th (17:26.5), and sophomore Ryan Leitner in 18th (17:44.1).
After coming off of a hard week and a half of training without any competitions, boys varsity finished second behind Sonora by only 2 points. Last year, the boys varsity finished fifth. This year, they fight for the League Championship title.
On Sept. 24, the Indians competed at the Dana Hills Invitational. Limon (16:32.7) finished 16th of 158 runners. Fernandez (17:25.6) was 49th and senior Daniel Frausto (18:01.0) was 66th in the senior division. Hernandez finished fourth (16:17.4) and junior Nathan Karcher finished forty-third (18:23.9) in the junior division.
Limon said that the team has had a very big change in mindset from this year to last year. Running is 90% mental, and the shift in mindset at practices has only improved their mindset on race day and their performance as individuals and a team.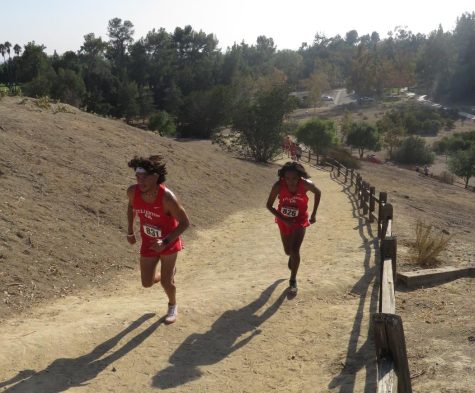 "When we are on that starting line, and we look at each other, we're like,'okay, so everyone's pushing each other, right?' And if there's just one head that's no, we look at them and we encourage them," said Limon, one of the boys team captains. "There's been a whole shift to that mentality where it's just no excuses, hyping each other up, and good, positive word play. And because of that, each workout that we're having is just getting increasingly better."
At the Woodbridge Cross Country Classic Sept. 15, all 7 varsity runners ran personal bests. Hernandez led the boys with a 79 second PR (15:55.1) followed by Limon (15:56.7), Fernandez (16:25.5), Golla (17:02.2), Frausto (17:23.7), and Leitner (17:15.4). For the first time since 2014, Fullerton had two boys under 16:00 in the same race.
The Indians kicked off their league competition at the first Freeway League Cluster on Sept. 12. Originally dated for Sept. 7, the meet was rescheduled due to the heat waves. The boys varsity team finished second overall behind Sonora.
The Indians experienced their first fight with the heat in the Fastback Invitational at Mt. San Antonio College on Sept. 3. Divided into grade levels, the freshman and sophomore boys ran the 1.8 mile race consisting of two loops and a hill of switchbacks. However, by the junior races, the temperature reached 95 degrees. The switchbacks were cut out, both the junior and senior boys only running 1.4 miles.
Limon said that the team was used to training in the heat. Their ability to persevere in the heat distinguished their ability to perform compared to other runners.
 "With training in the heat, you notice that your body hates it. But when you put yourself in a situation where you have to suffer, it's like digging into a cave. I like to call it the pain cave," Limon said. "Every time you suffer deliberately by doing something that you know is gonna hurt, you're just chipping away at that cave and just expanding the amount of pain that you can take, the amount of suffering you can take. It's about getting comfortable with being uncomfortable."
Girls cross country
The girls cross country team also competed at the second Freeway League Cluster on Oct. 5 at Clark Park. 
The Indian's top 4 runners finished in the top 25. Junior Morgan McAndrew finished second with a time of 19:09.9 followed by junior Ansal Esquivias (21:11.7) in 17th. Junior Reagan Glidewell (21:28.8) finished 20th and sophomore Amy Ramos (22:22.1) in 25th.
The Indians finished fourth for both Freeway League meets. At the second cluster, the girls varsity team finished behind La Habra by only 14 points compared to their 24 point gap in the first Freeway League Cluster on Sept. 12. 
To determine CIF, the scores are weighted differently for each league meet. The first league cluster is worth 20%, the second 30%, and the finals 50%. The Indians will have to place third at league finals to tie with La Habra resulting in both teams qualifying for CIF.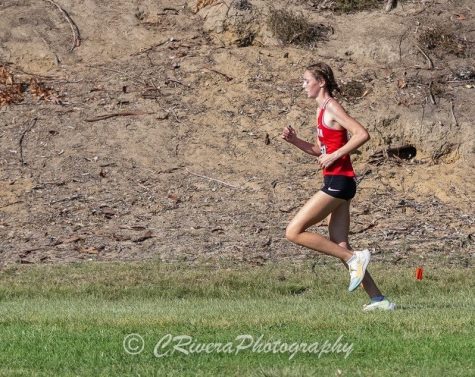 On Sept. 24, the Indians competed at the Dana Hills Invitational. Esquivias (21:23.0) finished 27th and Glidewell (21:38.0) finished 29th of 106 runners in the junior division. McAndrew (18:55.5) competed in the earlier race, finishing 61st of 197 runners.
The determination of the girls team led to personal records at the Woodbridge Cross Country Classic on Sept. 15. McAndrew led the girls team, breaking her own school record at 18:01.3. McAndrew was followed by Esquivias (20:26.4) and Glidewell (20:43.3), both cutting off more than 2 minutes from their best times. For the JV race, sophomore Amy Ramos ran a personal record of 22:07.8. 
The Indians kicked off their league competition at the first Freeway League Cluster on Sept. 12. The girls varsity team finished fourth overall behind La Habra. 
Much like the boys, the girls varsity team shared a significant, positive shift in mental focus and determination. McAndrew said that she hopes to promote attentiveness, preparation, and positivity among the team.
"It's actually my first year being a captain on the cross country team. Last year it was Hannah [Torres] and I really looked up to her. I followed what she did. I was really taking mental notes of what she was doing last year," McAndrew said. "This year when I found out me and Reagan [Glidewell] were captains, we immediately were talking and planning out what we needed to get accomplished, what we needed to do [as a team].
The girls varsity team will fight for a CIF spot on Nov. 2 at the Freeway League Finals.