The Wolves showcases realistic female teen characters
Tickets still available but show closes Saturday
FUHS students are familiar with the Disney Channel female archetypes. There's Funny Girl, Shy Girl and Angry-Bully Girl. But those one-dimensional TV characters fall short of telling complete stories.
In contrast, Sarah Delappe's The Wolves, which opens Wednesday night in the Little Theater, poignantly depicts real, raw and sometimes funny teens who navigate tough issues ranging from grief to abortion. The 2016 play, a Pulitzer finalist, follows a soccer team of nine girls through several practices where the audience learns about their group dynamic and individual crises.
Cast member Sophia Goldblatt, who plays #7, said she appreciates how The Wolves paints the teenage girl experience. "None of the characters follow a blatant stereotype, and all of them are three dimensional," Goldblatt said. "It's something I've never seen before."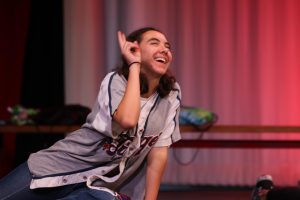 To help tell the story from a female perspective, theater teacher Michael Despars reached out to alumni Mykaela Sterris, class of 2015, and Elizabeth Gimple, class of 2018, to direct the show.
Sterris remembers how Despars helped her gain confidence as a performer when she was an FUHS student, and she tried to provide the same guidance and reassurance to her cast.
"It's been gratifying for me to walk in every day and have so many of the kids tell me that rehearsal is the best part of their day," Sterris said. "That is just the best feeling because I remember what that felt like when I was in theater as a high schooler."
Although the directors have decided to eliminate most profanity from the Fullerton production, the script still has adult language and situations. The show is not appropriate for children under age 13.
"I think the beauty of The Wolves is that it is so raw and real," Sterris said. "I tried to handle the subjects responsibly from the very beginning, discussing as a team what it means to be in a safe and a brave space."
Co-director Gimple said the play has a nice balance of depicting serious teen issues and "goofy things" that are a part of teen life. "It gives space for those voices to be heard and taken seriously," Gimple said. "A soccer team is a great place to showcase that because you're unfiltered in that environment."
The Wolves performers are freshmen Isa Calvo and Araya Wright; sophomores Charlie Eisenacher, Sophia Goldblatt and Katherine Timmerman; juniors Karisma Beltran, Mollie Holbrook and Emma Jacobson and senior Sophia Galvan.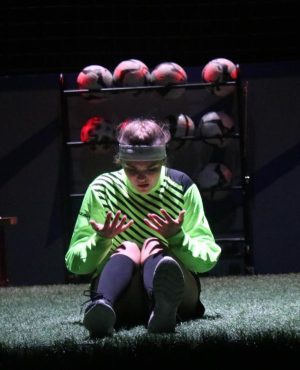 To help actors connect with their characters, the directors asked the cast to write in daily journals. Timmerman, who plays #11, said the exercises were helpful. "The prompts ask us questions such as 'What's your character's biggest secret?'" Timmerman said.  "Number eleven is definitely a know-it-all. She also seems to have trouble hiding her emotions, and some people will probably relate to that." 
Beltran, who plays #13, has 9 years of soccer experience. She was part coach and part actor. "I can visibly see the improvements in how they manage the soccer ball and do the drills," Beltran said. "It's been a really cool experience."
The play focuses on interactions among the teammates, but audiences should look for Jacobson's riveting solo scene entitled "Timeout" about halfway through the show.
"Normally I've played silly, goofy characters," Jacobson said. "My character [#00] has depth to her and is a more emotional character, as she has a severe social anxiety disorder."
This is assistant principal Carey Aiello's first year as an administrator at Fullerton High School. When theater teacher Michael Despars met Aiello in August, he was immediately impressed with her energy and asked if she would play the sole adult role for the show.
Aiello has been active in theatre since childhood. She performed in plays in high school and even participated in staff musicals and "Faculty Follies" during her time as an administrator at El Dorado High School.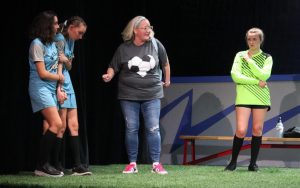 In The Wolves, Aiello plays an intense soccer mom coping with devastating loss. "Not to be a dramatic person, but theater truly did save my life as a teen," Aiello said. "My whole world fell apart, and then the theater became my family, my safe place."
The show's technical crews have also worked to bring authenticity to the play. The props crew added keychains, pins and patches to each character's backpack to showcase their personality. Charlie Eisenacher's #8, who is obsessed with The Lord of the Rings, has pins of her favorite characters. Karisma Beltran's #13, who is a stoner, has a bong-shaped pin. All team members, except for Araya Wright's new-girl #46, have two gold stars on their bags, showing that they have competed together before.
Costume designer sophomore Yae Eun Han asked the actors about their characters to ensure that the complex, rounded characters are accurately portrayed in detail. "#14 kind of follows #7, so if #7 wears a necklace then in the next act #14 will also get a necklace," Han said.
The set for The Wolves clearly represents an indoor soccer field. The Technical Theatre class lined the stage with AstroTurf and hung nets across the back of the stage. There are two home benches and a ball cart, stocked with a field-chart, cones, and a whistle for team captain #25.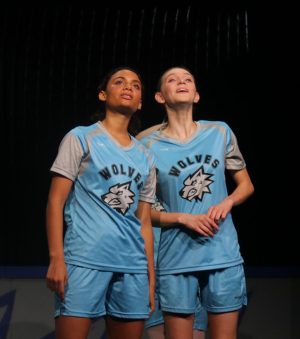 Sound designer sophomore Ashley Nava worked with lighting designer junior Micah Plick to create an intense background for "Timeout." Lights will pulse in time with quickening heart beats, portraying the feelings of #00.
Other sound effects include whistles, soccer game raucous and the call of a tufted titmouse, referenced directly in the script. As the soccer team mentions people and actions occurring off stage, Nava is mindful of what side the sounds come from and the volume of each effect. Extra work and thought went into each technical aspect of the play to emphasize authenticity.
The Wolves will be in the Little Theater from Oct. 12-15 at 6 p.m., and Oct. 15 at 1 p.m. Tickets are $12 online at fuhs.booktix.com and $10 at break and lunch in the MSA building box office.
"Every person will find at least one character that they relate to, hold onto, and that they can learn from," Sterris said.