BEAST program impresses with projects, awards
Thank you, Mrs. Craft. Thank you for taking our fourth period Spanish class to watch the Theater Department's preview of The Skin of Our Teeth on Nov. 3. Yes, I really enjoyed seeing a slice of the show in the Little Theater, but the best part for me was watching Scott Hudson's fourth period class watch the show. I smiled when I heard his students' delighted gasps as they got a glimpse of the play's wooly mammoth and detailed dinosaur. I knew Hudson's students were particularly invested in the show because they were the ones who designed and created the creatures on stage.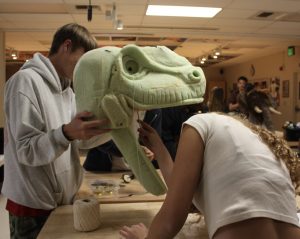 Two weeks earlier, I was invited to watch those same students work on those same creatures in Hudson's fourth period BADE class. BADE stands for Biological Arts Design Engineering which means these students combine science skills and artistic talents ranging from sculpting to mold making to create awesome creatures. And, as the managing editor of the Tribe Tribune, it was an awesome privilege to watch them work. 
When I arrived on Oct. 19, students were building a dinosaur from the neck up and creating a fully functional wooly mammoth costume. At this point, the dinosaur was just a foam head with a spine. The wooly mammoth was further along with the paint team close to finishing.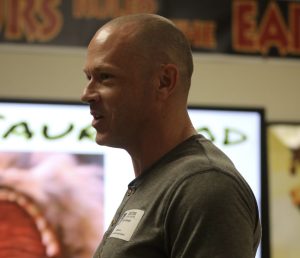 That day the class also had a guest speaker, academy award winning make-up and special effects artist Justin Raleigh. Having a pro like Raleigh, who's worked on projects like American Horror Story, meant the class was super pumped. The BADE students had one of their idols in the room, but Raleigh wasn't interested in hyping his celebrity. He was there to watch, to listen and to help. Raleigh coached students on how to achieve just the right texture and demonstrated how to define the ridges of the mammoth's mouth.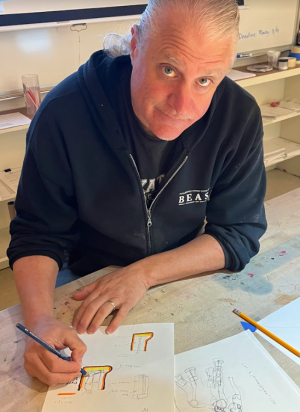 I was also impressed by Mr. Hudson. That day, he fit in a color theory lesson to help students with an upcoming zombie project. I noticed Raleigh's approval. Hudson knows his stuff, and he wasn't intimidated despite having someone in the room who worked as the special makeup effects designer on Army of the Dead.
This week I had the pleasure of returning to the BADE class. The Skin of Our Teeth has three shows left, one on Thursday and two on Saturday. It was time to follow up on their collaboration with the Theater Department and find out how students felt.
While talking to students on Wednesday, what struck me was how they remembered every single detail. If I showed a student a picture from weeks ago, they were able to describe exactly what they were doing in the photo and explain exactly why. They even remembered what they were thinking at the moment the photo was taken. Wow. Talk about having a memorable learning experience. Throughout all the unexpected problems over the past few weeks, BEAST prevailed.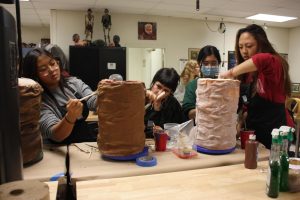 Senior Austin Hulsizer said the dinosaur team had problems creating the supports. "At one point the wood split in half so we would get more wood and it was just really tough because it was a bunch of wood glue," Hulzier said. "It was a bunch of drilling and screwing and figuring out how to solve that problem."
Unlike the dinosaur, the wooly mammoth team had to account for a person operating inside the costume. "We took a pair of children's crutches and disassembled them, cut them and kind of re-engineered them into like forearm crutches," Hudson said. 
The cynic in me thought students would be sick of the mammoth and dinosaur projects. Not a chance. The energy in the BADE room is inspiring. Everyone was super excited and proud of what they'd accomplished.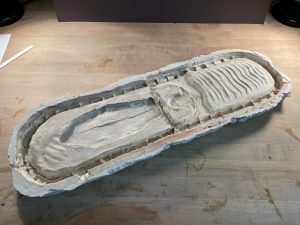 This is my third year in journalism, so I do take pride in my interviewing skills. However, I have to admit that I couldn't keep up with these kids. They were throwing out terms like hydrocal plaster and alginate. There were some engineering terms that my first-year physics brain didn't grasp. After trying to pretend I knew what they were talking about, I conceded and asked them to write down a few details for me.
And it's this learning atmosphere, filled with energy and passion, that has earned the BEAST program a Golden Bell Award this year. Their eagerness to learn, as well as the beautiful, positive collaborative environment, cannot be faked. 
On top of the Golden Bell Award, BEAST and physics teacher Jim Pitochelli was awarded the Henry Ford's Innovation Nation Teacher Innovator Award this past June.
I mean, of course he was. Mr. P is awesome. Only he could make people who hate math actually enjoy physics. The Pitochelli and Hudson combo make BEAST a challenging yet inspiring program.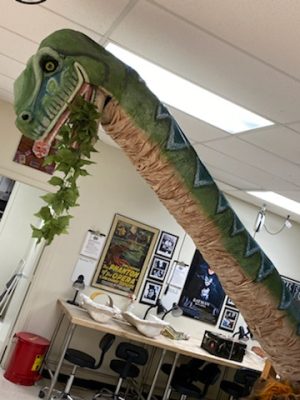 I interviewed both Pitochelli and Hudson as well as a handful of BEAST students and that excitement to share something they love with others was present for everyone. And it was contagious. 
When I see The Skin of Our Teeth this weekend, of course I'm excited to see my friends on stage acting their little hearts out. But as soon as the wooly mammoth and dinosaur arrive, they will have my complete attention as I admire all the hard work that has been put into them.
Yesterday while I was packing up my interview notes in the BADE room, I looked back at the class and I felt a pang of jealousy. I was jealous that I wouldn't be able to experience this class for myself because it's too late for me to join this awesome program as a senior next year. 
So, if you are able to, I would highly recommend joining the BEAST program. I mean who doesn't want to make sick projects such as a beating heart or a talking doll? But, also, maybe you just want to be a part of a super cool class with some very inspiring teachers.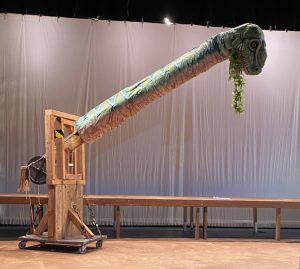 See related story: