Theatre Department celebrates achievements
From performing at an elementary school to helping fund public school arts programs across California, the work of Theatre Program Director Michael Despars and his students deserve to be celebrated. The program has been especially busy in recent weeks.
Proposition 28
In early November, California Proposition 28 passed with overwhelming support. Prop 28 requires an annual source of funding for K-12 public schools for arts and music education equal to, at minimum, 1% of the total state and local revenues that local education agencies receive. This ensures that the arts are provided enough money to stay afloat, especially in times of recession.
Despars currently serves as the California Educational Theatre Association (CETA) president. CETA did a lot of heavy lifting in Prop 28's early days, promoting the bill starting last January. By promoting the bill during last year's production of Matilda: The Musical, Despars helped to bring the proposition hundreds of steps closer to their final goal of one million signatures.
"It doesn't matter if you're a Republican or a Democrat; there's probably a good chance that your child is involved in the arts," Despars said. "It was just one of those propositions that supported everyone's student."
Distinguished Career Service Award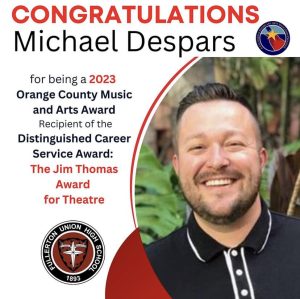 Despars was also recently awarded the Jim Thomas Award for Theatre, a Distinguished Career Service recognition. Despars is considered a leader in theatre arts education. While many local drama teachers struggle to stage two shows a year, Despars has built a program that creates well-rounded artists. Students learn every aspect of theatre arts, including lighting, sound, costuming, set design, publicity and more. Students attend festivals, workshops and competitions. Despars also prepares students for the complex process of auditioning for college theatre programs.
This honor, bestowed upon him by the California Department of Education, came as a surprise.
"I'm getting a Career Service Award when I feel like I'm only halfway through my career," Despars said. "As humans, we always think about the negative. Sometimes it takes this kind of recognition to help you reflect on the things you've done well; I'm proud of the work that I've done."
The Wolves places 2nd in CETA High School Theatre Festival
The FUHS production of The Wolves by Sarah Delappe, directed by alumni Mykaela Sterris and Elizabeth Gimple, placed second in the CETA High School Theatre Festival. The show, with its 9-member cast, finished a fraction of a point below the (not yet announced) first-place winner.
The cast will perform a ten-minute scene from the production, watch other high-ranking shows, and attend theater workshops at the CETA Festival in January.
"I'm excited for other theater enjoyers to see it and I'm excited to do it again," cast member and sophomore Katherine Timmerman said. "It's important to show the life of teenage girls; it's just our lives on a stage."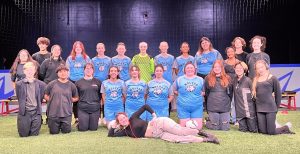 Stories from Orangethorpe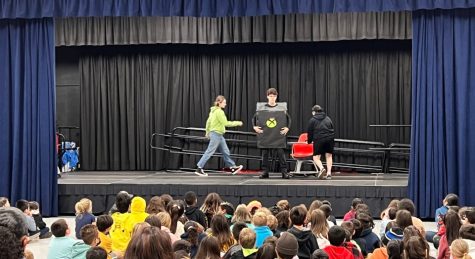 For a third consecutive year, the Theatre Production class co-wrote, performed and directed Stories from Orangethorpe, a show based on short stories written and illustrated by students from Orangethorpe Elementary. Technical Theatre students designed and executed the technical aspects of the show, including projections and sounds.
The class traveled to Orangethorpe's campus on Dec. 7, putting on the show for the whole school throughout three assemblies.
"We had bullies in our scene–Polly, Paisley and Patricia– and at some point, one of them tells the protagonist that they hate her green dress," cast member junior Sydney Parker said. "Immediately a kid in the audience yelled 'Shut up!' It was hilarious. I almost broke character."
Inland Invitational One-Act Competition
A recent project by the Theatre Production class was cutting the script of a one-act play to 20 minutes, directing it, and performing them for a group grade. The class then voted on which group to send to the Inland Invitational One Act Competition. Bad Auditions by Bad Actors by Ian McWethy was chosen and won first place.
Juniors Sydney Parker and Charlotte Krammer won ALL-STAR Performance Awards, and junior Mollie Holbrook won the Outstanding Performance Award.