FUHS presents moving musical Bright Star
After watching Fullerton's production of Bright Star, English teacher Leo Indelicato said it was "tender, powerful and moving."
He's right. There are 85 students of cast and crew who come together to tell a "moving" story, but with about 30 scene changes, 15 set pieces, and 100 wheels on stage, Bright Star is an emotional show that also really moves.
Steve Martin and Edie Brickell's musical Bright Star is the first full production to be staged in the Fullerton Auditorium in three years. The show opened last weekend, marking current seniors' first time performing in the historic venue. Final performances are scheduled for this Thursday, Friday and Saturday at 6 p.m.
Students tell a unique story inspired by the real Iron Mountain Baby incident. Student designers utilize a set on wheels, themed lighting, and close attention to detail to create a flowing, unique production.
Taking place in the mountains of North Carolina, Bright Star tells the converging stories of Alice Murphy and Billy Cane. In the 1920s, Alice falls in love with Mayor Dobbs's son, Jimmy Ray. After they have a child, authority figures in Alice's life separate her from her baby. In the 1940s, a now-grown Alice is a successful, no-nonsense news magazine editor. Newly returned soldier Billy Cane fights to gain Alice's attention and have her publish his story. As Alice continues to search for her long-lost baby, she revisits her past and makes shocking discoveries.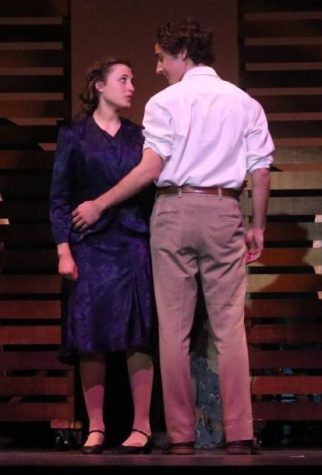 Senior Alexis Helmer plays leading lady Alice Murphy. The role's challenge lies in the frequent shifts between spunky teenaged Alice and pessimistic adult Alice.
"It's all about getting in the right mental headspace," Helmer said. "I try to find things I have experienced in my personal life to help me live in the moment. I don't want to manufacture my emotions because then it isn't authentic."
Senior Ian Klatzker plays Jimmy Ray Dobbs, a young man torn between the pressure he faces from his family and his love for Alice. As a teen himself, Klatzker said he found difficulty in making his acting– ranging from familial betrayal to true love– feel realistic.
"It comes down to what you see," Klatzker said. "You see your parents in love. You see family members in love. You see love in the media. You have to draw from and channel that sort of emotion."
Mayor Dobbs, Jimmy's father, is played by senior Marco LaRosa. As a close friend of Klatzker, LaRosa had to shift the dynamic of their relationship during rehearsals.
"We see each other as equals," LaRosa said. "All of a sudden, I'm playing a character where I'm seen as above him in a hierarchical sense."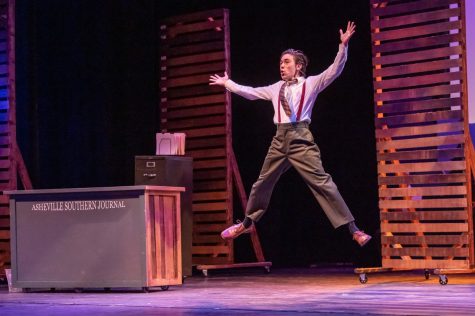 On the other hand, senior Nolan Shirk said that he felt connected to the optimistic Billy Cane from the get-go.
"I have ADHD, and I definitely think that Billy does too," Shirk said. "There are times where he doesn't connect with something going on in a conversation. There's a moment where he is shocked to learn that 'superfluous' isn't pronounced 'super-flu-ous,' and I totally relate to that."
Senior Lily McWatters plays Margo, Billy's love interest and childhood friend. Much of Margo's characterization centers around her seemingly unrequited feelings for Billy, supporting him from home as he travels to pursue his dreams.
"Although Margo and I are really different on a more surface level, I still see myself in her," McWatters said. "We put others' wishes and dreams before our own. We both love to tell jokes. She's a great hype person, and I like to think that I am too."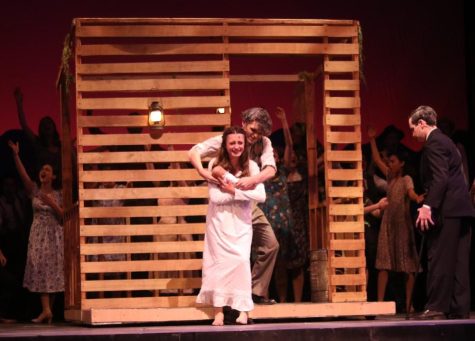 The musical takes place in many settings, with only a few blackouts and short transition tracks to execute set changes. Set designer senior Mark Hsieh knew typical full sets wouldn't be possible with the structure of the show.
"I knew that I wanted the set to be easily moveable, but I didn't want it to feel empty or static," Hsieh said.
Each set piece is reused multiple times, creating doorways, a bus, and even a train car. One desk represents a bar, a register counter, and a secretary's desk. To create distinction between locations, Prop designer senior Janae Pease changes set decorations corresponding to each scene. From real (alcohol-free) mixed drinks, to a cash register, to manilla folders, Pease sets the scene.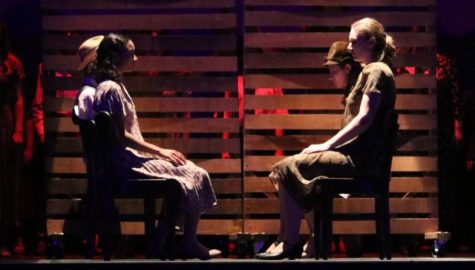 Pease is also the stage manager, responsible for calling and timing all cues. While she may call the lighting shifts and sound effects, it is up to the student designers to create and execute them. Junior Micah Plick is lighting designer, also having lit the two other FUHS productions this year.
In the same way that set pieces convey different settings, light cues communicate weather, time of day, and location. To match a lyric referencing lightning, Plick programmed flashes of light to strike the deep blue background. As the musical bounces back and forth between the 20s and 40s, the hues and saturations shift to match.
Sophomore Ashley Nava designed the show's sound, including crying baby sound effects and train station ambiance. Sound board operator junior Kit Kelekoma times the start of the tracks and organizes microphone checks pre-show.
"Without sound, it's quiet and empty," Nava said. "People lose focus. I try to gain back their focus with ambiance."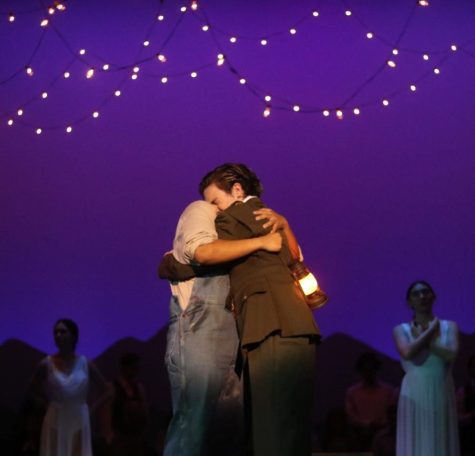 Freshman Isa Calvo designed Bright Star's hair and makeup. The sassy, bold secretary Lucy will have red lipstick to match her fiery personality, while most ensemble characters wear neutrals. Each dancer also has a shimmer eyeshadow to represent their "starry-eyed" hopefulness. Many prominent characters are older and therefore require age makeup.
"We put a lot of character analysis into which characters get which age lines," Calvo said. "Mama Murphy will have smile lines and crow's feet because she's a generally happy person. Meanwhile, Dobbs has frown lines and jaundice because he's dying from cirrhosis of the liver."
Costume design also reflects the characters' personalities, including Lucy's bright red dress, eclectic editor Daryl's mismatched teals and blues, and older Alice's dark skirt suit. Sophomore Yae Eun Han researched the dress style of the time and region thoroughly. The featured dancers act as spirits, cloaked in flowy white dresses and led by Mama Cane in a dress with wing-like sleeves.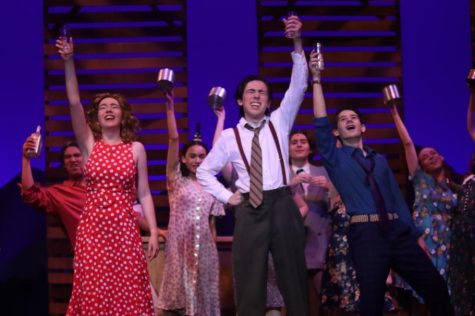 Senior Mylah Elisaldez was given a role not originally written into the script. As Billy returns from war, his father informs him of his mother's passing in the song "She's Gone," during which Elisaldez has a self-choreographed solo as the dead Mama Cane.
"I had a lot of free reign," Elisaldez said. "A lot of my inspiration came from the musicality of the song's instruments, especially the banjo. I tried to capture the emotion she might feel as she watches her husband tell her son the news of her passing."
Elisaldez also choreographed songs "I Can't Wait" and "A Man's Gotta Do (Reprise)," focusing on the feeling the songs should evoke. While "I Can't Wait" has round, motherly movements, "A Man's Gotta Do (Reprise)" focuses on sharp poses.
FUHS Choral director Stacey Kikkawa acted as music director with the assistance of FUHS pianist Amelia Thompson. Junior Melodie Adams and LaRosa worked together as chorus masters, offering additional vocal support to cast members.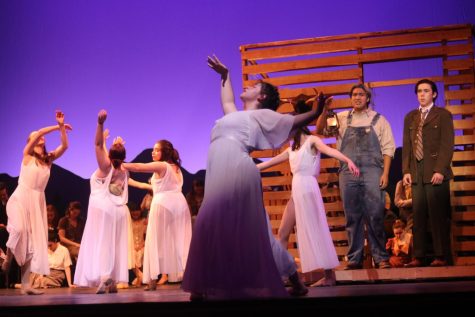 Senior Augusta Passalacqua orchestrated the show's publicity and marketing, designing the poster, pins, shirts, and video ads. Passalacqua also created a scavenger hunt, hiding 25 free tickets around campus.
Although many of these free tickets are still available, students can also purchase tickets to Bright Star for $8 in the Little Theater's box office at break and lunch if they present their student ID. Tickets are also available online at fuhs.booktix.com for $12. There are three performances left, in the Auditorium at 6 p.m. on April 20, 21, and 22.
"Bright Star teaches audiences to not let others influence what you want to do," Klatzker said. "Follow your dreams. Follow your own bright star."
Click below for more Bright Star photos
Editor-in-chief Sophia Galvan contributed to this story.