Students trying to walk from one end of the campus to the other have found obstacles such as construction machinery and fences. According to assistant principal Jon Caffrey, the inconvenience of avoiding construction areas will continue throughout the year and maybe into next year.
Some projects were completed over the summer, such as air conditioning replacement in the 30's and 40's building and Farm's parking lot repavement.
Swimming Pool
Water polo and swim teams must use the pool at Fullerton College for practices this year as the district builds a new regulation sized pool. The pool reconstruction was set back and the earliest completion date is June 2024. The pool project also includes locker rooms, scoreboards, bleachers, a coach's office, and new fencing.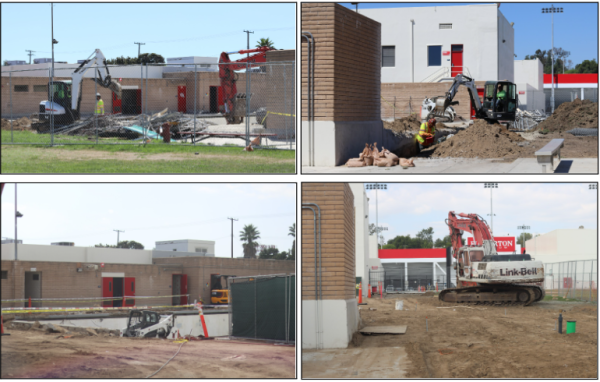 Dance Room Stairs
Along with pool reconstruction, the stairs to the dance studio have been torn down. In the meantime, FUHS dance students will continue to practice and work in the school's gym and auditorium. The stairs will be rebuilt in an angle that will not interfere with the new pool.

Tennis Courts plus Parking
Once the pool is reconstructed, the empty lot on Pomona Avenue will be turned into a new CIF-certified tennis court. The lot will have around 28 new parking spots for staff.
Vending Machines
The vending machines by the cafeteria were recently relocated near the 140s building. Sherri Bennett, the food services lead, explained that the storage containers near the 140s building used to be custodian storage.
However, with recent pool construction, these containers are inaccessible. As a result, the custodians are moving back to their original storage location, the building where the vending machines were previously kept.
So far only four of the six machines have been moved. In the coming weeks, the last two machines left by the lunch tables will be moved into the cafeteria.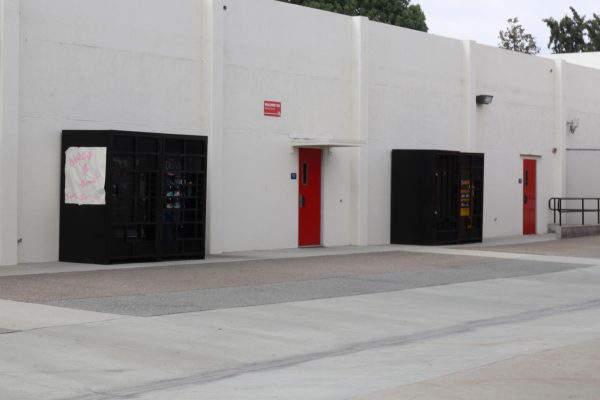 Wellness Center
Room 124 in the lower library is being remodeled to serve as a mental health and wellness center. The room will be restructured to have smaller offices and a relaxation area for students.

JROTC, Computer Science Relocations
Although no major construction will be involved, rooms in the 150s are being prepared for the JROTC program. JROTC is scheduled to move from Room 234 to the 150s next year.
According to Caffrey, the Computer Science program will move to Room 234 with new decor inspired by Google workplaces with bean bag chairs, new desks and brighter colors. The move is planned for 2025.