It's entirely possible that the hardest question for you to answer each day doesn't come from your math, science or history teacher. Our guess is that the hardest question to answer is, "What time is lunch?"
We at the Tribe Tribune have come to dread this question as much as you have. It raises anxiety, breeds discontent and fosters hopelessness. High school is stressful enough. Shouldn't lunch, at least, be reliable?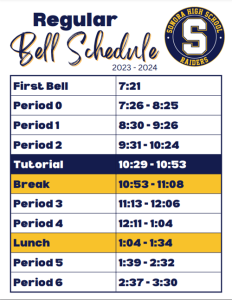 But even if you don't mind lunch starting 20 minutes earlier or later from day to day, you should care that the bell schedule is harming student athletes' educations.
For example, tennis player Kate Luengo and her teammates will miss their fifth period classes 17 times this season. SEVENTEEN. Water polo, volleyball and other sports have multiple transfer lists, too.
According to the FUHS counseling office, one-third of students play sports. Every time athletes need to get changed and get on a bus for a game, they miss lectures, tests and discussions.
Who's to blame?
When we learned that teachers were the ones who voted for the spin-the-meal-of-fortune lunchtime randomness, we wanted to dump our Starbucks on them. Come on, teachers, didn't you know this would be crazy? However, digging deeper we learned that they didn't really have much choice. It was pretty much either keep last year's schedule when students sat in the same class for an extra 25 minutes for the entire week, or try the rotating schedule. We don't blame them for trying the variety option, but it's not working. With three or four different lunch times each week, the school has found an amazing way to make everyone unhappy.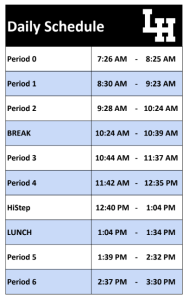 Why did the schedule change?
Senate Bill 328, enacted in 2022, caused the first major change by requiring high schools start first period no earlier than 8:30 a.m.
Then there's WASC. The Western Association of Schools and Colleges pretty much gives each school a report card; WASC says whether or not your FUHS diploma is legit. When WASC observed our school last year, it said we're doing a good job but recommended FUHS keep a student support period to help struggling students. And it's generally a good idea to follow the WASC recommendation if you want to keep up your school's good reputation.
It's worse for athletes
With all of these changes, interestingly enough one thing that didn't change was CIF. When California moved the start time of public schools to 8:30 a.m., the California Interscholastic Federation (CIF) that manages high school athletic competitions made no changes to its schedules. Sports that started their games at 3 p.m. 20 years ago still start at 3 p.m. even though most athletes end their academic day around 2:30. It's as if the public schools, all at once, went on permanent Daylight Savings Time, and CIF stayed on Standard Time.
CIF, the organization that is supposed to support student athletes, makes it incredibly difficult to be one.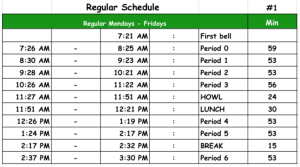 During her junior year, senior Reagan Glidewell missed an important test right before the quarter ended due to a cross country meet. Glidewell said she couldn't take the test the day before because they had not learned all of the material. Her grade dropped an entire letter grade. Water polo players missed all of fifth period three times in one week last year; they struggled to learn math concepts and make up tests.
While there seems to be no easy fix, some athletes have found a work around.
Junior Christina Kharrat no longer takes the bus with her volleyball team, opting to stay for the whole of fifth period. Instead, Kharrat said that her parents take her to games.
Athletic director Joseph Olivas said that this arrangement is acceptable as long as arrangements are made with the school beforehand. While an on-call parental uber would be nice, it's not a viable solution for most students.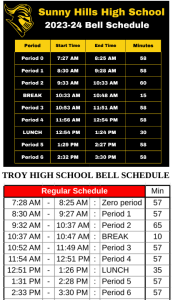 What about other schools?
Three other schools in our district—Buena Park, La Habra and Sonora—also have a student support period.
What about Troy and Sunny Hills? Due to their high test scores, WASC does not strongly recommend that those two schools have a student support period. Their schedule remains consistent, but they have longer class periods without the student support period.
So what now?
When the state says, "Start later!" and WASC says, "Add tutorial time!" and CIF says "Start games early!" students are the ones who suffer.
The Tribe Tribune staff believes the best solution is to adopt the 5th period student support schedule as the regular bell schedule every day. Fifth period would end at 2:07 every day instead of 2:32. With this schedule, our athletes on transfer lists would miss about 7 minutes instead of 32 minutes of fifth period.
To make student support more effective, teachers would need to be willing to allow their fifth period students to seek help from other teachers. A sign up list or email system would need to be implemented.
It's also time to tap into a great unused resource: National Honor Society students could spend student support tutoring struggling students, especially in math. Many NHS would love to tutor and earn service hours, but they have after school obligations. Allowing them to tutor during student support would help everyone.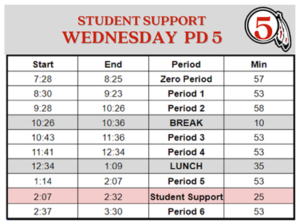 We know adopting the 5th period support schedule bell schedule isn't a perfect plan. Students and teachers would be stuck with each other in fifth period all year long. However, a consistent schedule would relieve stress for students and teachers. Not only that, athletes now get to attend more class time. 
The school can't control CA, WASC, or CIF, but it can control itself, and the present schedule hurts everyone. The Tribune staff predicts that while FUHS maintains a rotating schedule, either student participation in athletics will decline or student achievement will suffer—and probably both. There are things beyond FUHS's control, but the rotating schedule is not. This is the 8th week of school. If we aren't acclimated by now, what we're doing isn't working.
Editor-in-Chief Reagan Glidewell contributed to this story.