When senior Connor Udhus was cast as a teen dealing with his mother's terminal illness, he knew he would be able to connect his own experience to his character. The play follows Conor O'Malley as he deals with grief and the complexity of the human mind. 
"I've had a lot of deaths in the family the past couple years," Udhus said. "The fear of change and not wanting to let go plays a big role in a lot of that."
Based on Patrick Ness's novel by the same name and a script created by a British theater company, "A Monster Calls" finishes its final shows Thursday, Nov. 9 and Saturday, Nov. 11. With so few pictures of the original production, the FUHS theater department could take creative liberties.
While Udhus's connection with the character proved helpful, he needed to make sure to take mental breaks.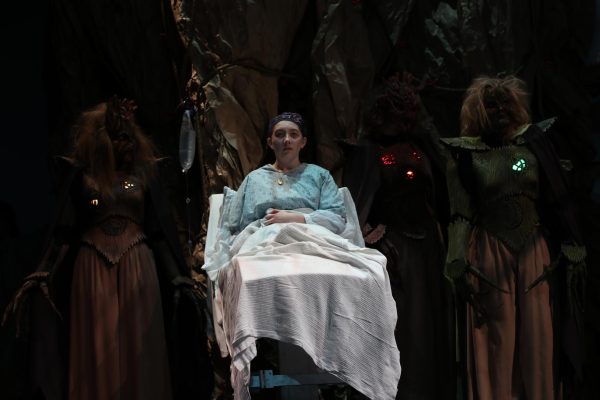 "A lot of directors talk about shedding the character once you leave the space," Udhus said. "But at the same time, [director Michael] Despars still wants us to develop it at home. It's finding a balance."
Senior Sydney Parker also used her mom's illness, specifically chronic seizures, to connect with her character's struggles.
"One of the reasons I wanted to go for the role was that I thought it would be therapeutic for me to just to experience it," Parker said. "Not through my own self, but through a character's eyes."
Although the differences in her character's illness and her mom's illness have helped, Parker struggles to turn off her emotional connection. 
Around 90 other students worked together to create the first California based production of "A Monster Calls."  The yew tree monsters are played by sophomore Molly Cooper, junior Maddie Englehardt and junior Katherine Timmerman.
This production is unique because the audience has the opportunity to sit on the stage with the performers. Director Michael Despars was inspired by Bertolt Brecht's philosophy, which involves breaking down the wall between actors and audience. Despars chose to stage the play in an open space, allowing the audience to see backstage. The exposure keeps the audience invested, not just in the performance, but also in the work required to put on a production.
"As we continue to welcome the community back into theater spaces, we want to encourage a better appreciation for the entire process," Despars said. "What you see on stage doesn't just magically appear. There were eleven weeks of hard work to create the production."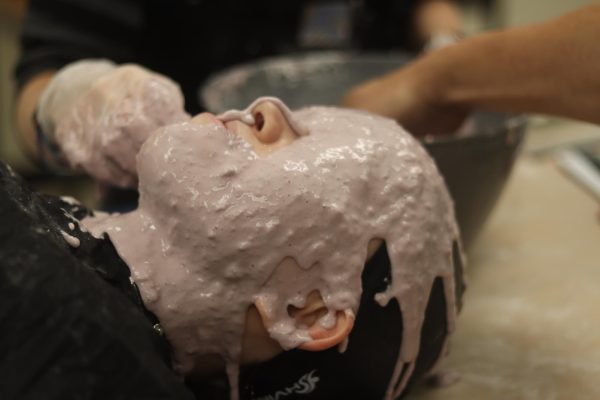 The immersion is assisted by intricate monster design. The complex vision required help from BEAST teacher Scott Hudson and two students, seniors Katie Hudson and Isabella Curiel. It took them over two and a half months to create prosthetics for the monster.
Over 150 individual pieces of foam were cut, molded and painted to create 12-inch fingers for the monsters' claws. The costumes themselves required a plastic wrap and duct tape body cast. After the molds were formed, foam latex filled the casts to create a fleshy, prosthetic base.
"It's such a process-oriented project that if you were to mess up any one of the tiny steps then you would have to start over," Katie said.
For the face pieces, BEAST used clay and alginate–a thickening agent–to create face casts of the three actors. Curiel used a soldering iron and heat gun on sheet foam to create texture.
Instructor Scott Hudson emphasized the health of the actors just as much as the design. The monsters have to arrive an hour earlier so their faces and the masks can be sanitized. A thin layer of barrier cream is applied to prevent harm to their skin. The application tools are thoroughly cleaned to prevent bacterial buildup.
The three actors collaborated on how to best portray the monster role. Englehardt said they worked together to emphasize important lines or decide their individual style. Each monster tells Conor a different story relating to his life.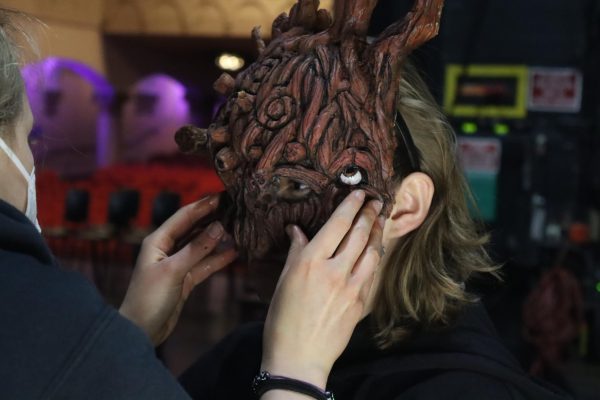 Udhus believes the monster represents a father figure to Conor, helping guide him through his grief. 
"The monster is just a really unique way to show a child having to teach themselves to become an adult," Udhus said. "It's a middle ground between maturity and still being a child."
An on-stage audience gave Udhus more acting freedom, even though he felt more eyes watching him.
 "I'm super used to standing in a way so the house and the pit would be able to see you," he said. "It is more freeing to be able to turn it in every direction just like a normal human being would. I have the freedom to move like an actual person."
Throughout the play, Conor experiences recurring nightmares. During these scenes, his mother falls backward off the stage into the pit.
"Having to trust people to catch me every time is absolutely horrifying," said Parker, who shares the role of Mum with Mollie Holbrook. "But I trust all the people who are catching me. We've made it into a routine, I feel safe."
Many big moments in the play are shown through movement pieces. Despars approached senior Jordan Fares early on, asking her to be the choreographer. Fares said she was told she would be working with "strong movers, not dancers."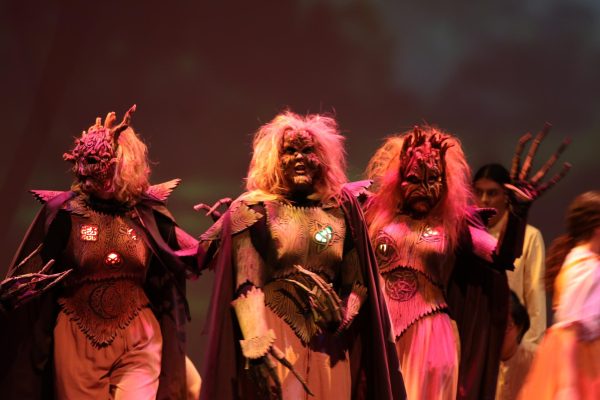 "That was definitely one of the things I had to keep in mind because I am so used to teaching Dance Production," Fares said.
Fares created the nightmare piece to capture the dark atmosphere associated with nightmares instead of a specific fear. Each scene slightly changes the dance to keep the same feelings but changes the details to fit the context.
"It's this persona of being something that can scare someone," Fares said. "Sometimes nightmares don't even have faces, it's just dark shadows. Conor just doesn't know where everything's coming from, but it's there in the back of his head, eating away at him."
Fares also choreographed pieces involving ropes that hung from the ceiling, a key set piece. 
"I kept on having to give disclaimers to people I was teaching that this is bound to change at any time," she said. "You just have to be able to adapt to it because realistically, we're not going to be able to see whether or not this works until the set and props people are able to put it together."
The final piece of the show also involves ropes that symbolize tree branches. The music was extended to give the ensemble enough time to make the tree. 
"Conor isn't–truthfully isn't–in a place where he started," Fares said. "But It's this idea that life just continues."
Set designer Cora Der said the use of ropes was inspired by European plays and used them to create the feel of branches. The way the ropes suspend from the ceiling gives the tree a motherly feel and implies growth. The ropes and tree are connected to rigging.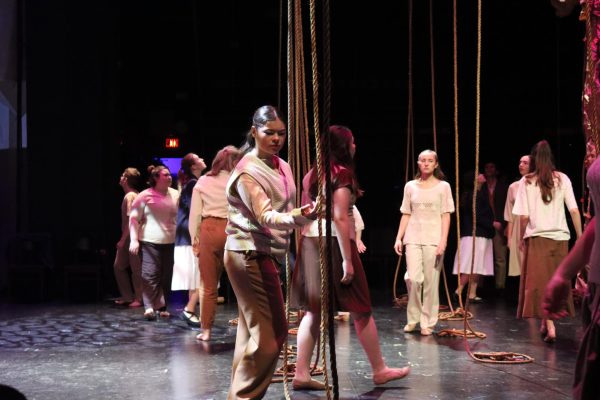 "Rigging shakes the ropes of the tree and it makes it look more realistic," Der said. "It feels more engaging to the audience if it's created by your own hands rather than by a motor."
After their reveal, the monsters remain on stage, standing on top of the yew tree. Technical director Aiden Stephenson described how they built the staircase inside the tree.
"We had these giant 3 feet by 2 feet stair units," Stephenson said. "We decided to curve them to make a spiral to make our little tree trunk."
Having seating on stage allows the audience to see into the wings of the stage, revealing normally hidden technical aspects. However, these seats limited the working space available to the tech crew.
"It's like playing Tetris on stage," Stephenson said. "There were around 40 audience members on stage and 30 actors on stage. We have a big group of people on stage that we have to move around and work with."
Tickets are still available in the box office or at fuhs.booktix.com. Audience members can spend $12 for general admission, $15 for pit seating, or $20 for stage seating. The final shows are on Nov. 9 at 6 p.m. and Nov. 11 at 1 p.m. and 6 p.m. in the auditorium.
Click here to see more photos: