FUHS sports teams will no longer compete with Sunny Hills, Troy for league championships
By Sofia Tabbal
Tustin High School beat Garden Grove Pacifica 49-0 on Oct. 20 in an Empire League football game. Laguna Beach High school beat Godinez 50-7 in their league match-up the same night. It's blowout games like these that have prompted CIF officials to overhaul the current Southern Section leagues with the hope that sorting teams into new leagues will result in fair and competitive games for all sports.
Starting next school year, Fullerton will switch from the Freeway League–which has stood as a district only league for 42 years–to the Golden Empire Conference.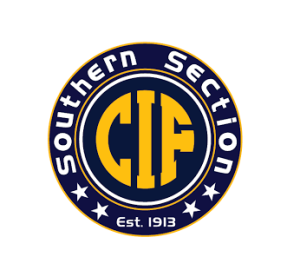 Collapsing the Freeway League means that Fullerton will no longer play Sunny Hills, Troy, Sonora or La Habra in league games; those four teams are moving to the Century Conference. Buena Park High School will move to the Golden Empire Conference with Fullerton.
Each conference will consist of 15 teams. Then CIF officials will create three leagues within each conference. These leagues have the potential of changing each year, depending on how the schools do and if they see the leagues as equitable. 
The idea of new leagues was originally proposed by the 77 Orange County schools to CIF for only football; some schools were unhappy with one school constantly being dominant.
However, by the end of their discussion, it was decided that the change will be for all sports. Despite resistance from the Freeway League, it was an overwhelming majority of 86% for changing leagues. 
Principal Laura Rubio said that although she understands the reasoning behind this decision, she will still miss the community that the Freeway League brought.
"[It is] so hard knowing that there's no crosstown rivals anymore. Those were always the best football games. Whether we won or lost. It was just fun," Rubio said. "It's kind of the end of an era for our Fullerton Joint Union community."
Rubio also said that the Freeway League has a unique sense of unity since it has stood so long.
"Everybody is so close," Rubio said. "I love seeing all of the alumni come back and the camaraderie that occurs between schools and the healthy competition and the rivalries."
Hallow homecoming has record number attendees
By Ella Kirby and Flora Nishigawara
The Fullerton ASB decided to continue the tradition of crowning Homecoming Royalty instead of a Homecoming Queen and King. In other words, Homecoming Court voting resulted in two students being selected at each grade level whether they identify as male, female or non-binary.
In 2021, Fullerton was one of the first schools in the district to start using homecoming royalty rather than homecoming king and queen. Many students say this process makes homecoming an overall more inclusive experience and creates an environment where students feel more comfortable running for court.
This year's court winners were freshmen Flora Nishigawara and Emma Woods; sophomores Alyssa Garcia and Alex Thomspon; and juniors Hamza Cabrer and Arturo Rodriguez. Senior class homecoming royalty were Janelle Flores and Kaori Gabriol.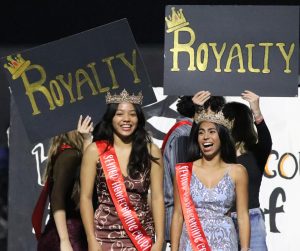 ASB  awarded Eliana Sosa and Diego Cortez free homecoming dance tickets for submitting the best homecoming proposal. Diego asked Eliana with a bunch of heart balloons. Diego also brought his cat to school, holding the animal while he proposed that they attend Hoco together.
There was a record number 1,040 students who attended the dance. The entryway was covered in spooky spider webs and in the dance area, there were confetti cannons and CO2 spark cannons that made the dance floor light up. "We worked over 30 hours during homecoming week to prepare for the assembly, the dance, and the football game," said ASB president Morgan McAndrew said. 
McAndrew said the one downside of the dance was the DJ did not have enough time to play all of the songs that were requested. Regardless of some music complaints, the entire set-up, theme and mood were the best students have seen at any dance in years.
BEAST goes to Knotts
By Eadyn Ochoa
To understand the design and manufacturing process that goes into making the Knott's Scary Farm experience, BADE and CADE students traveled to the park on Nov. 3.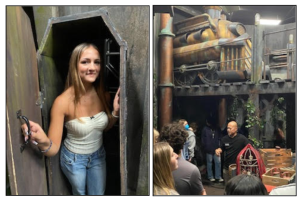 Students were given exclusive behind-the-scenes access to locations such as their costume department and mazes Bloodline 1842 and the Depths.
Students were guided to Bloodline 1842, a maze designed to immerse its viewers into the neo-victorian city of Valdonia. The designer aims to immerse guests by taking them away from Buena Park and transporting them to a new world through its set design, lighting, and sound.
BADE student senior Amaya Moreno said she was amazed by the attention to detail by the Knotts designers.
"It's weird to think that everything was put there by a person," Moreno said. "All the little cracks in the walls and the rust on the metal. Every little detail is important and all of it is there to tell a story."
Select BEAST students traveled to Knotts on Oct. 11 to gain insight into the professional world of monster makeup.
Moreno said that in order to make it in the field of special effects, you have to adapt to the fast-paced nature.
"You can have as much technique as you want, but if you aren't able to get it done fast enough then it doesn't matter how good you are," Moreno said. "It's really about speed, so you have to learn how to adapt your talent to efficiency."
New gate installed

FFA students earn top honors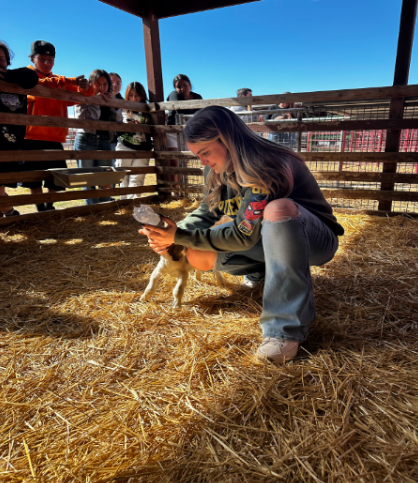 Appropriation and Surrealism show Nov. 9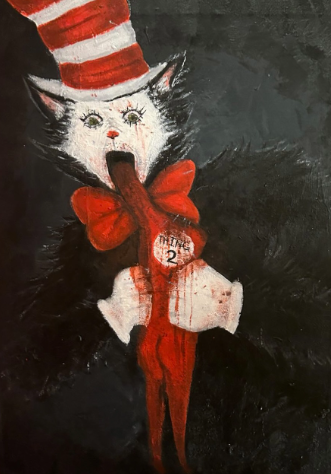 Halloween Parade