Great Barrier Reef is dying
The Great Barrier Reef suffers from coral bleaching due to declining health as a result of global warming according to scientists.
"The Great Barrier Reef of Australia passed away in 2016 after a long illness. It was 25 million years old," Outside Magazine said in an obituary of the reef.
The obituary was met with disbelief as many took to social media, mourning over the supposed death of the Great Barrier Reef or to seek and spread the truth. The circulating rumors of the reef's death caused many scientists to state that the coral has only been left bleached, leaving it in a dying state, but not dead.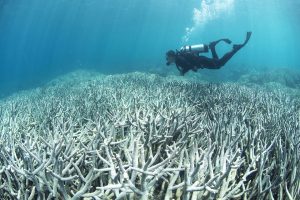 The continued destruction of the Great Barrier Reef is caused by coral bleaching, fishing, mining and burning of fossil fuels over the past several decades. Scientists worry that over-exaggerating the condition of the Great Barrier Reef will promote the idea that it is past the point of recovery.
The Australian and Queensland governments released the first Reef 2050 Plan annual report on Sept. 28, showing the $2 billion investment towards improving the health of the reef that future generations would pay off. The plan has accomplished 29 of the 151 intended actions and notes that the recovery process needs to be accelerated in order to improve the health of the Great Barrier Reef.
More than 2 million people visit the Great Barrier Reef every year. Governments, scientists and charities are working hard to ensure that the health of the Great Barrier Reef is restored for future generations to experience its beauty.