Marching band's season success
Fullerton Union High School's marching band had an outstanding season this year, taking first place in Division 2A at several tournaments hosted by the Cal State Band Championships, or CSBC.
The color guard separately won the High Auxiliary Award while the percussion section took home their very first High Percussion Award.
"When [the judges] called second place and it wasn't us we thought, 'Okay, did we get disqualified?'" sophomore flutist Amy Hatfield said about their first tournament. "But we won. We all cheered and screamed. Everyone was awestruck."
This marching band has had many struggles in the past, but pulled through to earn their first win in a decade.
Worried about the fact that their show was unfinished, they triumphed against bands with already perfected shows, contrasting to previous years where they were not ranked well.
"I saw that the other shows were complete, so I didn't even expect to place," Hatfield said about the show then. Usually, incomplete field shows do not score high.
Up until Instrumental Music Director Troy Trimble joined Fullerton in 2013, the marching band was just a group of thirty students with instruments. Trimble, with the help of the senior class, has transformed the marching band  into the champion program it is now.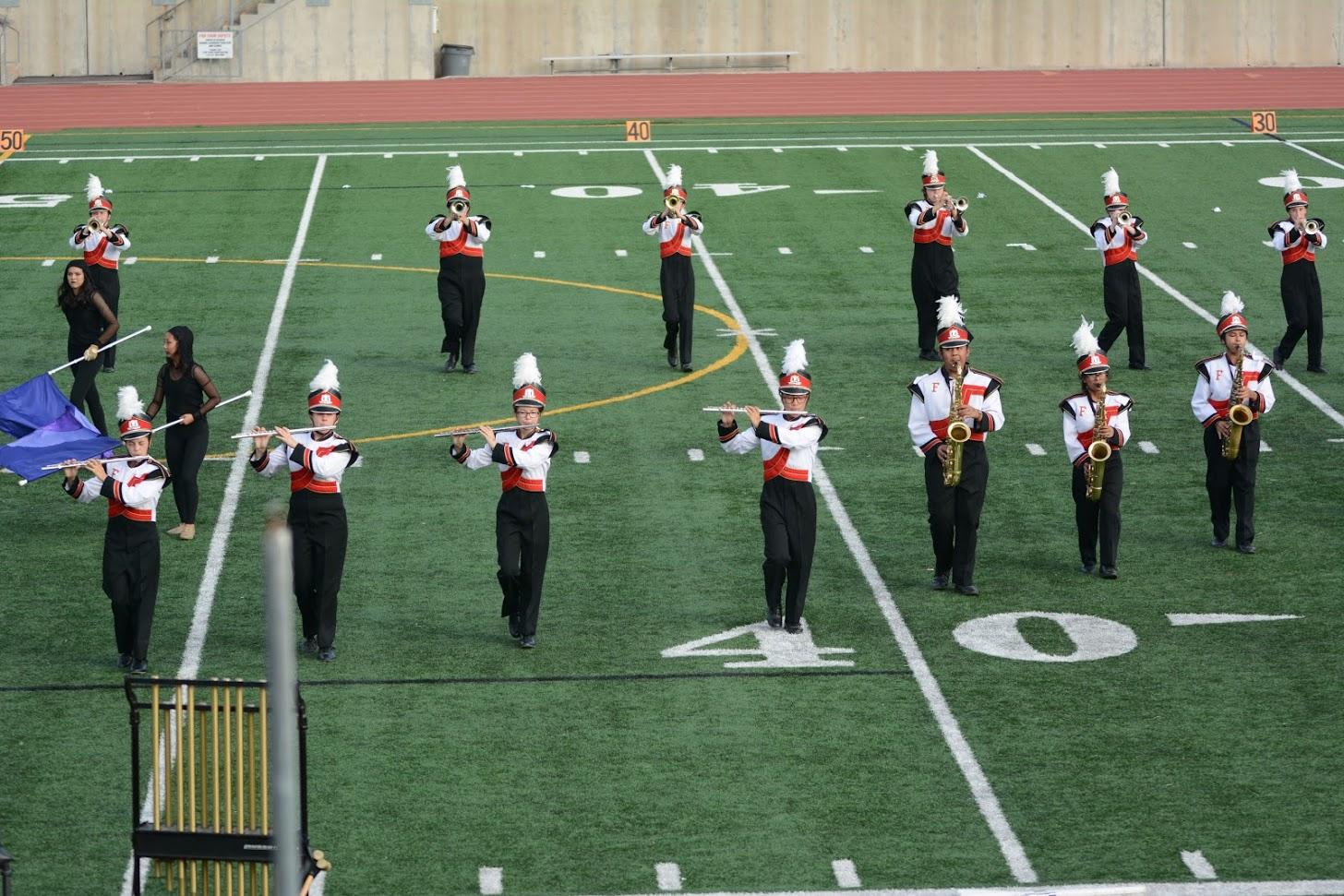 The theme of marching band's exposé, performed during football games, is called 'Imprints'.
"The field show is about our students," Trimble said. "It's a reflection of the dedication and passion of the students to rebuild the program."
"What kind of imprint will your actions, dedication, passion leave behind?" he added.
In past years, the marching band found itself with shows similar to other high schools. Attempting to mix it up, Visuals Director Tony Nguyen designed an entirely new show that would make FUHS stand out.
"I wanted to do an original show with original music that could truly be our own," Trimble said.
Under the leadership of senior drum major, Rebecca De Leon and assistant drum major Hayden Harkins, the Fullerton Union High School Marching Band and Pageantry Corps dedicated long hours to the success of each competition, practicing after school and on weekends.
"We've worked really hard to get where we've got," Hatfield said. "We deserved to win because of all the effort that was put in."