FUHS introduces Song
FUHS Song is a new cheer and dance hybrid team that performs with Varsity Cheer at football games and other school functions.
"Song is like a joint of cheer. We go to football games and we cheer with varsity cheer, but our dances are more dance technique instead of cheer which is sharp," junior Grace Anderson said. "We might do a dance with cheer and song, or we might do one by ourselves. It just depends, but song has more dance technique in it than cheer."
Song choreographs majority of their performances.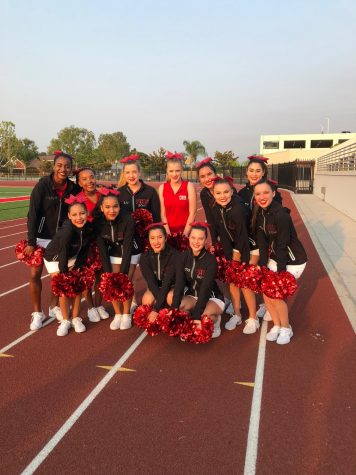 "We basically take everything that you would normally do in a dance class and we just use pom poms now," senior Stephanie Viramontes said. "It's ideally the same thing except a couple of our hand movements are different because we have pom poms."
Viramontes is one of the four captains of song.
"I think the biggest responsibility we have as captains is to motivate the other team members," Viramontes said. "We have to keep a positive outlook on things because this is new for everyone. We're all trying to do our best."
Because song is new, Viramontes hopes that as the year goes on, more awareness will be brought to the team.
"I honestly don't know what Song is going to be in the future," Viramontes said. "I hope it stays. I think it's really good. Song and cheer are really great together when they are performing."