FUHS celebrates 125 years
This tradition has lasted for over a century, and on Sept. 4, 2018 the district celebrated the 125th anniversary of our school with a ceremonial bell ringing.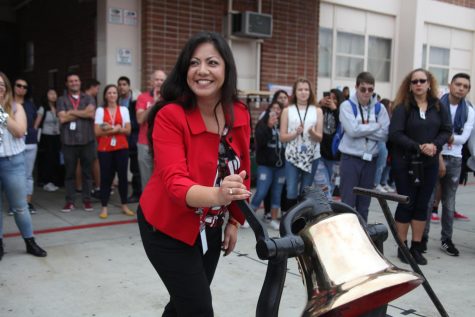 The event was organized by Principal Rubio and district member Leticia Lacuesta, an FUHS alumni that graduated in 1986
"It's pretty amazing being a Fullerton alum because Fullerton is the flagship of the city and because its so old. Many years ago, my mother actually went here," Lacuesta said. " we keep the tradition going for striving for excellence."
Many Fullerton families are a part of generations that have attended FUHS, including Lacuesta.
"All three of my sons graduated from here, 2004, 2006, 2014 and they will probably say the same thing. Tradition here still sticks and stays, which is nice."
The 125th anniversary of FUHS is more than just a number, it's a sentimental representation of the traditions that have been part of this community for generations.