ComedySportz is excited for a new year of fun and competition
ComedySportz is a competitive improv team that has been part of FUHS for three years. The participants love to be on stage and perform improv that is funny yet positive.
The club focuses on creating a safe space for humor and not using stereotypes and insults as part of their performances. Instead they use positive things to make people laugh.
Junior co-captain Tahlia Flores has been in the club for all three years of high school, and loves the environment and focus of ComedySportz.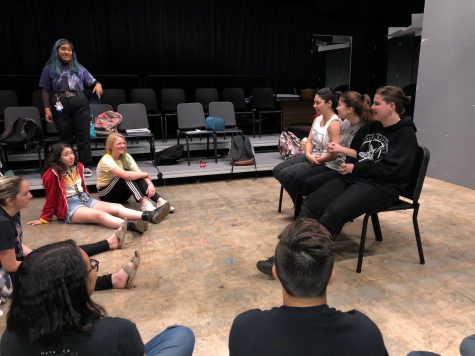 "It really is a place to let your weird out," Flores said. "It's a place free of judgement where you're taking care of the people that are on stage with you and they're taking care of you. It's very comfortable. The whole purpose of ComedySportz is to make people feel comfortable with comedy and to bring light instead of negativity."
The team sometimes competes competitively against other schools, but most of the time has competitions with one another. Whichever team gets the loudest applause from the audience is the winner.
The other co-captain is Junior Emily McCardell.
"You play against other schools or your own team and you play improv games competitively, there are rules about it and normally the home team wins, because it's the home team, and the audience cheers for the home team," McCardell said.
The club has multiple returners and many newcomers, new members includes freshman David Block.
"It's really fun and it has definitely helped me come out of comfort zone and meet new people," Block said.
Freshman Arabella Varieur already feels comfortable with the team and looks forward to their practices after school.
"It's a really good group of people, it's a great way to learn and be social," Varieur said.
The first ComedySportz match will be Oct. 19 at 7pm in the Little Theatre. The team is excited and ready to get on stage!