Open House shows off all that FUHS has to offer
Many thought that the rainy weather on Jan. 17 would prevent people from coming to the FUHS Open House, but they were wrong. The halls were filled with prospective students and parents seeing what FUHS has to offer.
In fact, the weather caused administration to change the setup of Open House, possibly for the better.
"I think that [open house] gives parents and students a chance to see the campus," Principal Laura Rubio said. "We have a beautiful campus, and the alternate plans due to weather have given us a chance to show it off even more."
Our principal was not the only one to be excited by open house. Prospective student Alyson Jeong, currently in the eighth grade at Parks Junior High, loves the general atmosphere at FUHS.
"I like the environment of Fullerton," Jeong said. "That's why I'm most likely choosing to go there."
Jeong also attended a campus tour in order to see the students during a normal school day.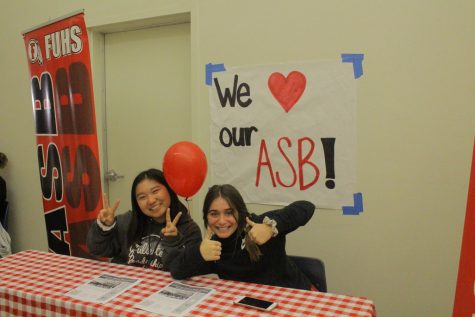 "I went on a tour and saw all the classes in action," Jeong said. "I thought it was really cool that everyone worked together."
The programs and classes at FUHS are a big draw to the school. Kim Wendler is the mother of a prospective student, and was impressed with the FUHS Honors and IB programs.
"We listened to Mr. Henderson speak, and it sounds like the honors program is really strong," Wendler said. "One thing that stood out to me is that it's very personalized. It seems very community oriented."
Overall, open house was a success in the eyes of prospective students and their parents. FUHS showed off its beautiful campus, great atmosphere, and fantastic programs.