Don't miss FUHS Theatre's production: Cabaret
Everyone should take the time to see FUHS Theater's production Cabaret, a bold, energetic, and important show. The audience will enjoy the music and leave thinking about the many significant themes that the show illustrates.
Cabaret takes place in Germany during the rise of the Nazi party. The story revolves around the Kit Kat Klub in Berlin where the audience meets a diverse collection of characters.
Senior Devin Ricklef plays the eclectic Emcee, senior Abigail Lange takes on the role of the bold and brazen lounge singer named Sally Bowles, and freshman Nate Baesel plays the aspiring American writer, Clifford Bradshaw.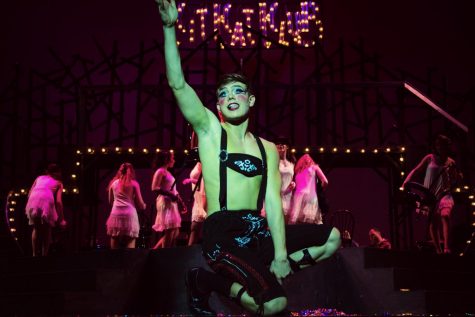 Along with their peers, these actors bring to life the setting and time period. The music, dancing, and energy of the stage combine to make the show unforgettable.
Junior Emily McCardell is the student assistant director of Cabaret. She, along with the rest of the cast and crew, put a lot of hard work into the show.
"It's a really good show for students to come see," McCardell said. "We've put a lot of hard work into it. We have been in rehearsals for months."
The actors have been working hard to develop their character personas on stage. Lange has a unique way of developing her character that will engage the audience and show off the character's motives and ideals.
"Normally for shows, I like to keep a character journal," Lange said. "I write down a rehearsal reflection answering questions about the character based on theories and lessons we've learned previously about character analysis."
Baesel believes that students should come see the show even if they are just looking to enjoy a fun musical.
"I think all the songs are fantastic and all the singing and dancing is great," Baesel said. "I think [the audience] will really enjoy it."
Students will enjoy the show, but that is not the only reason for them to watch the musical. Cabaret is a unique musical with a memorable message that is still relevant.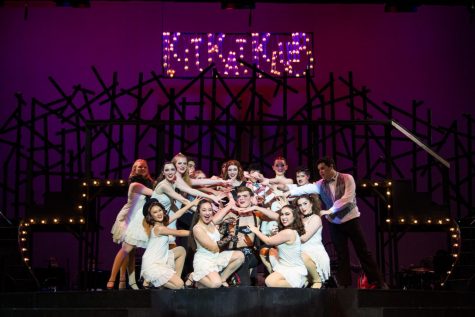 "I think our production of Cabaret is going to be a really thought-provoking production," McCardell said. "The audience is going to leave with questions."
No matter what you are looking for in a musical, Cabaret will leave you in awe of the talents and abilities of the FUHS theater students.
"In my opinion, this is one of the best shows Fullerton has done," Ricklef said. "Cabaret is very powerful and very artistic. In the world that we live in, it's always important to hear the message of Cabaret."
Cabaret will show on March 15, and 16 at 7:00 in the evening. There will also be a matinee on March 16 at 1:00 in the afternoon. Tickets will be sold at the box office at break and lunch, online at fuhs.booktix.com, and at the door.