Hall to try out for pro women's football league
FUHS instructional aide overcomes poverty, gangs, injuries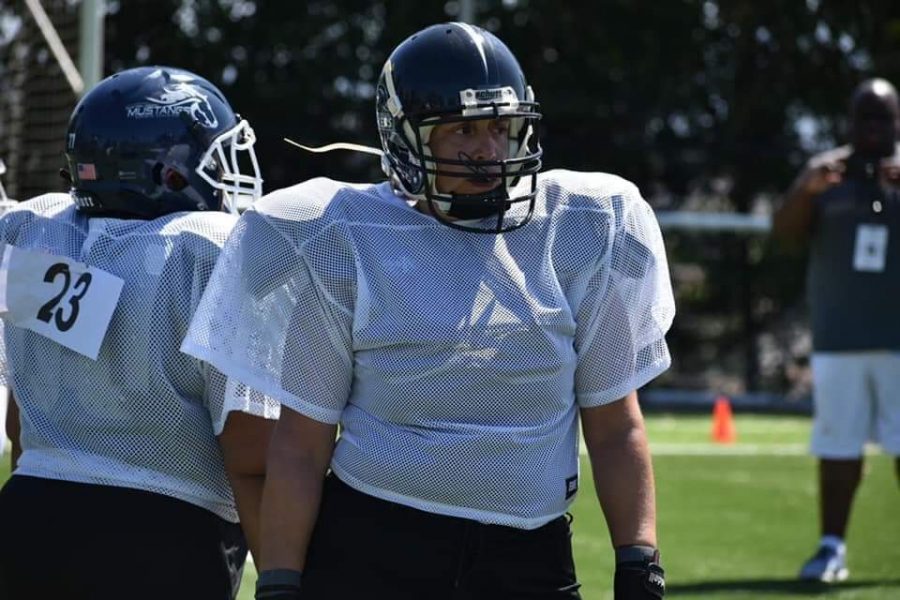 Alex Orozco, Reporter
October 3, 2019
Becoming a competitive female football player certainly was a challenge for Herminia Hall. But day-to-day survival in Harbor City, California was a lot tougher.
"Where I lived was the cul-de-sac that was popular with the gang," said Hall, who works at Fullerton High School as a paraeducator. "We had drive-bys. We had drug deals every day. They hung out there day and night. We had bullets come into the apartment and I was being actively recruited by the girls into the Harbor City Crip gang."
Temptation knocked at her door to join the gang for protection, but she stayed cautious and adapted to her surroundings. Hall was born in Connecticut, but her family moved to Gardena, California when she was 1 year old because her brother needed special medical treatment. She attended 10 schools during K-12 and lived in the Wilmington Housing Projects.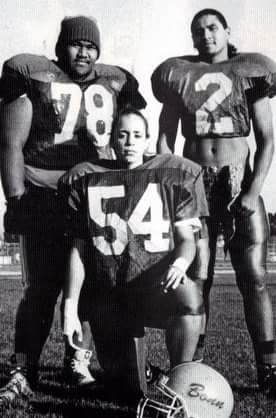 "A couple times I got into fights just to stay out of the gang," Hall said. "I see things differently because of the way I had to walk to and from home. I knew to be home before those lights went off in the neighborhood." 
Hall found her refuge in sports. She started with cross country at Fleming Middle School in Lomita. She never played basketball before high school, but when Narbonne High coach Gene Yamamoto saw her 5'11" frame, he couldn't help but recruit her.
"He said, 'Have you ever played?' I said no. He said, 'Well, you start on Saturday,'" said Hall, emphasizing that Yamamoto helped change the direction of her life.
In high school, she played varsity basketball, track, volleyball at Narbonne High School in Harbor City. She started working at McDonald's at age 14 to pay for shoes to play sports. Even playing sports had challenges, though.
"I gave up volleyball because the girls were aggressive and mean," she said. "If you messed up they were going to tear you apart. They didn't want to share the ball. They didn't want to help you out."
Hall left volleyball her junior year to pursue an unconventional opportunity: she decided to try out for the boys football team.
When the coaches announced the junior varsity roster, Hall remembers feeling disappointed that her name wasn't called. Instead, she was surprised that she earned a spot on the varsity team.
Initially, however, the coaches were hesitant to play her.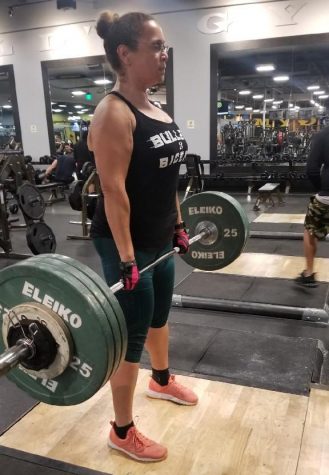 "In the first two games, the coach didn't play me. When I got home I cried," Hall said. "I was pissed off because I was doing what I was supposed to do. I was staying after. I was going to the gym because I wasn't as strong as the guys."
During the following practice, she suited up and injured two players during tackle drills.
"[The coaches] picked me up by my pads, so my feet were off the ground and yelled, 'What are you doing?'" Hall said.
"If you're not gonna play me Friday, I don't care who gets hurt. It's your fault. I don't come here just to sit and dress up and look pretty on the sideline. I'm here to participate," said Hall, who explained that her mom had to pressure school officials to allow her to even try out.
Today, as an educator, Hall says she would not advocate players hurt teammates or blow up at coaches, but she did feel that anger was justified at the time.
The next Friday she played, eventually working her way up to the starting position of offensive lineman.
One player in particular, with whom she formed a friendship, helped her become tougher. She could trust him to train with her the same way he would with the other teammates.
"George [Esene] was a big help," said Hall, who has stayed in touch with George since they graduated in 1993. "George, who played center, understood where I was coming from because there were guys that would hit me a certain way."
Hall says that in addition to playing sports, going to church saved her from making bad decisions.
"When I wasn't working, playing a sport, or practicing, I was at church," Hall said. "Going to church was like going to a second home."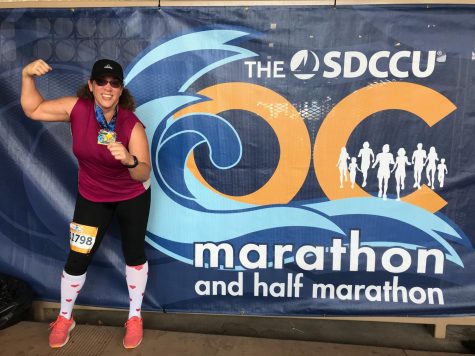 At church she was part of the praise ministry, doing skits and serving as a community outreach volunteer.
A year after high school graduation, Hall suffered severe spinal cord and brain injuries when she was accidentally pushed down stairs at the retail store where she worked. She couldn't walk for six months and had to relearn how to talk.
Despite her injuries, she played center and forward for Los Angeles Harbor College's women's basketball team from 1996-1998.
She's coached various youth sports teams, including Flag Pop Warner. She coached the Fullerton girls junior varsity basketball team 2007-2010.
Hall has used her personal challenges to become a paraeducator and instructional aide. Her job often entails taking a confusing concept and reteaching in such a way that the students can understand. Sometimes she is assigned to work with students who also struggle with behavior issues.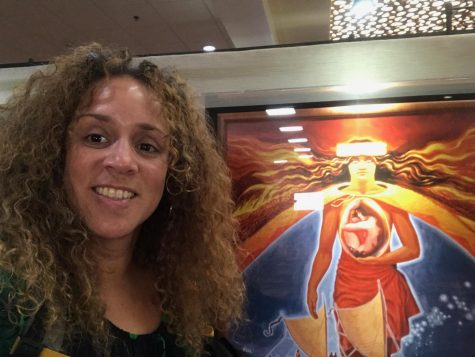 "It's my job to watch the teacher and how they deliver the information," Hall said. "Then I have to translate it to their learning level and teach them how to do it a different way with the same result. As long as they get the answer right that's my goal."
Hall married her husband Ryan in 2001. They have 2 sons. Hall started teaching when her son got sick and she homeschooled him for six months. While re-enrolling her son into public school, a Paramount Unified special education administrator noticed the good work she'd accomplished with her son. She was recruited and took a job at a community day school in Long Beach, where she worked with some of the most disadvantaged and violent students in the state.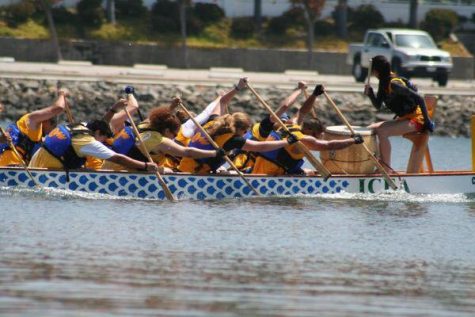 "All my students were transitioning from juvenile hall," she said. "Since I grew up in the environment that I did, I was able to relate to their situations and what they were dealing with." 
She ended up having immense influence over the kids. Many of them cried when they bid her goodbye.
Today, she still battles hardships. Since being diagnosed with the nerve disorder fibromyalgia in 2014, Hall has continued to stay active. She ran half marathons in 2017, 2018 and 2019. She rowed 2001-2012 with a special Chinese dragon boat team in Long Beach called the LA Thunder Dragons. She plans to rejoin the group this year.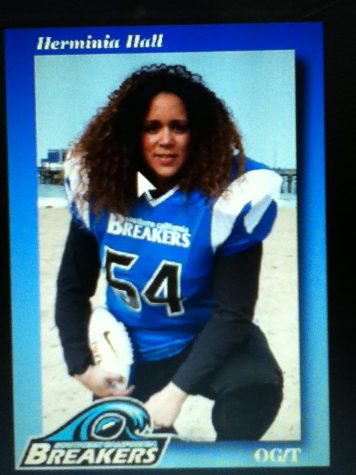 Right now, Hall is most excited about the possibility of returning to football. She has a tryout Oct. 19 for the Women's Football League Association (WFLA) in Las Vegas. The WFLA is the only women's football league that pays its players.
Hall is also finishing coursework in business and behavior science at Cypress College. She hopes to transfer to Cal State Long Beach or Cal State Dominguez Hills to complete a B.S. in Nursing.
Despite all of her struggles, Hall wouldn't want to grow up in any other environment.
"If I didn't deal with what I dealt with, I wouldn't be the person I am today. I wouldn't be any help to the kids."