Tackle Cancer game supports KM Legacy Foundation
Jamie Ma, Editor-in-Chief
October 24, 2019
Friday's Tackle Cancer football game and Pink Out against Sunny Hills will honor those who have fought or are fighting cancer by raising money and cancer awareness. 
ASB promoted the event with a spirit week and second period fundraising competition which ends Oct. 25. Every $20 a class raises earns one pie to throw in a teacher's face next week. 
Tackle Cancer merchandise will also be sold on campus Friday at break. A pink fire truck will sell T-shirts at the football game. 
All the profits and money raised will be donated to the KM Legacy Foundation which funds cancer research and scholarships for students to develop youth leadership. 
FUHS alum Katie Monson who passed away last year due to brain cancer, established the foundation in 2017.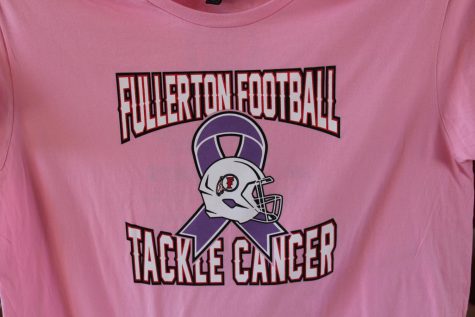 Last May, the foundation sent FUHS ASB students Brooklyn Campbell and Presli Dillon to the National Student Leadership Conference at Georgetown University and awarded over $30,000 in scholarships to 24 graduating FUHS students. Danny Monson, Katie's father, said the foundation plans on expanding scholarships to all FJUHSD schools.
The foundation will host its third annual Kindness Matters Walk Thanksgiving morning at the North Justice Center (Fullerton Courthouse). 
Those who attend can participate in yoga, poster painting, and a gift basket raffle. Register now here. 
For those unable to attend, sign up for the Virtual Walk here.