ComedySportz team learns to think on its feet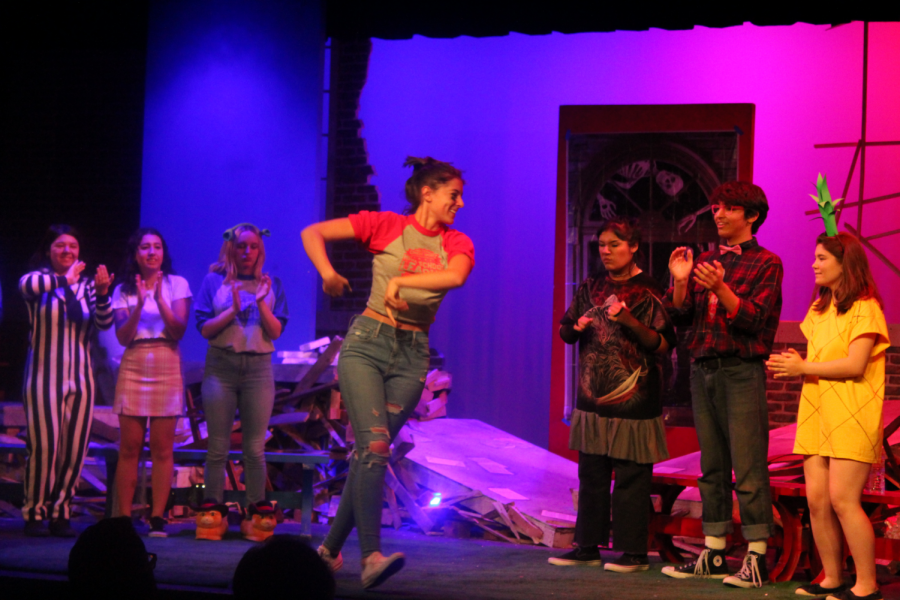 Cyrus Burton, Reporter
November 6, 2019
The referee asks for a location and an audience member calls out "Transylvania." The red team takes their roles as Dracula, a werewolf, and two tourists. The tourists wake up Dracula from his 1,000-year slumber. When the werewolf jumps off the bench, the ref yells, "Reverse," and sophomore Luke Cuevas, the werewolf, must jump back on the bench in this improv game called  "Forward/Reverse."
Games like "Forward/Reverse," "Radio," and "Dating Game" comprise ComedySportz, a competitive improv troupe in which two teams play games against each other for points gained by laughs and applause. The ComedySportz High School League is the largest and most successful high school improv program in the nation, and Fullerton is the only school in the Fullerton district that participates.
ComedySportz hosted a Halloween themed match on Oct. 25. The winner of the costume contest received a free ticket to the next match. The dark lighting, Halloween music, and players in costume added to the fun. Backstage before the match members put on their costumes and warmed up by running through practice games to get in the right mindset.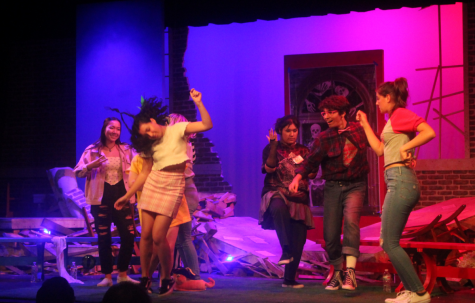 Referee Phil Ward gave some final advice before the match: "You don't have to be correct, just do something." 
The team has played two competitive matches so far, winning its match against the staff, and having a close loss against the Citrus Valley team. The team hopes to schedule another match before the end of the month.
During practice, club members work to memorize game procedures and play practice games against each other. The group has 32 members this year, but only 12 returners from last year. This is a challenge because ComedySportz rules require students attend multiple training sessions before being able to perform.
Although most students will not qualify to participate in official matches until second semester, the newcomers are excited to be a part of the team.
Junior Maya Lee joined the team this year after hearing about the club from friends.
"I'm excited because a lot of people haven't seen the super goofy side of me, and now there's a chance for people to see that I'm goofy and not afraid, and not super quiet," Lee said.
Auditions included playing games together in groups while the board members observed the personalities and cooperation skills of the potential newcomers. 
Lee said she was surprised when she made the team. "To be completely honest, I didn't think I would get in because personally I didn't think that I'm that funny," Lee said. "I just thought why not?"
Lee said that she is glad she joined because there is a welcoming atmosphere. "You don't have to be afraid to be yourself," she said.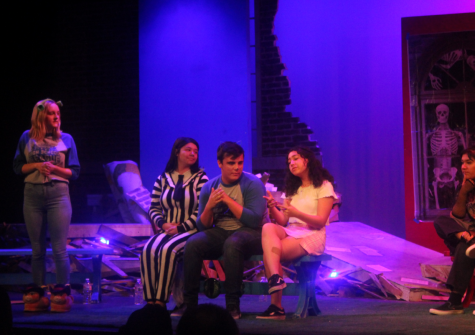 Senior Tahlia Flores is the president of the club and one of the two team captains. She has been in the club for four years and climbed the ranks extremely fast.
"I saw a lack of motivation from the presidents before and I wanted to make a difference in the team," Flores said.
When asked about how she comes up with jokes she said, "What they teach us is that once you get a suggestion you think of everything that has to do with that suggestion."
Teamwork is a very important part of ComedySportz because team members can rely on each other if they don't know what to say.
"The thing about ComedySportz is like we always say, 'make each other look good'," Flores said.
In fact, in that Halloween match, Luke Cuevas wasn't even scheduled to be the werewolf in that skit. When red team members Flores, Karina Hunt and Chloe Dyreson got stuck, Cuevas literally jumped in as the werewolf.
Flores said the best part of ComedySportz is truly connecting with the audience. "It really isn't the points that surprise you," she said. "It's the reactions of the audience that are always the greatest."