Strategy dominates in Warhammer Club
Group welcomes interested students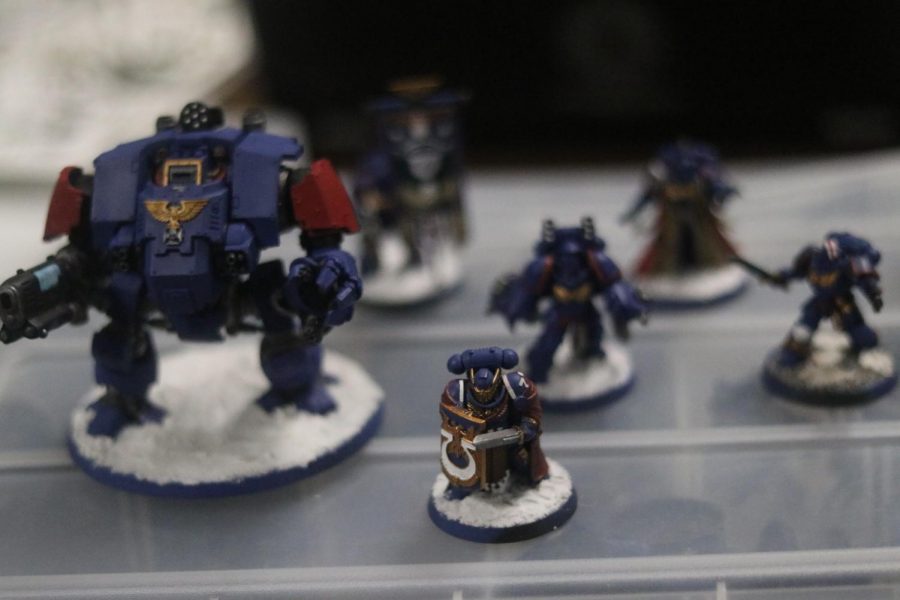 The stress of finals is looming. Students might be tempted to escape school and retreat for a game of Fortnite. But students looking for some friendly competition should consider heading to Room 232 at 3 p.m. on Monday for a game with the campus Warhammer Club.
The club meets most Mondays to play Warhammer 40k, a game in which "armies" of figures fight on a large board that simulates a specific battleground. Junior Timothy Dinh is an active member of the club and says he enjoys the game's personalization.
"When I paint them, I can paint them any way I want, with no guidebook," Dinh said.
Fullerton resident and Iraq war veteran Tarin Almstedt is an active player. He hosts games in his garage and travels to local game stores to play the game he loves.
"The main reason to play 40k is to play with really cool looking miniatures in a game against others that have really cool looking miniatures," Almsedt said. "I play 40k as a hobby, and as something to pass the time, but it's also part of my identity."
As a hobby, Warhammer allows for much choice.
"You have to build an army of miniatures. You will need to cut them out, glue them together, then paint them," Almstedt said. "Some models are just a few parts, some are hundreds. Once they are glued, painting them is another aspect of the hobby all together. There are schemes that each army has, or you have the option to make up your own."
Students interested in trying out the game are welcome to attend on Monday. Freshman club member Wyatt Carter says those new to the game don't need to worry about having game supplies.
"Most of us have two armies and we will let the new players use one of ours. We will talk them through the process," Carter said. "We'll teach you when to roll and what to roll for."
Although new players are welcome to borrow an army, a big part of gaming is respecting everyone's materials. New members should treat their figures with care since these army figures are hand-painted by the players which is, in fact, the allure of Warhammer for many.
Almstedt said that Warhammer is also a therapeutic pastime.
"Putting together models and playing this game helped me adjust to coming home from Iraq and dealing with some PTSD issues," said Almstedt, who was a Marine. "I could see students that deal with toxic stress daily find a release in this game too."
Although Carter enjoys video games, he said that Warhammer offers something more.
"Sitting down with people and spending time with them is really the best part," Carter said.
To see more photos, click the gallery below.