Winter sports teams finish season
Wrestling team prepares for CIF
By Jackson Jerome, Reporter
Junior wrestling team captain Andrew Severance and junior Jude Blake hope to hold onto their 5-0 winning streaks in individual match-ups as they head into next week's Freeway League Finals tournament. 
The team is 3-2 in league, but individual wrestlers have posted strong results. Severance finished eighth among 32 wrestlers in a Jan. 18 tournament.
Without a coach or a practice room until just before the start of the season, captain Carlos Peña said things looked rough at first, but the team's situation improved.  
 "We have a coach now and we have the room, and it's given us a lot of hope," Peña said.
The wrestling team was displaced from its original room when the space was converted into a football locker room. The wrestlers had to adjust to new coaches along with their new workouts and methods.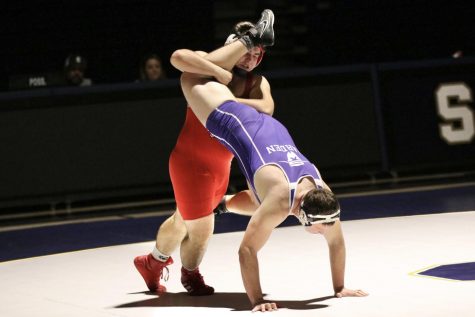 Severance said, "From the super hard conditioning some days, to just lifting as friends, to working on moves with each other, sometimes it feels like it can last forever, but when you're trying to get better, the time goes by quick."
Through the practices the team goes through adversity together, creating a strong bond between the entirety of the team. 
"I like them, they're my family. I mean, these are my guys, and I'm gonna miss them when I'm gone. But I'm definitely gonna make sure they got everything they need to succeed once I'm gone," senior Connor Sessions said.
The wrestling team will travel to Sonora for League Finals next week. The top 3 individual wrestlers will proceed to CIF. 
Boys basketball team to play Sonora on Friday 
By Michael Ureno, Reporter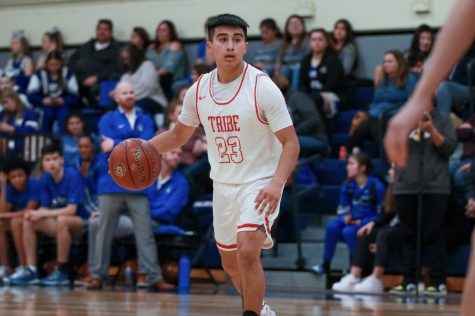 The Fullerton boys basketball team (4-20, 0-6) will finish league play next week with games against Sunny Hills and Buena Park. A win against Sunny Hills (12-13, 1-6) on Feb. 4 will help the Indians avoid a last place finish.
Fullerton will face first place Sonora (20-4, 7-0) on Friday at 7:30 p.m. in the north gym on the Fullerton College campus.
The Indians opened league with a tough loss to Troy (13-12, 3-4). The Fullerton team was up 54-52 in the final seconds, when the Warriors launched a winning shot from half court to finish with a 55-54 win against the Indians.
Despite the team's struggles, point guard Ronnie Murrillo is averaging 13.3 points per game. Starting in 20 games for the Indians, the 5-foot-8-inch senior is the team's shortest—but most productive—player.
Without a home gym for practices and games, the team has had an added obstacle this year. The Indians are using the Fullerton College gym while the FUHS campus gets ready to build its new gym.
"It doesn't really affect us just cause anywhere we play we just come ready to play no matter what," point guard Murrillo said. "It has helped us a lot because college courts are way bigger and longer than regular high school courts so now we have that extra step and we are conditioning, running back and forth so it gets us ready for when we play on the high school courts."
College courts are 94 feet long and 50 feet wide, while high school courts are 84 feet long and 50 feet wide. 
With Sonora (20-4, 7-0) in first place in league and La Habra (17-8, 6-1) in second with one game separating first place in the division, Sonora will travel to La Habra potentially for a first-place showdown.
Girls basketball team to play Sonora
By Cyrus Burton, Reporter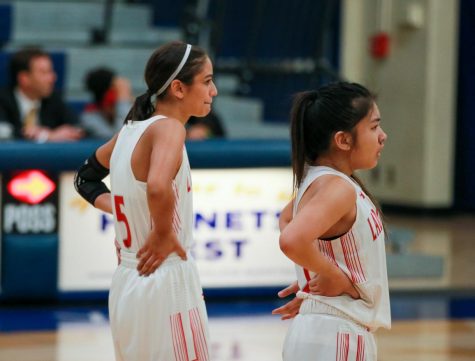 The girls basketball team (0-7) hopes to end its Freeway League losing streak against Sonora (3-4) on Friday. The varsity team plays at 6 p.m. at the Fullerton College north gym. Junior varsity plays at 3 p.m.
"Hopefully the second half of the season we can pick up the pace and knock a couple of teams off, but it will take a full four quarters of basketball for that to happen," said Bryan Kennebrew, who is in his sixth season of coaching at Fullerton.
Senior Amiyah Williams is one of the strongest players. She averages 11.9 points, 9.7 rebounds, and 2.8 steals per game. "I've been playing basketball since I was little, so I have experience," said Williams, who has played on varsity for four years.
A highlight game this season was during the Green Valley Tournament in Las Vegas, against Green Valley High School. 
"It was just a back and forth game the whole time," Kennebrew said. "They were a really good team, and if you put our records together they should have blown us out of the water, but we worked our butts off and kept playing hard and we only lost by one point. After the game, their coach, their fans, and all of their players came over to us and said that was the best game they had all season."
Another high point was the 44-32 non-league win against Bellflower High School.
On Jan. 14 the lady Indians suffered a 62-20 loss to Sonora. The team hopes to be more competitive in today's match-up with the Raiders.
Click on the slideshow below for girls soccer and water polo photos.