Tribe Tracks: Elias Beltran
The Tribe Tribune collects diverse student playlists
Editor's Note:
Here at the Tribe Tribune, we're starting a new regular feature of student music taste. We thought this would be a great way to exemplify the diversity of musical interest across our campus. We asked various students for a five-song playlist of their current favorite songs, then searched our data for playlists that stood out among the rest. For this issue, we chose to feature senior Elias Beltran who, along with listening to unique music, makes his own. Beneath our discussion with Beltran are a few other student playlists. Check these out to discover new, eccentric songs to add to your music library.
Q: What most influenced your taste in music?
A: I'd say that before I started making music, I started listening to Clairo and a lot of independent artists. Once I started listening to them I thought, "I think I should move towards this genre," because I like listening to it and there's a lot of different artists that make their own music and I want to be one of those artists.
Q: You said you make your own music, can you tell me a little bit about that?
A: It kind of all started in my room–I mean it's still in my room. I was looking for a beat on YouTube just to mess around and see how it would sound because I'd never made a song before. So I found a beat and started making some lyrics for it and then eventually I was like, "hey, that sounds pretty good," so I looked into putting my music out on music streaming platforms and I found a website where I could do it so I did it and now my music is everywhere.
Q: How long have you been making music?
A: It's been two years…maybe? I'm really on and off with the whole music thing because it's all about timing and when I have enough time to be able to find a beat, create lyrics, create a chorus and everything that I need to do within a song. I need at least three hours just to plan and then another three hours so I can actually sing, record and see what sounds good.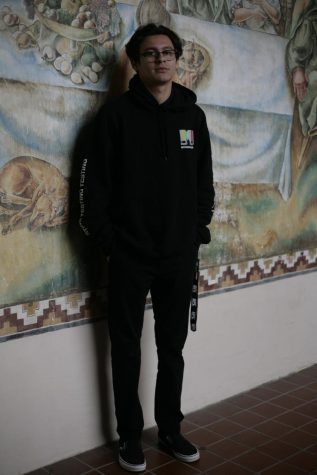 Q: How would you describe your music?
Easy on the ears…that sounded way better in my head but when you listen to my music it's more soothing than anything else. If you want to listen to it when you're happy or when you're sad it doesn't even really matter. It's more calming than anything. Sometimes it depends on which one you're listening to because some of [the songs] make you feel like, "aw I'm gonna go dance..somewhere."
Q: Do you have any future goals for your music or is it just for fun?
A: It was a for-fun thing and I think it still partly is, but if I were to get more recognition for my music then I wouldn't be against making that my number one way of making a living.
Q: If I were to go back and look at your taste in music from middle school would it look the same?
A: No definitely not, middle school was something else. I was listening to Minecraft music and pop, just straight pop. Whatever was on the radio, that's what I would listen to—Justin Bieber a lot, it was a really weird phase but it was cool though. I still like his music…kind of.
Q: What kind of music would you say was more present during your childhood? What did the people in your house listen to?
A: My uncle listened to more gangster rap like Cali Life Style, Snoop Dogg, N.W.A. Whatever else fell in that genre was played. My aunt listened to a lot of oldies, so my taste in music kinda got jumbled into all of that. It depends on the day and what I'm doing, but I'll just switch from pretty hardcore rap to oldies in five seconds.
Q: Have you ever been to any concerts?
A: No, I have not; I really want to go to a Clairo concert, though. Honestly, I feel like she inspired me the most, more than any other artist did so I wanna go and watch her live.
Q: What do you like most about Clairo's music?
A: It's like all these [artists] are using autotune for their songs but if she sings [her music] live, she sounds the same way she would when I'm listening to it on Apple Music.
Q: How would you say that music has influenced you throughout your whole life; would you say it played a pretty big role?
A: Music has played the biggest role in my life actually because I think without music I would be a straight mess. I listen to music when I get up in the morning, when I take a shower, throughout the day if I feel down–music lifts my spirits. I didn't listen to music a lot growing up, I think as I grew up I started appreciating music more and more and more. Whenever I was going through anything I would turn to music and because it was always there, I relied on it to keep me sane.
You can find Beltran's music under the
name Hectix on all music platforms. Get to his Spotify HERE.
Other student playlists