Teacher humor makes staying at home less painful
Here I am. A first-generation student, counting down the days until my parents and family could see me walk across the fake grass on the football field and up on stage to accept an empty diploma case. Now, I'm wondering if I'm going to be left with a graduation Zoom party while my diploma is stuck in the mail.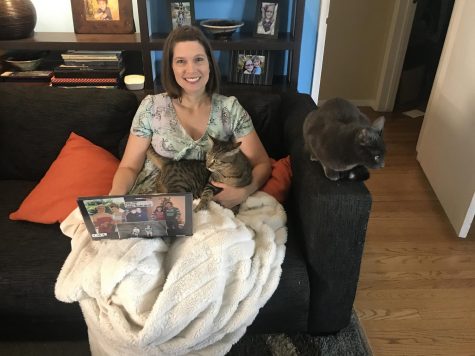 Honestly, I don't want to sugarcoat the truth and say that this adjustment has been easy, because it hasn't. Watching my mom and brother lose their jobs while also losing all the activities I've waited years to enjoy has been rough. Juggling between doing double the work and joining awkward Zoom calls with people half asleep has been challenging.
Although my life as a senior has completely turned upside down, I really want to thank my Human Anatomy teacher Kristen Cruz and AP Government and Economics teacher Robert Orr. They have tried their best to make this adjustment as smooth as possible and always make sure to remind students to reach out if they are struggling during these times.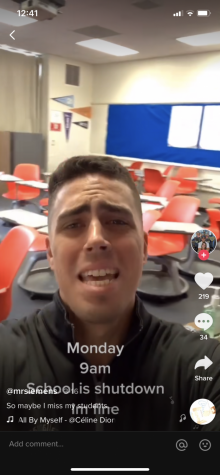 Mrs. Cruz has kept her bubbly attitude and sense of humor alive through the videos and slide presentations she posts on Google Classroom every day. She attempted to do a daily dad joke and even though it just lasted a few days, it was very much appreciated. Her constant communication has truly helped make this transition to online schooling a lot easier since we know we can count on her to answer our questions as soon as she can.
Throughout the first week of distance learning, Mr. Orr tried setting up the normal class atmosphere by saying if we were still in school he'd be waiting 15 minutes for us to come in since our class was 5th period–right after lunch. In the first videos, he would make jokes reminding the students to "Like" and "Subscribe," acting like a YouTuber, which is fitting since he was voted as the teacher most likely to start a YouTube channel by the senior class. For our current stock market project, he jokingly reminds students not to actually buy stocks, especially right now because he doesn't want us to lose our money. His jokester attitude and constant updates have helped soothe our anxieties.
As both students and teachers try to adjust to online school, some of the teachers' responses to such a drastic change has brought lots of laughter to students. Even though I was in Mrs. Smith's Psychology class last year, I heard that she's been very accommodating for students who are struggling with the transition. She even knows how to laugh at herself for not being the perfect distance learning instructor. She made it an assignment for her students to make a meme joking about her struggles with technology, telling them the more brutal the meme the better.
There's something comforting about our teachers' goofiness and flaws because right now, students need to know that it's okay if we all fall a little short of perfect.
Click the gallery below for distance-learning memes.