Athletes return to in-door facilities
Athletes began using in-door facilities on the FUHS campus Sept. 22 after receiving the green light from district officials. Most facilities had been closed since March due to COVID-19.
Senior football player Bryce Mays said his coaches have done a good job of keeping everyone busy during practice by separating conditioning activities into six workout stations.
"Two of the stations are outside in the tennis court area," Mays said. "The two core lifting stations are in the weight room. For example, the other day we squatted and were bench pressing in the weight room and we had two more stations of kettle bell work and some abs in the fitness room. Then the other stations were outside."
Mays said he feels safe during practice.
"The coaches have done a great job of keeping everyone socially distanced and making sure everyone is doing something so people aren't just standing around," Mays said. "It's been different for sure, but we're getting through it."
Football coach Richard Salazar said that the pandemic has changed his coaching style because his players must remain socially distanced.
"I feel like when you bring the kids in tight, you can get your thoughts out there and you are able to coach a certain way," Salazar said. "I feel like that's been taken away, that proximity that the athletes need and feed off of." 
Recent heat waves and unhealthy air quality due to wildfires have added to the struggle.
"Last week we couldn't practice because of the heat wave," Salazar said. "That becomes an issue because you have kids that get dehydrated and they are not allowed to use the water fountains. They have to bring their own water. When that water is gone, there is nothing to refill it."
Despite the challenges, coaches try to hold practices as often as possible.
"The kids want to get out. They want to be a part of something, and they want to do something," Salazar said.
Mays agrees: "I definitely think that the pandemic brought the team closer because people want to be there. Rather than people saying, 'Ah, I have football practice today,' it has people saying, 'Let's go to football because I get to see my friends.'"
Salazar said that his team has grown stronger during the pandemic because they have learned to deal with new challenges together.
"They took [being together] for granted," Salazar said. "It's definitely brought some stability and routine that everyone strives for and needs and wants. There's a tighter bond amongst the group, and I think they truly care about each other."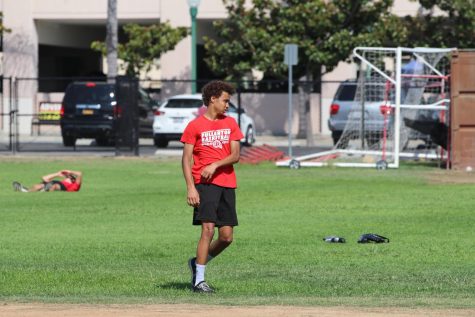 Some coaches are fostering team spirit even when athletes can't work out together. Girls cross country coach Angelica Garcia said she uses online platforms to encourage team members to engage with one another.
"We did an introductory flipgrid over the summer and I'm hoping to release some assignments where we can put in our goals and then team members can respond to one another," Garcia said. "As of right now, we are logging miles on XCstats and Strava which are online platforms where they can respond to one another's training."
Online platforms can also help coaches know which athletes are prepared for more rigorous training.
"I can see my athletes' miles, and I can see what kind of training they're getting in," Garcia said. "Now that we're able to come back, my athletes that are putting in a lot of training will obviously get more miles and get tougher routines."
Due to COVID-19 restrictions, fall sports will begin in mid-late December and end in late March or early April. Spring sports will then begin in April and end in June. Sports that usually take place during the winter season have been divided and will now align with either the fall or spring season.
Athletic director David Posthuma said that he believes the pandemic is not a cause for major concern as long as coaches and athletes continue to follow the safety guidelines that have been put in place.
"We haven't had any really serious issues with COVID-19," Posthuma said. "It's been reported to us that a couple of students have had it, so we've gone back and forth with the principal and assistant principals and with the district just to make sure that we are following all of the rules they put in place."
Reporter Esmeralda Morales contributed to this story.