Senior builds Star Wars-inspired foam armor
It's no secret to anyone that knows me that I'm freakishly obsessed with The Mandalorian. It's part of my Star Wars nerd-ism. To any hardcore Star Wars fan, it's always a dream to dress up in the armor of one of the many types of troopers. And, in the age of masks, what better way to stay safe then wear a helmet everywhere?
Jokes aside, after the premiere of The Mandalorian, I absolutely loved the design on the Beskar armor that Din Djarin wore, enough for me to want my own set. So, once Halloween rolled around, I started searching the internet for how to build my own armor, because I wanted it to look legit.
I stumbled upon the wonderful world of EVA foam cosplay, and using the templates I had found, my mom and I got to work tracing, cutting, and gluing together foam to create a set of armor. We designed some of our own pieces, learned how to heat-form and seal foam, and stayed up late too many times, but the armor came together, and it was everything I'd dreamed of.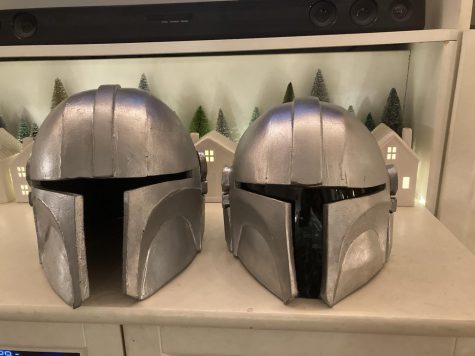 It's a long process, with multiple, important steps to ensure your armor looks correct and cohesive, but it's all worth it in the end when you can put on your helmet and cape and see a Mandalorian staring back at you in the mirror. 
Even if it's not all you want, you can still get more foam, go back, and remake the parts you'd like to be different. I recently remade the helmet because the original was a bit big on me. YouTube research is a godsend for any help you might need. 
 It takes a lot of practice to be good at making cosplay armor, and you may need to take multiple tries at it before really getting into the groove of it, so don't be afraid to restart a project if you don't like your results. 
 And, of course, you can use your armor to spread some holiday cheer. Merry Christmas, and be sure to catch the season finale of The Mandalorian, streaming this Friday on Disney+.
Click the slideshow below to learn how to make your own Mandalorian armor.