Cheer team finishes first, qualifies for national competition
The FUHS cheer competition squad finished in first place this month at the United Spirit Association competition. The team's 2.5-minute video submission earned top marks in cheer technique, school spirit and degree of difficulty, qualifying the Indians for the national competition in April.
Cheer captain Emma Torresluna said she was really pleased, especially because this was one of their first competitions.
"The routine was really long and definitely out of our comfort zone but our coach kept us motivated and we were able to perform well," Torresluna said.
Each school submitted a one-minute cheer/crowd leading section, and a 1.5-minute music/choreography section.
The team was evaluated on its effectiveness of getting a crowd to participate in cheers and on its ability to represent the school by using signs, pom-poms and spell-outs.
The team was also judged on technique, including jumps, tumbling and dance. They also earned a score for degree of difficulty. The Varsity Cheer squad is led by coach Sypen Van. The Varsity Song coach is Evona Markanian.
Cheer adviser Allison Lohran said this was the first year that FUHS Cheer has participated at a competition hosted by a top-tier organizer.
"This is only the beginning of the competitive journey," Lohran said. "Our coaches and student-athletes work so incredibly hard to make this dream a reality. They are leaving behind and creating a legacy for those who come after them."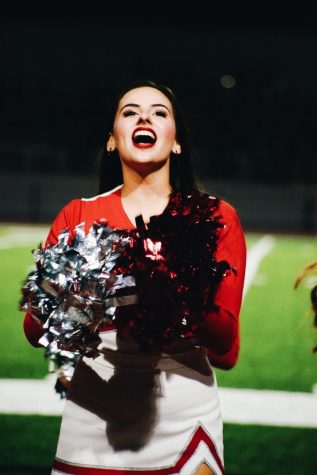 Co-captain Amelia Jones said the win is especially nice because it's been a challenging year for cheer.
"It's definitely gotten easier as the months have gone on, but the beginning of the year was pretty difficult in the sense that there were a lot of cancellations," Jones said. "The weather conditions and the air quality would be bad, and the increase in COVID cases. So basically it's just been hard to stay consistent."
One challenge for the competition team, as well as the cheer squads, is that the district will not allow students to include stunting because of COVID social distancing protocols. In other words, cheerleaders are not allowed to create the traditional lifts and pyramids with flyers.
Cheer captain Kelsey Lee said that because sports events, especially football, started opening just last week, it's been hard on school spirit.
"During classes we have had a really peppy attitude just to kind of keep the girls interested and make sure no one really checks out," Lee said.
There are also new freshman cheerleaders who haven't really gotten a chance to experience high school cheer at its full extent and the capitants have been trying to help them out as much as possible.
Torresluna says the cheer coaches have managed the squads well during distance learning.
"On Zoom our coach gives us specific workouts, and different choreography," Torresluna said. "We have actually learned most of our choreography on Zoom and when we meet in person we just polish a few things up. So I think they have been doing a great job, especially with having to collaborate a lot more with [the FUHS] Song [teams]."
Fullerton has six cheer and song squads: JV Cheer has 13 members, JV Song has 5 members, Varsity Cheer has 16 and Varsity Song has 10 members.
The two competition teams are students from either JV or Varsity. The Varsity Cheer Competition team has 10 participants, and Varsity Song Competition has 9.
The cheer and song teams supported the football team at the season opener against Pacifica High School on March 12 and plan to continue to cheer at future events.
It was a very exciting first official game," Torresluna said. "Varsity Cheer and Song were able to cheer for a crowd of parents and lead them in cheering on our football team. It was so great to be back and I'm really excited for the season ahead."
Cheerleading tryouts for next year's squads will be hosted April 2. Tryout clinics begin March 29, the first day after spring break. Details can be found on the Fullerton Cheer and Song website: https://www.fuhscheerandsong.com/ and updates are posted on Instagram: @fuhs.cheer.song.