Editor says goodbye to Tribe Tribune
Hello Class of 2021,
It's the last day of my senior year and I feel overwhelmed and confused.
When, exactly, am I supposed to turn in my chromebook? Did I return that English book yet? Am I allowed to hug my teachers and friends goodbye?
And then there's the added sadness of not having seen some friends in person since last March.
It's a strange end to high school to be sure, yet I can't help but feel excited and relieved.
I know where I'm going to college this fall. I know what I plan to major in, where I'm living, and who will be there with me. I'm excited. And you should be too. We made it!
The Tribe Tribune has put together a small senior issue of 20 personality profiles. As I've read these stories and learned what new adventures each person is headed towards, I feel excited for them. Each person's major and school just fits him or her perfectly.
I invite you all to take a deep breath, stop worrying for a minute and read these features too.
They aren't perfect. We couldn't cover everyone, so I apologize to the awesome Agriculture Department and Auto Body who we regretfully missed in our features. I will tell the incoming editors to make sure we do your programs proud next year.
If I've learned anything this year, it's that perfection isn't always necessary or reasonable.
We don't talk about ourselves in journalism. I guess you could say it's "against the rules." But I need to tell my staff, my tiny crew of 13 students, that I'm proud of them. I know we had our fair share of imperfections, but your dedication made this newspaper work.
From conflicted opinions about our Indian mascot to hybrid check-in satire to a binge-worthy movie watch-list, our published stories have been limited in number, but valuable nonetheless.
Alejandra Rodriguez, you took on a difficult position as Managing Editor and excelled; though I expected nothing less because I know you're talented and hard working by nature.
Jeremy Maldonado, your outgoing personality and genuine interest in people made you a fantastic interviewer; thank you for helping people open up so that we could get to the true root of their stories. 
Lynda Sambrano, you learned feature editing in literally one day. You're a rockstar.
Clerene Palean, your willingness to put in extra time to help with transcriptions and writing made my job easier.
Nathan Smith, your movie reviews were always popular and fun to read. Thank you for your unique perspective.
And, of course, our adviser, Kimberley Harris. You were our mentor and our support in everything we did. Thank you for your humor and care.
I won't go on mentioning the whole Tribe Tribune staff by name, that would take too long, but I do appreciate every single one of them.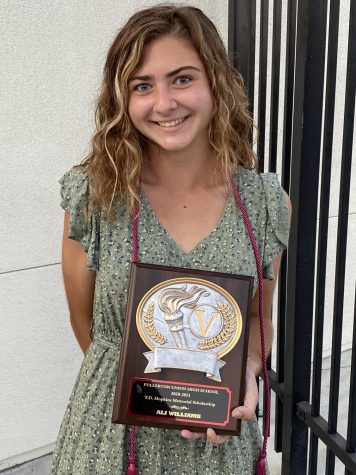 I would like to personally thank the yearbook photographers for bailing us out and letting us use some of their photos for this final issue. And for helping me know where to go and what to do when I was sent to take photos at events. I'm not a trained photographer by any definition, but the pictures turned out decent thanks to them and, of course, photo teacher Gabby Kudron.
To those who kindly took time to talk with us this year in interviews, I know I speak for the whole staff when I say we enjoyed getting to know you. Thank you for your time and eloquence.
We may not have been at school with the whole student body, but through journalism, we made new connections.
Saying goodbye is always hard, and this year will be especially emotional, but I hope you all remember to breathe. You don't have to be perfect.
With love,
Alexandra Williams