Auditorium retrofitting scheduled to be done June 1
Crews to make building earthquake resistant, handicap-accessible
Student musicians, actors, dancers and singers are finally allowed to perform in front of live audiences. However, the Fullerton Auditorium (formerly called Plummer) will not be available to showcase FUHS talent until June 1.
According to assistant principal Amanda Bentley, construction crews are making the auditorium more handicap friendly and earthquake resistant. She insists, however, that the appearance of the historic building will not change significantly. 
The construction crews are peeling away the exterior of the building and installing reinforcing material that allows the building to withstand an earthquake. Then the crews will replace the exterior walls, restoring the building's original appearance.
"So you will see a lot of black FRP (fiberglass reinforced panels) going up there and then the plaster and paint will go back up so we're not changing the appearance, but people out here get concerned when things start changing," Bentley said.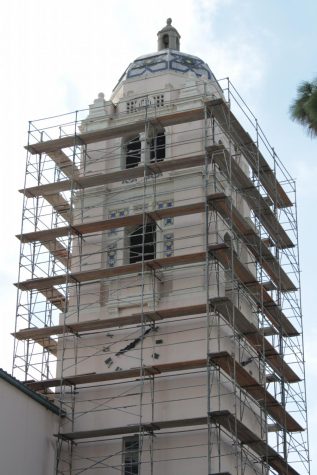 One noticeable difference, however, will be a new ticket window and lobby facing Lemon Street instead of Chapman Avenue. According to Troy Shandy, the Construction Projects Manager for the Fullerton Joint Union High School District, the new lobby is needed to create a handicap-accessible entrance and restroom. Currently, patrons must climb steps to buy tickets and enter the building.
Shandy also said they are creating handicap access to the basement level of the auditorium where performing groups often set up their dressing rooms.
The auditorium, built in 1930, was originally named for Louis E. Plummer, superintendent of Fullerton High School and Fullerton Community College from 1919 to 1941. The school board last year removed his name from the building after listening to community concerns about Plummer's alleged affiliation with the Ku Klux Klan. Read more about the school board's decision here. District officials now call the building Fullerton Auditorium. There are no current plans for adopting a new name.
FUHS performing arts groups will use the Little Theater, gym and the La Habra High School Performing Arts Center for some performances this year.
Click slideshow below to view more construction photos.