Fall Sports Update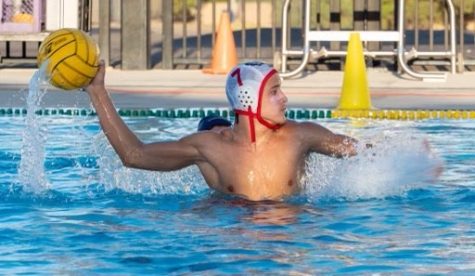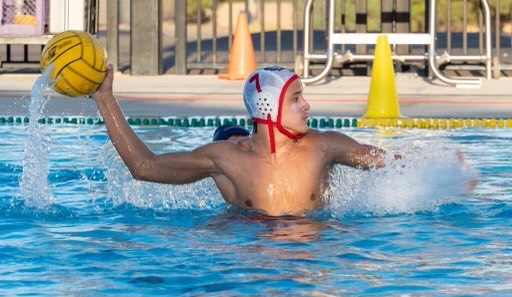 Boys Water Polo
The boys water polo team (13-5, 3-0) opened Freeway League play with a 18-8 victory over La Habra. Junior Preston Kim had 6 goals, senior Garret Fan had 3 goals, and senior Aiden Ricklef had 3 goals. Outside shooter, senior Elijah Pelton also had 4 steals and 1 goal.  
On Sept 24-25 the boys placed third in the Diamond Bar Bull Run Tournament. Fan scored 14 goals, Kim scored 13, and Ricklef scored 10. Goalie Asher Brazo also had a total of 69 blocks. 
The Indians took a 16-11 win against Buena Park on Oct. 6. This week, the boys hope to continue their winning streak when they travel to Troy at 3 p.m. on Oct. 13.
Football
The Fullerton football team (1-6, 0-2) and Buena Park (0-7, 0-2) are tied for last place in the Freeway League. The teams will battle for fifth place on Oct. 15 in the Indians' Homecoming Game. Fullerton, averaging 17.7 points per game, has an edge over Buena Park who's averaging just 6.5 points per game.
The Indians are coming off a 50-3 loss to La Habra on Oct. 8 and a 20-14 loss to Sonora on Oct. 1. The Coyotes also struggled last week with a 41-6 home loss to Sunny Hills (4-3, 1-1). La Habra and Troy are tied for first place with two wins each.
In the Sonora game, sophomore Aidan Zavala had 9 tackles and Sonora had a 61-yard touchdown from junior Josiah Binggeli. The score fluctuated as both Indians and Raiders were holding leads. The final touchdown was on a throw from junior Raider Pedro Moreno.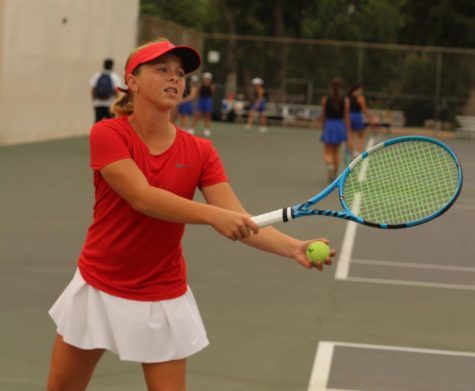 Girls Tennis
Coming off a 18-0 win against Sonora on Thursday, the FUHS girls tennis team will face La Habra away on Tuesday for another Freeway League match. So far, the girls tennis team has swept all their matches 18-0 against Sonora, La Habra and Buena Park. 
Fullerton lost to the Lancers 13-5 in their game on Oct 5. Despite the loss, doubles team Eliza Lynch and Kennedy Hetts swept two of their three sets.
Cross country
Sophomore Morgan McAndrew finished fourth in the second Freeway League cross country cluster meet, and junior Nathan Limon finished in 10th place. Both varsity teams finished fifth overall.
For the junior varsity team, sophomore Reagan Glidewell finished fourth while senior Lukas Willis-Guerrero finished first for the boys.
For the frosh-soph team freshman runner Ryan Leitner finished first, sophomore Nathan Karcher finished fourth and sophomore Riley Oates finished eighth.
At the Sunny Hills Invitational, the boys cross country team finished 15th out of 29 teams and the girls team finished 27th overall.
The team will travel to Oak Canyon Park in Silverado on Oct. 15 for the O.C. Championships. The Indians will run against all five of the other qualifying teams. 
Sunny Hills' top runners Zachary Gomez (15:38) and Ester Kim (19:11), as well as Troy's Ernesto Rivera (15:49) and Makenna Henkhause (17:47) will be the ones to beat. 
The team is not worried. The Indians have consistently been posting top 10 scores including senior Mathew Abernathy and junior Troy Fernandes who recorded personal bests at the 40th Annual Woodbridge Cross Country Classic.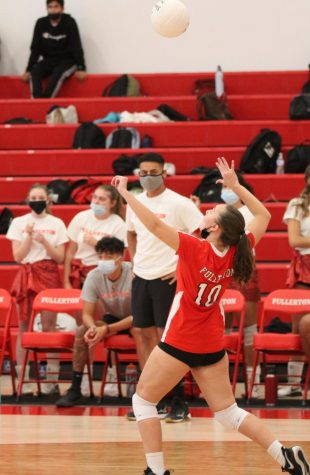 Girls Volleyball
After a tough loss to La Habra last Tuesday, Fullerton's girls volleyball team (14-10, 3-5) swept Buena Park on Thursday with a 3-0 victory. 
Junior Kaylee Koerth and senior Sydney Elliot lead the team on offense, while senior Alyssa Bouquet and junior Hailee Nelson lead on defense. 
The team will play Freeway League point leaders Troy (16-3, 8-0) at home on Monday. Currently tied for fourth place, Fullerton must win the match for a chance to compete in league playoffs. 
Golf
The girls golf team lost it's most recent match against La Habra with a total score of 241 on Oct. 5. Senior Taylor Frank holds the record score of 39 for the season so far from their first match against La Habra. The team plays Troy next Tuesday with the hope of scoring a win.