Service club to help women access period products
Steven Tyler of the band Aerosmith once wondered, "If men bled, would tampons be free?"
Good question, Mr. Tyler. Surely if men had monthly periods the embarrassment of leaky pads would disappear and lawmakers would eliminate the cost of menstrual products.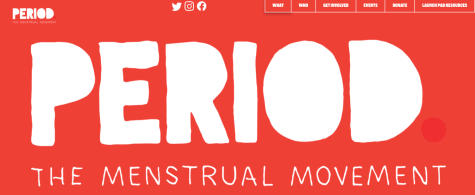 But the reality is that millions of women struggle to afford monthly feminine hygiene products. To combat this issue, junior Alyson Jeong has organized an FUHS chapter of PERIOD club.
PERIOD, a global organization that fights period poverty and menstruation stigma, has groups in 40 states and 20 countries.
According to Jeong, the FUHS chapter will host period product drives and distribute donations to women's shelters and other Fullerton organizations.
"Essentially the main goal is to be able to give products to menstruators in need, especially those who are undergoing period poverty which is a huge problem right now," said Jeong, who will host the club's first meeting on Feb. 2 at lunch in Room 229.
So far there are 12 female students in the FUHS club. Jeong hopes that some male students will also want to be a part of the community service opportunity.
"It's great that there are females relying on other females to aid them, but then again in order to really change the systemic oppression against menstruation, we need to be able to get through that gender divide," Jeong said.
PERIOD club adviser Kimberley Harris keeps a box of first aid and period supplies in her classroom.
"I will have boys ask me, 'Hey, Mrs. Harris, can I have a band-aid?' I say, 'Sure. It's in the box.' I intentionally want the young men to see that the box contains tampons and pads, too. Males need to be more comfortable seeing, buying and discussing period products. They need to learn to support the women in their lives by reducing the stigma associated with monthly periods."
In October, Governor Gavin Newsom signed into law the Menstrual Equity for All Act which requires all public school bathrooms starting in the 6th grade to supply students with free menstrual products. But more needs to be done.
A lot of girls struggle to have access to sufficient feminine products. 
"We have students whose families struggle to provide enough food for their families," Harris said. "Being on your period can be very stressful when you can't afford to buy pads. A girl sitting in my class might wonder, 'Can I sit through one more class before I have to deal with my period? Will this pad last another hour because I only have one left?'"
In most states, feminine products are taxed. The problem is that feminine products are considered "luxury" items rather than "necessities." Although California suspended taxing feminine products in 2020, the law is scheduled to expire in 2022.
"So it's not just a financial issue, it's symbolic," Harris said. "Culturally speaking we need to make sure we move feminine products from the luxury list over to the necessity list."