March Briefly
Bridges Art Show 
The annual Bridges Art Show took place on March 9. About 100 student art pieces were on display last week that featured artists from Fullerton High along with Ladera Vista Junior High School and Parks Junior High School. Works included drawings, paintings, photography, digital media and sculptures.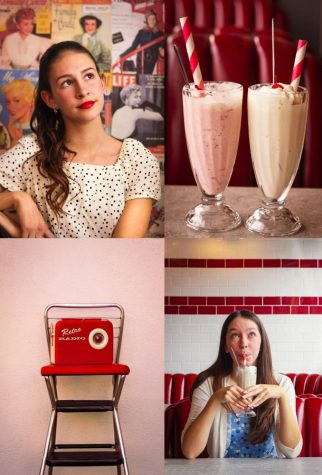 Mask Mandate
As of March 12 masks have been optional for students and staff. Student athletes who are unvaccinated will no longer need to be tested for COVID, but teachers who are unvaccinated will still need to be tested regularly for COVID. 
School nurse Kristina Smith says the lifting of the mask mandate is related to the decreasing COVID hospitalization numbers in Orange County. However, masks are still recommended. 
"You'll probably see me walking around with a mask. I'll probably see many students not. I'm a nurse, I already know the stuff," Smith said. "It doesn't guarantee that I won't get this thing, but I'm sure going to try to minimize that. I'm also older. My body may not sustain whatever happens as well as say our young people. The superintendent sent out a really good message to just be kind to your colleagues to your classmates. If someone chooses to not wear one, don't give them a bad time."
Principal Laura Rubio says the school is ready if there is a spike in cases after spring break. "I'm hoping that we don't take a step backwards because that is entirely still a possibility. I hope there are  enough of us vaccinated to be able to keep moving forward without masks," Rubio said. "I think at this point the conversations are how do we deal with this endemic because it is always going to be here we just always have to be mindful and careful." 
Caution is a main priority for the school. "My personal belief is that we are going to be walking very gently forward for the rest of the year and just be prepared to bring the masks back if needed," Rubio said.
Art in Our Schools Month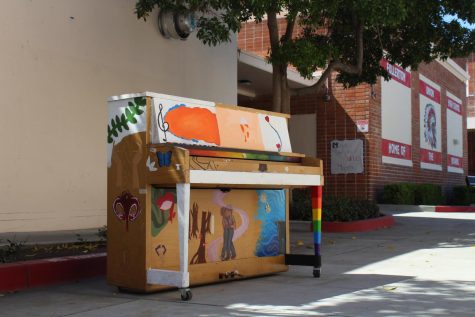 Student Support Implemented for Next Year
A majority of teachers voted to implement a new bell schedule for next year that includes a daily 25-minute Student Support period. The new schedule will be enacted for the 2022/23 school year.
Next year, zero period will start at 7:28 a.m. and first period will start at 8:30 a.m. School will be over at 3:30 p.m. The student support period will cycle through different class periods every week. One week, student support will accompany first period and the following week student support will accompany second period and so forth. 
Prom Theme 
ASB announced the 2022 prom theme March 4 in the Friday video announcements. A Starry Night will be held at Hanger 21 at the Fullerton Airport on April 30 from 8-11 p.m. Ticket sales begin in April. From April 11-14 tickets are $80 with IFL and $90 without. From April 18-22 tickets are $90 with IFL and $100 without. The last week of sales will be from April 25-26, tickets are $120 for all students.
Sadies Canceled 
Sadies which was scheduled for March 5 was canceled because ticket sales were low, according to ASB president Jonathan Morales. 
 "This year for the first time ever we let the student body pick the theme and we thought that would be a good idea because we had a lot of backlash on how student input wasn't being taken into consideration," Morales said. 
The Sadies theme, Masquerade, was chosen after a google form was sent out with theme suggestions to the students. The themes were then narrowed down and students submitted their final votes on their favorite theme. 
"We needed to sell 400 [tickets] and we only sold around 200," Morales said. "We felt it wasn't worth it to put on a dance with not that many students attending. We were very conflicted because the student body wanted to put in their input and then when we let them put in their input nobody wanted to come."
Morales says ASB will learn from this experience and they are still looking forward to planning an end of the year dance. The date is still tentative.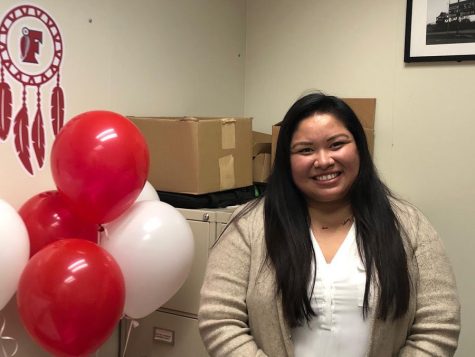 New Assistant Principal 
FUHS welcomed the new Assistant Principal of Student Services Leticia Gonzalez on march 7.  
Before coming to FUHS, Gonzalez was an English teacher at Orange High School and was involved with the school's AVID program and ELL students. Gonzalez then became an assistant principal at Samueli Academy in Santa Ana. For the last three years she has been an assistant principal at a middle school in Capistrano Valley. 
Principal Laura Rubio said Gonzalez, who also speaks Spanish, is a great fit for the school. 
"For me one of the most important things in leadership is being able to build strong relationships and being able to get along with people," Rubio said. "We can teach you to do a lot of things but having that [fun and caring] personality and having that empathy and emotional intelligence is not very common sometimes and I want to have leaders that have those qualities."
Speech and Debate
The FUHS speech and debate team has qualified for the California High School Speech Association Tournament at the end of April. The weekend of March 5 Speech and Debate competed in the Orange County State Qualifiers Tournament. 
Senior Lauren Cagley and freshman Joshua Lee were undefeated and took first place in Public Forum. Sophomores Mackenzie Mauldin and Isaiah Jung were undefeated as well and took second place in Public Forum. 
Sophomore Audrey Bae took first place and was undefeated in Lincoln Douglas. Junior Amelie Heying took first place in Expository and Sophomore Julia James took third.