Behind the scenes of Cabaret
The FUHS production of Cabaret awed audiences with its phenomenal acting, singing, and dancing. However, audiences often overlook what happens offstage – both during the show and the months prior to it. From makeup design to marketing, these aspects remain some of the most essential parts of a production. 
The Dramaturg and the Marketing
The unique role of Dramaturg falls to junior Carina Montero.
"A dramaturg's job is to know everything about the world of the play: the history, purpose, playwright's bio, unknown terms, and anything necessary to translate or edit. I'm basically [Mr.] Despars' Google, but in real life."
Montero ensured that the show's setting remained realistic.
"I had to learn a lot about the culture in the 1920s to 1930s in Berlin, Germany. Learning about the Weimar culture was definitely the most interesting for me. The arts, sciences, and everything in between flourished during the late 20s and early-to-mid 30s," Montero said.
As Montero establishes an authenticity to the show, junior Georgia Rau, Head Marketing Designer, guarantees that the show will garner an audience. Rau designed merchandise to advertise the show including posters, t-shirts, and pins.
"Marketing is one of, if not the most important. It actually gets you the audience. You can have all the actors, all the other tech, but without marketing being there to push out the show, being the face of the show, you're not going to get an audience that the show needs and deserves," Rau said.
To make advertising effective, Rau needed a creative mind.
"We went through multiple trials with the poster. We didn't want to give too much away, because it's not exactly the show that you'd expect it to be," Rau said. "[Mr.] Despars and I came up with the idea of the microphone, because it's a microphone in a cabaret, of course. We also added barbed wire around it to add this ominous feeling."
Onstage Setting Creativity
To truly create a world for Cabaret, Head Set Designer senior Tate Heinle was tasked with designing a set piece for the entirety of the show.
"For Cabaret, you have to have a set that's accountable for many different areas and locations. You have to be a little more abstract. It has to serve as a bedroom, hallway, the club itself, a train station," Heinle said.
Heinle participated as a set and stage crew member since his freshman year, and went through weeks of planning and drawing for Cabaret.
"Seeing the finished product on the stage is amazing," Heinle said. "You can't take a set off stage, it stays there. You can take your hair and makeup and costumes off, but the set is the main heart of the show. Being able to create that is really exciting."
Heinle worked with Scenic Designer junior Mark Rojo to create a more meaningful and interactive set, or what Rojo calls a "set dressing."
"Tate and I work a lot together. We worked a lot on the backdrops; they're just walls that have been destroyed and it's kind of a nod to World War II, to show the destruction," Rojo said. "My job is to make the show visually appealing, and through those visual aspects show the symbolism and bring out the different meanings of the show."
On a smaller scale, senior Ruby Hernandez, the Properties Designer, creates the numerous props used throughout the show.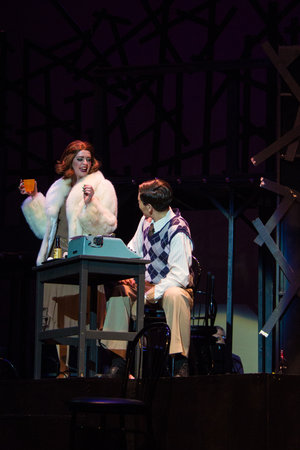 "I create all the tiny aspects of the show that some might not notice, but make a big difference in the show. For example, when the show is taking place in someone's room, I create the little things that might be in that character's room, like a perfume bottle or a period type phone," Hernandez said.
While physically not as large as a set piece, props lend a huge impact to the story.
"Props are extremely important to the show. Without the props, there would be no stage play for the actors. There would be no small incites for the audience to see about a character. The show would not be fully understable without the correct props," Hernandez said.
Sound and Lighting
Junior Avi Block, the Sound Designer, created an atmosphere through added noises, from ambience to the haunting train sounds.
"[Sound] can create a mood along with lighting. It can make the blocking more obvious; for example, a glass window breaks in the show, so I have to put the glass breaking sound. Ther
e is also trains and parties, so I can create ambient noise of crowds," Block said.
Block worked with other technical designers through hours of rehearsals to achieve the perfect sound for the show.
"Through rehearsals you can be adding stuff, deleting stuff, and adjusting levels so it can work in Plummer, because the [sound] levels are different in the Little Theatre. I also mix microphones for the people who are onstage. [I] adjust their levels because some people have a very loud voice and some are very quiet," Block said.
Through Sound Design, Block found his perfect niche.
"My favorite part about tech is that you learn more about the stage than you do of the cast members. Without tech, the show really can't go on," Block said. "When I found the sound crew, I realized it was something that I wanted to continue in. It just puts the icing on the cake to make the show look good."
The Lighting Designer, freshman David Block, worked to enhance the show through changing light.
"You have to be able to sense changes in mood and songs, those really subtle changes that really make a difference in what the audience sees and feels. You have to capture that and make it look like that on stage," D. Block said.
The position of a head designer is a prestigious o
ne, and to earn it as a freshman is a feat.
"It's amazing because not a lot of freshman get a designing position. I was just as new as any other freshman would be and I think I put on a great show," D. Block said.
Makeup and Costumes
Senior Isley Duarte codesigned the hair and makeup portion of the show with senior Abigail Lange. Duarte, faced with the challenge of toning down a raunchy Broadway show, designed specifically for a high school production.
"Cabaret is a very eccentric, very interpretive show. Our version is a little bit different than the versions produced by adult casts because we're a group of high schoolers. We don't want to be too crude or inappropriate," Duarte said. "This idea has been more about making these characters come to life, 3-dimensional, like caricatures."
Duarte channeled this mindset especially for the character Emcee.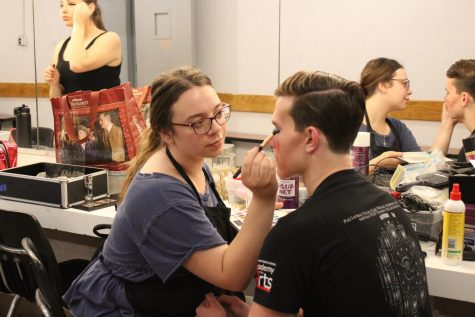 "Emcee is dream-like. We gave him double lashes, so he has lashes on the bottom and the top. Certain foundation colors, or maybe dying his hair, or maybe giving him a tattoo, and things that, in l
ittle details," Duarte said.
After Act 2 begins, audiences can detect a very visible shift in the mood of the show, from an upbeat charisma to a more ominous feeling. Duarte wanted to embody the shift through her designs.
"There's going to be a shift from more bright and vibrant colors to a more somber, deteriorating kind of look. We're going to give them bags under their eyes. We're going to change the color of the eyeshadow on the girls, and the Emcee is getting a specific tattoo. We're going to make Emcee look a little bit more starved in Act 2," Duarte said.
Costumes, another essential aspect of the show, was headed by senior Ashley Shilts who participated in the costume crew for four years. Like Duarte, Shilts wanted to embody the themes of the show through her designs.
"Showing how money was such a big motivation, and obliviousness to the severity of the situation, I embody that with costumes. I pull costumes that encapsulate this vision," Shilts said.
Another challenge presented itself in the form of time period.
"Everything has to be true to the time period, or else it just looks kind of amateur. I have to make the audience believe that these characters are actually part of this time period," Shilts said.
Like Duarte, Shilts' favorite design was Emcee.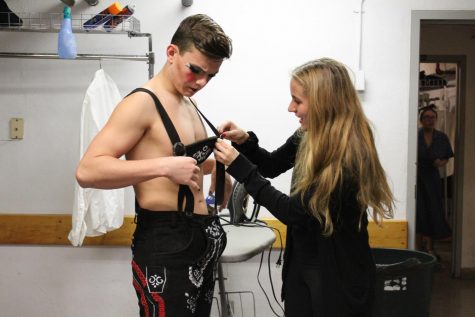 "I wanted him to be in some traditional German-ish clothes, so I put him in lederhosen. But I bedazzled them and painted them black, so it looked edgy and showy. It's mocking the glorification of German culture," Shilts said. "In an American context, it would be like if he were to be just wearing a big American flag dancing around onstage."
Emcee's lederhosen soon became a major piece of the show.
"His character is very out there. He's this weird paradox of making serious things not seem serious. He will put on different accessories over the lederhosen, but the lederhosen is the base costume for the show. It's a poignant piece of the show because he's stay
ing the same as all the other characters are changing," Shilts said.
Offstage Leadership
Despite the creative design processes that made Cabaret a phenomenal production, it could not have run without Stage Managers, seniors Hayley Harvey and Samantha Brackman, and the Student Assistant Director junior Emily McCardell.
Harvey's and Brackman's job remains essential to the production of a show.
"My job is to make sure the show runs. I make sure the actors are on time. I work to make sure everything is going according to plan," Harvey said.
"You need to be a really good leader and sometimes you have to be okay with if people don't like you because you have to make decisions for the better of the whole cast and not just for one person," Brackman said.
McCardell, who wishes to a pursue a career in theatre education, calls her positio
n a perfect opportunity to learn.
"This position gives me an insight into the kind of things I need to do when I am older. [I am] another set of eyes for the show. If I see something that doesn't seem right or missing, I tell [Mr.] Despars," McCardell said.
Cabaret truly could not have experienced such success without the work, creativity, and responsibility of these students. Seeing their work come to fruition the past few weeks has been an amazing opportunity for them.
"That's one of the greatest parts about being designer. It's not all in theory. You get to make it reality, you get to make it come true, you get to make it happen. So it's really cool to physically, visually see it onstage," Shilts said.
"It's an incredible experience the first time you look at yourself in your costume and your makeup. We want our actors to feel like they are these people," Duarte said. "If they believe they are these people, then the people around them will. It's a big responsibility, but it's also an honor of doing it at the same time."