Springing Back Into Action
Theater students busy with writing, acting, singing & improv
After two years of glitchy Zoom monologues and virtual shows, FUHS theater students are filling their time with multiple live performances and competitions.
California State Thespian Festival
To compete in the California State Thespian Festival, 19 FUHS Thespian Troupe members traveled to Upland High School on April 8-9. Junior Haley Cronin, sophomore Jojo Fares, junior Alexis Helmer, sophomore Mollie Holbrook, junior Lily McWatters and junior Syd Rosas became Nationals Qualifiers. After performing their competition pieces for ratings and feedback from theatre professionals, students attended workshops and played theatre games.
Junior Alexis Helmer placed first in the Monologue category with pieces from Steven Levenson's "Core Values" and Matthew Wilson's "In the Wreckage," and also ranked Superior in Solo Musical with the song "Shy" from Once Upon a Mattress. Sophomore Mollie Holbrook placed first in Solo Musical with "A Trip to the Library" from She Loves Me. Helmer performed for an audience of 700 after winning first in Monologues.
"Acting has never been my focus in theater, mostly singing has been my thing," Helmer said. "It was really surprising to get callbacks and first place for my monologues. The only people that had seen my acting before the festival were some troupe members, Mr. Despars and my mom. It was really eye-opening and reminded me to expand my horizons."
Junior Donny Cannady, competing in Solo Musical and Duet Acting with junior Ryder Tucker, was selected as a playwright to cast and perform his original one act play Before Your Eyes. The experience of having actors take notes on his script and sitting behind the audition panel was surreal according to Cannady, a performer himself. FUHS Theatre Program director Michael Despars plans to produce Cannady's one act next year in the Theatre Production Class.
"All of the students we took to festival had never been before, so we really went to help kids prepare for next year's festival," Despars said. "It was really exciting and encouraging to see how prepared kids were and see that they hadn't given up on their craft during lockdown."
30 Plays in 60 Minutes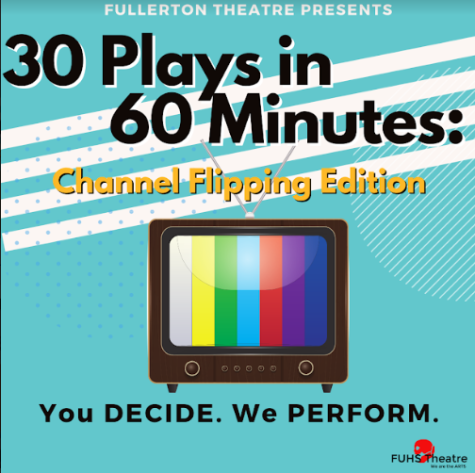 The FUHS Theatre Production class will be performing "30 Plays in 60 Minutes" April 27 and April 28 at 6 p.m. The students wrote 30 original comedic scenes and will perform them within 60 minutes. And because writing and acting aren't already hard enough, the performers will not know the order of the scenes before the show. Instead, the audience will pick the order of scenes at the live event, making each show a different experience.
Scenes range from elderly catfishers, to couples therapy with a flat-Earther, to a human man being entered into a dog show.
Sophomore Connor Udhus edited a student film and wrote a commercial for the show, which will be featured in the April 22 video announcements.
Theatre program director Michael Despars calls it "SNL meets Fullerton High." Tickets are $5 and available at the box office by the Little Theater or online at fuhs.booktix.com.
ComedySportz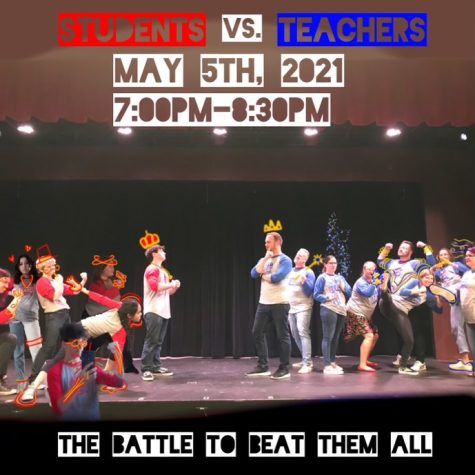 ComedySportz is hosting its annual Students versus Teachers match on May 5 at 7 p.m. Tickets are available online at fuhs.booktix.com for $7. This year's teacher line-up includes Mrs. Meggison, Mrs. Wren, Mr. Orr, Mrs. Cruz, Mrs. Hill, Mr. Trimble, Mrs. Kudron and Mr. Despars.
"We're coming for you," said Wren in a warning to the poor students facing off against this powerhouse of a team.
Orr says, "There will be buckets and buckets of student tears."