Senior Alejandro Hernandez made history last year when he and then senior Nathan Limon finished the world-famous Woodbridge course in under 16 minutes. 
Hernandez was hoping to break the FUHS record (15:31) on Sept. 15 when he and the girls and boys cross country teams competed in the Woodbridge Invitational. 
Hernandez finished fifth in a field of 189 top runners, setting a personal record and being the top finisher out of the Freeway League. However, Hernandez was unable to officially break the school record since the event organizers changed the course from a 3 mile to a 5k this year.
Although the distances are similar (5k is 3.1 miles), Hernandez had to settle with the 3-mile conversion time of 15:00 which would have earned him first on the all-time record list for Fullerton in the 3 mile category.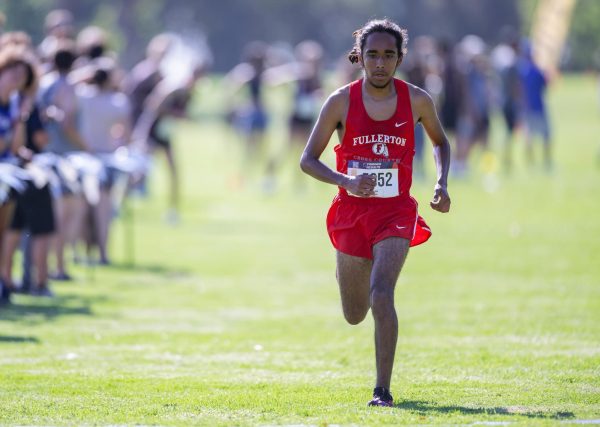 The varsity boys team finished 13th. Junior Jack Golla finished 14th (15:53), senior Nathan Karcher 107th (17:16), senior Maximiliano Olivares 126th (17:34), senior Adam Zibell 133th (17:45), and junior Ryan Leitner 148th (17:59).
The Woodbridge Invite hosts nationally ranked teams such as Great Oaks and Newbury Park. Newbury Park alum Leo Young holds the Woodbridge course record of 13:38.1.
Senior Alejandro Hernandez said that Woodbridge is known to be one of the fastest courses in the nation. Runners from all over the nation fly to run the invitational.
"Woodbridge is the Taylor Swift [concert] of cross country meets. Everyone wants to go. You have people from Washington. You have people from Texas. You have everybody coming over," Hernandez said. "Everyone flies in, and it's so funny to think about it because we just drive down to Irvine. Coming off of some fast races already, I don't even know what's possible right now. There is so much we can do at Woodbridge."
The varsity girls finished 10th. Senior Morgan McAndrew finished 14th, coming in at 19:03. Freshman Azumi Fuertes finished 41st (19:55), senior Reagan Glidewell 42nd (19:56), sophomore Sofia Tabbal (20:58), and senior Ansal Esquivias 99th (21:12). Glidewell cut 48 seconds from her personal record with a 3-mile converted time of 19:12. Fuertes cut 80 seconds from her personal record with a converted time of 19:11.
The cross country team traveled to Clark Park on Sept 6. for the first Freeway League cluster.
The boys team finished third at the meet, their top five runners finishing in the top 20. Hernandez finished first (15:40), and Golla finished a few spots behind in seventh (16:44). Karcher finished 13th (17:17), Olivares finished 18th (17:38), and sophomore Jude Banda in 20th (17:43).
The girls team finished second, five points behind Troy. McAndrew finished second (18:50) followed by Glidewell in seventh (20:01). Fuertes finished ninth (20:55), junior Alexa Lopez finished 10th (21:06), and Esquivias 12th (21:22).
Last year, the boys cross country team secured the Freeway League title for the first time since 1965, advancing to the CIF Prelims.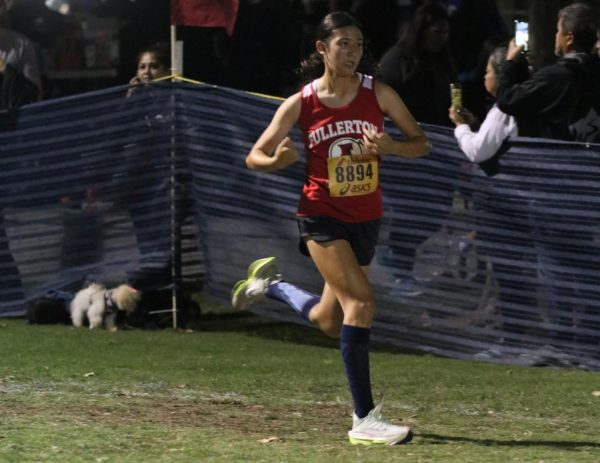 The same year, the girls cross country team jumped from fourth to second place, also securing their CIF bid.
Hernandez said that this year, knowing what the team is capable of, the Tribe has ambitious goals, both teams hoping to earn the Freeway League title.
"Seeing the position we're in and our fitness level, we definitely have higher expectations. Other teams are looking at us. They're like, 'well, what are these guys doing? What have they been doing?' We are the people that they want to chase and want to go after," Hernandez said. "We have to push the bar and put ourselves in a good position because we have a really good shot for CIF, but we definitely know that it is possible to even go to state."
The Indians started off the season at the Great Cow Invitational on Sept. 2 at John Glenn High School.
The course was originally set to be a 5k but was cut short to 2.9 miles. The boys varsity team finished first in the small school division, and the girls varsity team finished second in the small school division.
Hernandez said that the Tribe's success in the Great Cow Invitational only excited the team for the season. However, Fullerton has shifted from being the hunter to becoming hunted in the Freeway League. 
"Knowing that we did really well last year and seeing our performance at the Great Cow Invitational, we definitely have the targets on our back. Every other school is looking at us, and they are going to try to hunt us down," Hernandez said. "[Before], they were our targets. It is kind of the opposite. Now we have to defend the throne."
The girls and boys cross country teams will compete on Saturday at the Central Park Invitational in Huntington Beach.
Editor-in-Chief Reagan Glidewell contributed to this story.