Rubio earns OC Principal of the Year award, finishes Doctoral program
When Principal Laura Rubio (and now Doctor Rubio) was growing up in Santa Ana, her parents—both of whom were born in Mexico—wouldn't let her roam the neighborhood or hang out with friends very often, but they encouraged her to get involved with school.
So, in high school, Rubio signed up for everything, including Model United Nations, drama, and sports, like cross-country, soccer and swimming. In fact, Rubio's senior year high school yearbook couldn't include her photo with every activity she was involved in because some of her activities interfered with the yearbook photos for her other activities.
These activities improved her social life and made her a better teacher and, then, a better principal. Rubio understands firsthand how diverse programs like those at FUHS can enrich students' lives. As a first generation student and one-time English language learner, Rubio grasps the struggles students face when navigating the college admissions process and knows how much programs like AVID can help level a rocky playing field.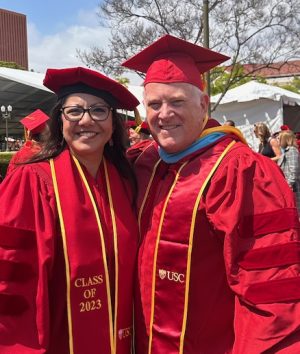 "As a former first generation college student, Rubio has put extra care and attention into the AVID program making sure students feel supported and represented," said AVID coordinator Pricilla Bravo-Fullman.
Rubio knew early on that she would become an educator. "Since second grade my dream was to be a teacher," she said. "This is it. This is what I'm going to do."
After earning a history degree at UC Irvine, Rubio returned to her high school alma mater for student teaching. She taught history and coached at Century High School from 2000–2008.
"I coached three sports. I ran the MUN program. I was department chair, WASC Coordinator. I did whatever it took to be involved with my school community." said Rubio, laughing.
Teaching at Century also gave Rubio the opportunity to keep up with her brother who is autistic.
"Growing up I would sit in on IEPs with my mom [to help translate] and make sure that his needs were met. And then I became a teacher at the high school when he was a sophomore, and he just knew that he could come to my classroom if he needed anything." Those experiences "very much influence me with regards to our special education department and supporting our students," Rubio said.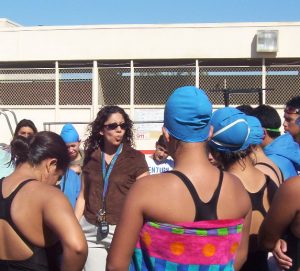 Century High School had seen nearly 50 administrators come and go between its opening in 1989 and the start of Rubio's tenure as an assistant principal there in 2008.
"I saw a lot of my fellow teachers frustrated by the continuous change in administration," Rubio said. "The administrators didn't seem invested in the community." Due to her experience in a high-turnover environment, Rubio works especially hard to connect with students, staff and the community. 
"I need to understand the community before making any decisions," Rubio said. "Regardless of the red tape, regardless of the bureaucracy, people come first. It's not about me or my decisions, but about us collectively."
After several years in the Santa Ana Unified School District, Rubio started in the FJUHSD at La Habra High School in 2013 as an assistant principal and then at Troy High School before landing at FUHS.
"I appreciate how [Rubio] tries to avoid negativity," FUHS assistant principal Jon Caffrey said. "She encourages us to find a way to say yes, especially when we're supporting what teachers need."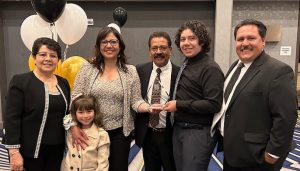 Rubio attributes a great deal of her strength to her knowledge of her heritage. Her maternal grandfather died when Rubio's grandmother was 28, leaving her with 5 children in San Pedro Piedra Gorda, Zacatecas in central Mexico. Her grandmother left Mexico for the US three years later. She married a Chicano in the US and obtained immigration papers for her children.
Rubio's [paternal] grandfather went from Villa Jiménez, Michoacan, Mexico, to the US and back again for work through the Bracero Program. Constant travel eventually saw him exit his family's lives. "He left my grandmother and her three kids to fend for themselves," Rubio said. "He did get his US citizenship, though, and brought his three sons from Mexico to the US."
Rubio views her own difficulties as small compared to those of her grandparents. She  understands her grandparents' incredible resilience and the adversity that they had to overcome, and they give her perspective dealing with the stress of being a high school principal. 
"There are things that we just need to get done," Rubio said. "Even if it takes our all, at the end of the day, it's gonna get done. And, at my core, I do believe that whatever I have to do in my life—whatever struggle I'm facing—, it's nothing compared to the struggles that my grandmothers faced when they were raising their kids on their own—without food, money, or prospects. Their stories are present in my life daily."
The Association of California School Administrators on May 8 named Rubio Orange County high school principal of the year for her dedication to education. She also finished her graduate work at USC in May, earning a Ed.D in educational leadership. Her dissertation focuses on the need to understand a student's cultural background when making decisions about how to best teach students.