FUHS Baseball and Softball annual Halloween game
Hosting their first annual Halloween game, the FUHS softball team was influenced by the baseball team's three year tradition. The game originated from assistant coach Mitch Petersen, who took inspiration from Whittier College's baseball team that plays in costume each Halloween.
Baseball's head coach Tony Gonzalez said he likes giving the baseball boys a break."It's just a time where the players can come out and have fun," Gonzalez said.
Two "Coach Takks" attended the softball game, with senior Alyssa Brundage dressed as Michael Takkinen with a fake beard and Fullerton softball gear.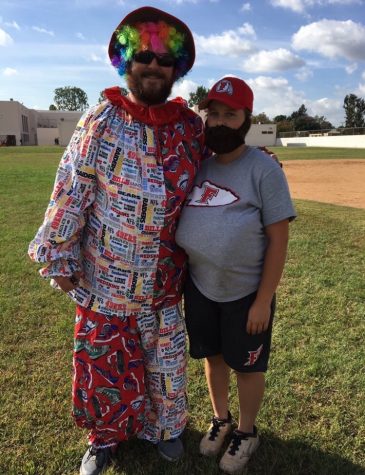 "Takk's reaction was funnier than my actual costume," Brundage said.
Takkinen said he looks forward to future costumes over the next years
On the baseball field, senior David Duff said his teammates' costumes always impress him.
"My favorite memories from past Halloween games are everyone's costumes." said Duff, who dressed up as Jeff Spicoli, a character from the movie Fast Times at Ridgemont High this year. Duff mimicked the character's image by wearing a poncho, a turtleneck, checkered vans, and blue jeans.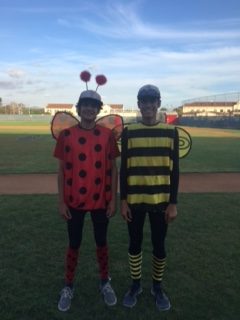 Seniors Ryan Bolton and Amanda Pacillas dressed up together as Squints and Wendy, characters from the movie The Sandlot.  "It's our favorite movie," Pacillas said.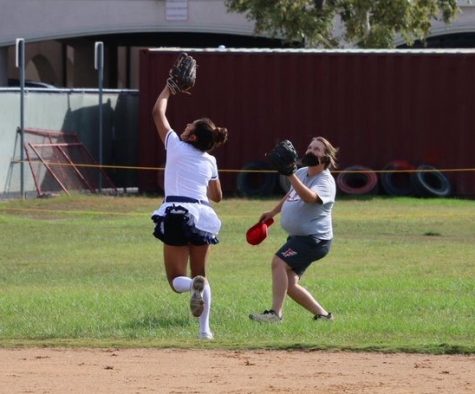 Bolton dressed in cuffed blue jeans, a white shirt with a beige dress shirt over, a black hat, and round glasses. Pacillas wore a lifeguard bathing suit, red shorts, a red jacket, and round white sunglasses.
Both programs enjoyed their annual Halloween game, and look forward to creative costumes for next year.