Powderpuff Football returns
After many years without Powderpuff, it finally made a comeback at Fullerton High School. Junior and senior girls showed their excitement by signing up for Powderpuff. sixteen seniors and fifteen juniors participated in this year's event. The event was held on Wednesday, November 30 at seven o'clock in the stadium.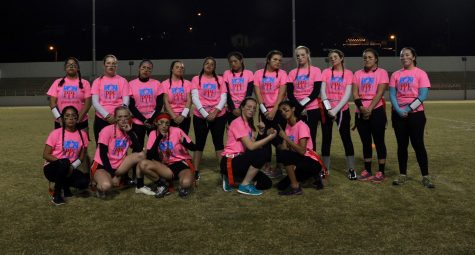 Going into the game, senior Jordan Browne said she was excited for the game. Coming from a football oriented family, she had good idea of what she was doing and hoped to perform well.
"Being a cheerleader, it's cool to do the opposite thing, instead of cheering I got to be on the field playing." said senior Kimberly Thibodaux. Being the first year of Powderpuff since 2012, it drove many senior and junior girls to sign up for the event.
"A lot of my friends talked about signing up," junior Claire Wright said. " So I figured why not do it especially with it being a while since the last Powderpuff game."
According to ASB, the event sold about 200 tickets and around 200 cans of food were donated to charity.  
The juniors won 7-0 with a touchdown by junior Deborah Bonales.
"It was definitely one of the best experiences that I've had so far for junior year, and everyone played really well," junior Lauren Le said. "When Debbie scored the touchdown, everyone's heart started racing, we were so happy."
The juniors feared that the seniors would catch up as they inched closer to the end zone. However, the juniors stuck to their plays and beat the seniors. They are hoping to play next year and win again as seniors.
Senior Amanda Paciallas played running back for the class of 2017 team.
"Even though we lost, I thought It was really fun," Pacillas said. " It was a good experience, and we had good competition."